STAR OF NIGHT BESTS BRIDGING THE GAP IN SADIE HAWKINS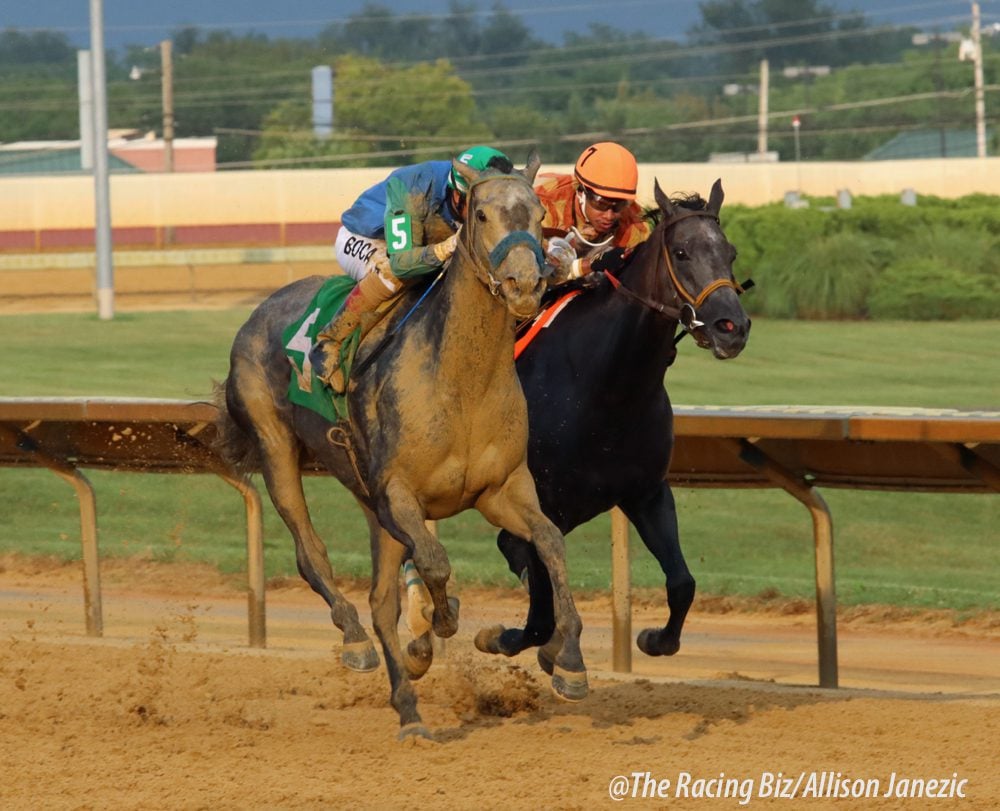 Ted Black

August 27, 2021
On the same night that Charles Town offered both the Grade II, $800,000 Charles Town Classic and the Grade III, $400,000 Charles Town Oaks, the track hosted a quartet of stakes races for West Virginia-breds.
Jeff Runco kicked off the card in style, winning four consecutive races, including the first two state-bred stakes.
In the first of the four state-bred stakes, Star of Night (Arnaldo Bocachica) lived up to her role as the 1-5 favorite when she wore down rival Bridging the Gap in the final 100 yards to a length score. A four-year-old daughter of Creative Cause trained by Jeff Runco for owner Huntertown Farm, Star of Night remained perfect from three starts this year and now owns nine wins and $240,000 banked from 11 lifetime outings after getting the seven furlongs in 1:24.50 over a fast main track.
"She was really coming into it good and she ran her race," Runco said of Star of Night, last year's champion West Virginia-bred three-year-old filly and horse of the year. "She had been really training well. She didn't break all that well tonight. But 'Boca' did a great job getting her in good position early. The track has been playing more for speed tonight, so you don't want to be too far back. We've got to keep her happy for the next couple of months."
Bocachica also realized that speed horses were going to be prominent throughout the card – he was on all four of the Runco trainees – and put Star of Night in a forward position earlier than usual to avoid being compromised by the track bias.
"The track is really favoring speed, so when she broke a step slow I asked her a little to get close," Bocachica said. "She was really good. When Bridging the Gap went to the front going into the far turn then I wanted to go with her at that point. My horse felt really strong turning for home. She's really good right now. I know we'll see that other one in the Cavada. She'll be ready for her."
Star of Night finished 1 ¼ lengths ahead of Bridging the Gap, whom she's also beaten in a thriller in last year's My Sister Pearl. It was six back to the rest of the field.
Two races later on the card, Runco and Bocachica combined to capture the $75,000 Robert Leavitt Memorial Stakes with Social Chic. A sophomore son of Upstart that Runco trains for Smart Angle, Social Chic lived up to his role as the 6-5 favorite when he broke well from the rail, shook off pressure from one foe down the backside, then held safe No Change for a nearly-three-length score while stopping the timer in 1:24.61.
"He came into it really good and when he drew the rail we knew that he had to be on the move early," Runco said. "He's got plenty of early speed and he got pressed early and then still had plenty left at the end."
"The way the track is playing I knew I had to get away from there," Bocachica said. "He's usually pretty good away from the gate, but tonight I knew I had to use him early. He got pressed by the 10-horse down the backside, then I got away from him and I knew he was going to be okay. He's a nice horse. I don't know if he will go long – that's up to Jeff."
One race later on the card, Door Buster (Denis Araujo) benefited from patient handling through the first three calls found room turning for home to edge clear to a two-length score as the 9-10 choice in the $75,000 Sylvia Bishop Memorial for state-bred three-year-old fillies. A sophomore daughter of Speightster trained by Ollie Figgins III for owner Jay Reese, Door Buster notched her second stakes tally of the season. She owns four wins and $140,00 from seven starts this year.
"She's one of those fillies that really has no distance limitations," Figgins said. "She really didn't have the best of trips tonight. She was loaded but really had nowhere to go for most of the trip. Denis did a good job with her getting through there. Once he got through she had a lot left. She's been good on dirt and she ran a good race on the turf. She's got no distance limitations either."
"She felt good the whole way around there, but I just didn't have room for most of the race," Araujo said. "I had a lot of horse the whole trip, but every time I looked over my shoulder there was a horse right there. I was just waiting for a path on the far turn and then I finally got a lane turning for home. Once she got a lane she went right through there and won pretty easily."
LATEST NEWS