Anchor and Hope: "We will rebuild" after barn fire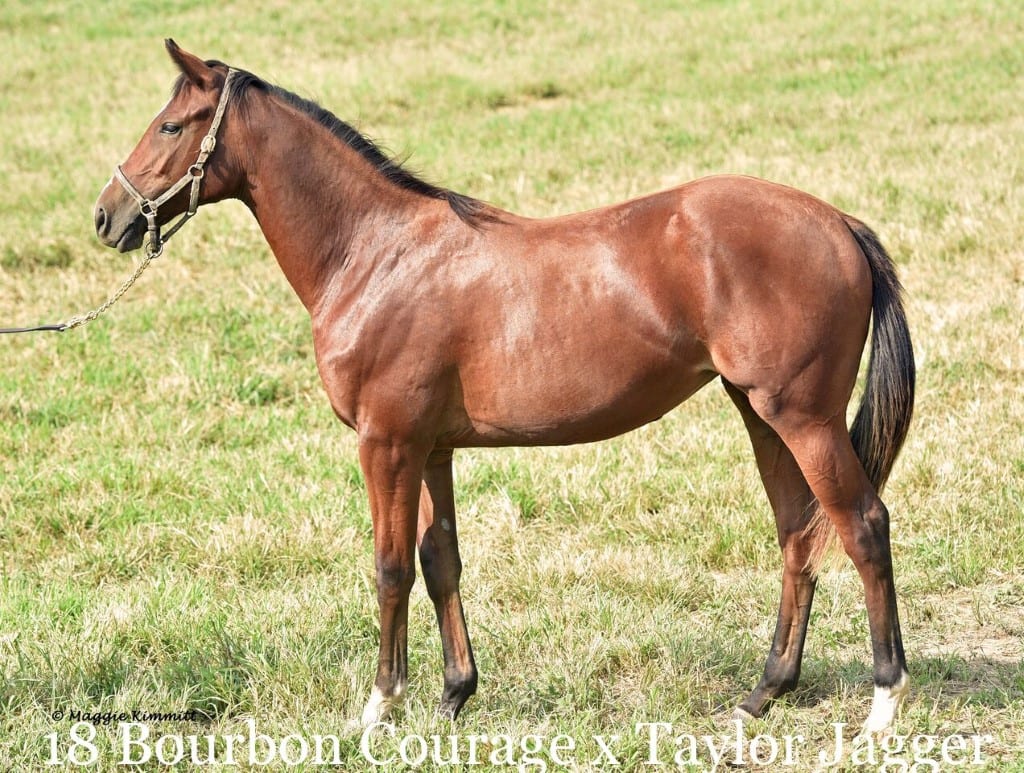 Anchor and Hope yearling by Bourbon Courage. Photo provided by Louis Merryman.
Louis Merryman was in Havre de Grace, just leaving an early afternoon doctor's appointment on August 12, when he got a phone call. He heard the words that every horseman dreads: there was a barn fire at his Anchor and Hope Farm in Port Deposit.
He quickly turned his truck around from west to east, and, although he was more than 10 miles away, stared in disbelief at a plume of thick black smoke rising high above the Susquehanna River.
When he finally arrived, Merryman found the nearly 90-year-old main barn engulfed in smoke and flames.
"The barn was huge," he said. "It was really three barns in one, in a large L-shape and 2-1/2 stories high. The fire started on the east side, which was made of pine, steel, and concrete. It quickly jumped to the west side, which my father renovated 30 years ago using oak that he reclaimed from a DuPont barn that was being torn down after 75 years standing. When the fire got to the oak, it exploded. It was so hot, it completely warped all of the steel and turn cinder blocks into sand."
Merryman credits barn forewoman Heather Cellinesi for getting all of the horses out of the barn, including two on the east side.
"She then got to the west side, which was full, and got every horse out before the fire jumped," he said. "Had she been a few minutes or seconds later, there would have been a staggering loss of horse life."
Merryman said the day had started in a completely normal fashion, meeting early with his staff and feeding and medicating all the horses. The stallions and yearlings were brought inside before the sun got hot. They worked on prepping the yearlings until about 11:30 a.m., when he left for his doctor's appointment.
After noon, Cellinesi had been thinking of leaving the farm during her lunch break to go to a nearby store, but decided against it. That decision proved to be fortuitous.
"I was sitting in my car next to the mare and foal field that was across from the barn, and the mares and foals started running around and putting their lips up, just not normal behavior for them, so it caught my attention," she said. "I looked up and noticed what looked to be dust – I thought from them running around – so I opened my car door to see what was going on and that was when I noticed that it was actually smoke coming from the lower portion of the barn where our stallions were."
Cellinesi immediately ran into the barn and could hear the fire crackling. After calling 911, she got to the stallion Imagining's stall, where it appeared the fire had started, and pulled the pin on the stall door.
"I threw his door open and screamed at him to get out," she recalled. "I just let him run. Then I went over to the next bay and let Bourbon Courage out as well. The top portion of the barn wasn't affected yet, and that's where we had 10 sales yearlings and three mares with foals by their sides, so I ran up there, pulled pins, opened doors and just screamed at everybody. It was a total of 18 horses all now running loose on the property."
It took five minutes from when Cellinesi called 911 until the first responders arrived, and in that short window of time the barn was engulfed in flames, yet she had gotten all the horses out.
"Afterwards, I remember calling Louis (Merryman), in complete panic and just trying to explain to him what was going on and apologizing over and over for letting the stallions out and everybody running loose together, which was silly looking back, because that's the only way I could save them all," she said. "But that was my main concern, the safety of those horses."
According to officials, about 50 firefighters from the Susquehanna Hose Company in Havre de Grace, the Water Witch Volunteer Fire Company in Port Deposit and the Level Volunteer Fire Company in Havre de Grace, as well as a tanker task force, responded. Crews battled for more than an hour to get the fire under control, with one firefighter transported to the hospital for heat exhaustion and later released.
While firefighters worked, Cellinesi focused on catching all the horses she could and putting them in paddocks.
"I think I was in shock and running on pure adrenaline," she said. "I know that I caught Bourbon Courage first. I saw him and screamed his name and he came right to me. I handle the stallions everyday and I like to think that I have developed a pretty good bond with all of our boys; they're really wonderful as far as stallions go. But Bourbon really is such a smart stallion; I think he knew he just needed to help me help him. Things really could have gotten out of hand with so many yearlings and mares with foals at their sides running around loose in a mix of two stallions amid complete chaos."
By then Merryman, his wife Grace, his father Edwin, and two Cecil County sheriffs were helping Cellenisi catch the horses.
The Maryland State Fire Marshall reported that the estimated loss of the structure and contents was $500,000.
"It has all been so overwhelming and emotional for me because I just feel like I was only doing my job," said Cellinesi. "At the end of the day, I would do anything for the Merrymans as a family, and most definitely for their horses."
Merryman said that firefighters saved the other barns on the property, which were in relatively close proximity to the blaze.
"When I saw the ferocity of the fire and heard the explosions, I was certain the other barns would catch," he said.
The loss of the barn will have a major impact on Anchor & Hope's operation, as it was the central structure on the farm. All utilities ran through it and then were dispersed to other buildings.
Despite this devastating event, however, Merryman was already looking towards the future.
"We will rebuild," he said.
YEARLINGS FOR SALE
In the aftermath, the Merrymans decided that eight yearlings that had been earmarked for fall sales would be offered privately. Aptly-named "The Fire Sale," it features progeny from farm stallions Bourbon Courage and Imagining, as well as Kentucky stallion Mineshaft. For more info, contact the farm.
The following is the list of yearlings:
* Bay filly by Bourbon Courage-Angel Park, by Blame – dam is a half-sister to graded stakes winner Summer Doldrums.
* Chestnut colt by Bourbon Courage-Ava Again, by Bowman's Band – first foal of a multiple winning mare, from the family of GSW Gotaghostofachance.
* Bay colt by Bourbon Courage-Carelaine, by Street Cry (IRE) – from a rich female family that includes sires Sky Mesa and Bernstein.
* Bay colt by Mineshaft-Elusory, by Broken Vow – half-brother to a multiple winner; dam is a half-sister to SW Tip Tap Tapizar.
* Dark bay or brown colt by Bourbon Courage-Little Inkling, by Great Notion – from the family of SWs Donna Doo, Hey Chub and Nasty Affair.
* Dark bay or brown filly by Bourbon Courage-Nick's Funnybone, by D'Funnybone – first foal from a mare who's a half-sister to two SWs.
* Dark bay or brown colt by Imagining-Second Line, by Great Notion – dam is a full sister to multiple SW Jazzy Idea ($449,000).
* Bay filly by Bourbon Courage-Taylor Jagger, by Student Council – first foal from a multiple winner who is a half-sister to SW Meadow Blue ($323,064).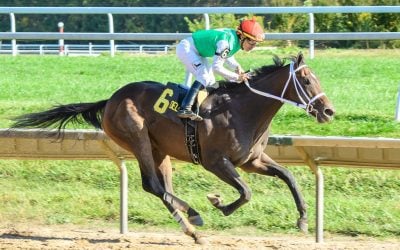 When owner Chuck Zacney began looking for a name for his Street Sense colt, he remembered a late friend who had been one of the WWII era Tuskegee Airmen.