EXCULPATORY TAKES LONG ROAD TO WINNER'S CIRCLE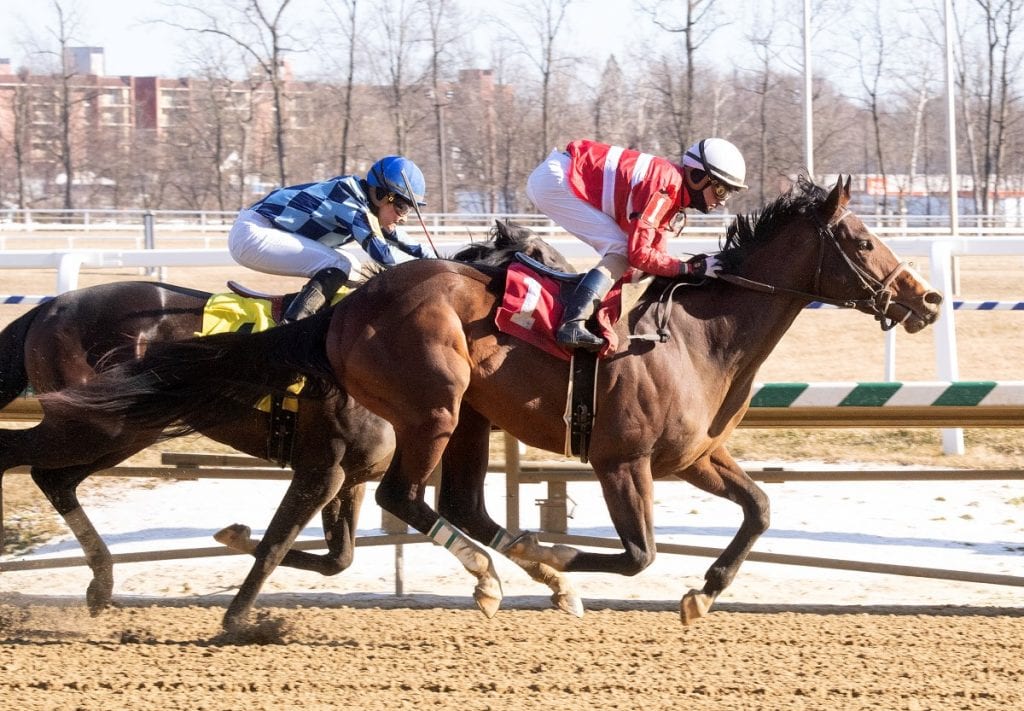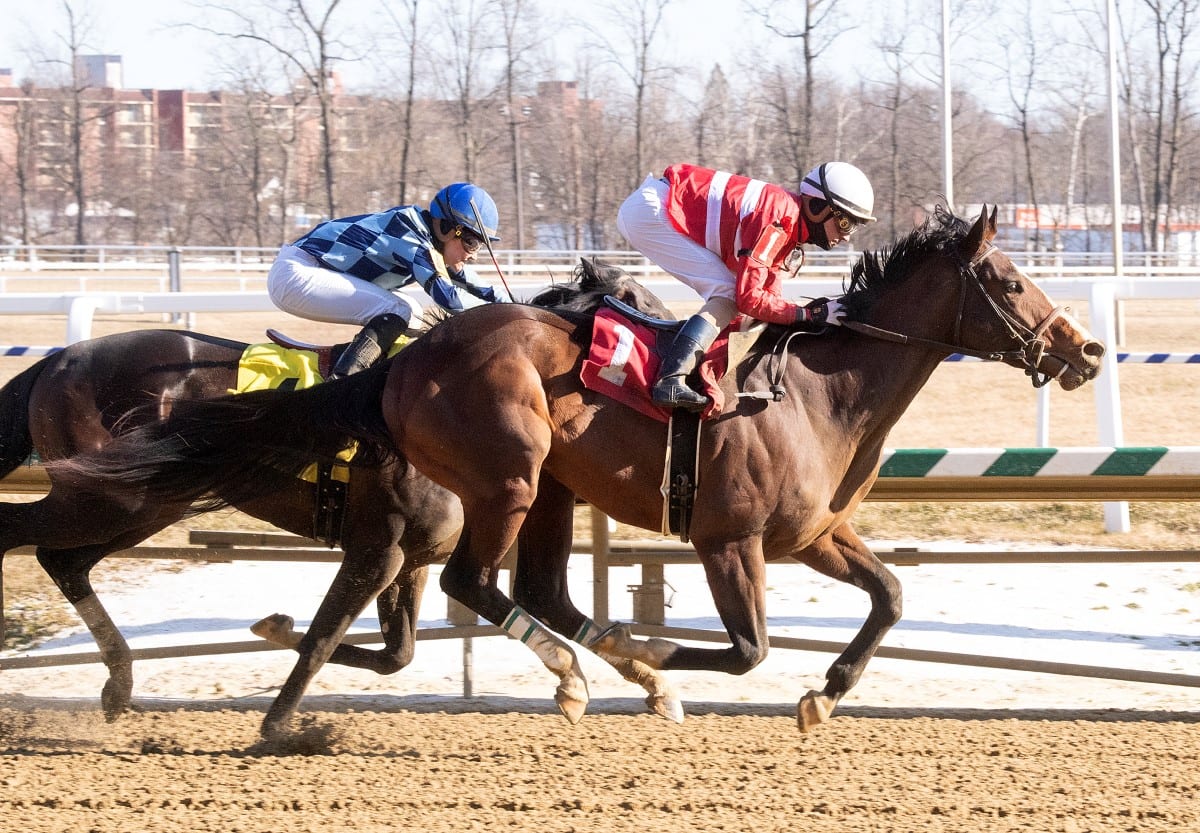 Press Release

March 19, 2021
Grace Merryman wasn't born when the Grateful Dead released its hit single Truckin' in 1970 but, boy, can she relate.
Sometimes the light's all shinin' on me
Other times, I can barely see
Lately, it occurs to me
What a long, strange trip it's been
When it comes to her 3-year-old homebred colt Exculpatory, a dramatic debut winner March 5 at Laurel Park, their journey just to get to the racetrack was as long and strange as it gets.
By Mineshaft out of the Broken Vow mare Elusory, Exculpatory was bred by Merryman and her husband Louis of Anchor and Hope Farm, located in Port Deposit, Md., and Finn's Nickel LLC. To hear Grace tell it, it was Louis' idea to breed to Mineshaft, the champion older horse and Horse of the Year in 2003.
The Merrymans went out on their own in 2017 with two stallions, and the first foal of 2018 turned out to be Exculpatory, who they lovingly referred to as Eli.
"Louis called and said, 'Hey, you've got to come see this guy. He's pretty fancy,'" Grace Merryman said. "We were head over heels with him from the get-go."
Still, the Merrymans went ahead with their original plan to sell Exculpatory as a weanling and entered him in the book at Keeneland. Then, Grace Merryman got another, less positive, call from her husband.
"That August I'm up in Massachusetts visiting family and Louis calls. He said, 'I don't know what is going on. I think we're going to lose this colt. He is really sick,'" she said. "We did blood tests and tested for everything under the sun and nothing ever came back. I don't know if we ever really pinpointed what it was."
Soon, Exculpatory had recovered and "looked like a million dollars – a big, robust colt." Plans were back on for Kentucky.
"We thought, 'This is great. The plan is coming to fruition,'" Grace Merryman said. "'We'll sell him as a weanling and put a little cash in the coffers and go from there.'"
Exculpatory attracted several suitors at the sale and underwent several routine veterinary exams as part of the process.
"He had picked up some sort of virus and he flunked every scope that he got," Merryman said. "He was quite popular and he was scoped several times and he flunked every time just because there was so much irritation. He also had a set of knees on him that looked like they belonged on two other crooked horses, so I don't think that helped matters at all."
Louis Merryman, who had delivered Exculpatory to the sale, got back in his truck and went to fetch the horse after he didn't meet his reserve. Merryman arrived at 4 a.m., before the sales crew, loaded Eli himself without incident and settled in for the drive back to Maryland.
"Louis gets on the road with him and says, 'I don't know. This horse is really cool,'" Grace Merryman said. "'Maybe we should keep him.'"
Things were uneventful until the following March when, after a long day of work, the Merrymans were walking back to their farmhouse. Hearing a growing noise behind them, they turned to see that all their yearlings had gotten free – a gate was inadvertently left open – and needed to be rounded up.
All were quickly and safely back in place, none worse for wear – with one exception.
"The only horse with a mark on him was Exculpatory," Grace Merryman said. "It was superficial, but three of his four legs had cuts, lacerations, scrapes – you name it, he was covered."
Exculpatory had already been nominated to Fasig-Tipton's Saratoga selected yearling sale, and soon after the incident horsemen from the auction arrived to do their pre-inspection.
"They showed up in the morning and I was like, 'Well, here he is,' and I brought him out with three of his four legs completely wrapped," she said. "They were like, 'Oh, he's a very nice, big-bodied colt. Maybe call when the bandages come off.' So we scrapped Saratoga."
From there, Exculpatory was excused in the first round from the Maryland Horse Breeders Association's annual yearling show after showing up the day before "with half his hoof missing," Merryman said. "We're like, 'Can this horse ever not maim himself?'"
Next up was the fall yearling sale at the Maryland State Fairgrounds in Timonium, but Exculpatory never made it. Like the rest of Anchor and Hope's yearlings, he was pulled from an Aug. 12, 2019 fire that destroyed the farm's main structure, a 2 ½-story barn that dated back 90 years. Damages were estimated at $500,000. No one, human or equine, was injured.
"I think we had kind of decided then that we were going to keep him," Grace Merryman said. "After the fire, we did move all of our yearlings privately and we included him in the offerings. People would come to see him. In the morning, they'd stop to watch him because he'd be galloping around in his field with the river in the background and he just took your breath away. Then he'd walk up to the gate three-legged lame or something. We said, 'We get it. We'll keep you.'"
Exculpatory was sent to Louis Merryman's father, stakes-winning trainer Edwin Merryman, now based at Fair Hill Training Center in Elkton, Md., to get him ready to race. Grace Merryman said her father-in-law's experience and horsemanship were invaluable.
"He gets the lion's share of the credit for getting this horse going. He broke him and he got him going. He let the horse grow into himself and develop and did all the groundwork to get him the foundation that he has," she said. "I could never get too much out of him about how much he liked him but he'd always just say to placate his owner, 'He's a very nice horse. He's training well.'"
A guttural pouch infection kept Exculpatory from launching his career in December and it was around Christmas, the time when Fair Hill closes its main track, when Edwin Merryman suggested his daughter-in-law move a horse of his size to train over a dirt surface rather than the all-weather Tapeta, which is used year-round.
Merryman called Mark Reid, who she worked for at age 21 fresh out of college, and who is stabled at Pimlico Race Course. They talked about getting Exculpatory started at Laurel the first part of January.
"We get him down to Pimlico and Mark kind of goes over him and said, 'I think he might have lost too much fitness in his down time from the guttural pouch infection, I think we should search for a different race,'" Merryman said. "I said, 'OK.'"
Exculpatory was entered to make his debut in early February at Laurel but was withdrawn after spiking a fever when his infection flared up again. Another race Feb. 20 was scrapped when Eli had his gate card revoked.
"He'd been training great, he had managed to not hurt himself, and the gate crew calls," Grace Merryman said. "They said, 'Hey, it's been a while since this horse has popped out of the gate. Can you just run him over for us so we can see him?
"Mark says OK, takes him over there, and he flunks big-time. He sucked back in and bolted out and veered off to the side and they said, 'Nope. He can't start on the 20th,'" she added. "On his next gate work he broke in company and broke like a dart, so they gave him his gate card back."
Exculpatory finally made the races March 5, drawing the rail against seven other 3-year-olds – six of which had already run – in the 5 ½-furlong maiden special weight. He broke last and found himself lost and fighting kickback in the early going. He and jockey Sheldon Russell had one horse beat at the top of the stretch.
"In a 5 ½ [furlong] race he was 10 back in the stretch and I turned around to face the building," Grace Merryman said. "I went down for the race. I was like, 'Oh my God, after all of this. After all this hype, he's going to be last.'"
It was easy to see when the light went on for Exculpatory. He gathered his stride in mids-stretch and Russell found himself with plenty of horse, little room and time running out. They carefully weaved through traffic down the lane and came with one final burst approaching the wire to win by a half-length as the betting favorite.
"Sheldon said that it definitely took him a minute to figure out that they were running and racing and then he started getting pelted pretty good with all the dirt and was kind of trying to jump over it," Grace Merryman said. "But, once Sheldon was able to get him focused and in the race and in the groove he said Exculpatory exploded underneath him and, at that point, Sheldon was just trying to find a hole for him to get through.
"It was three-plus years of twists and turns," she added. "We usually don't keep any of our yearlings. We try to get them out in the universe. Most of them are by our stallions and we want to get them out there, but he's just always been special to us and all the circumstances of what we've been through with him, particularly the fire, is just really neat for us to have our homebred, that we've been so head over heels for from the get-go, to do that for us. Definitely a morale boost to keep fighting the fight."
In perhaps the ultimate twist, Merryman said following Exculpatory's win she has fielded offers to purchase the colt.
"A couple phone calls inquiring about him, which is funny. I've been trying to sell him since I knew he was coming and now there's people interested," she said. "It's going to be a really hard thing for me to contend with offers coming in. We'll see what happens. I think anyone should know that wants to make an offer on him that I'm going to have to stay in for a little piece. This horse just means too much to us and I think I would be devastated if he was completely gone from us."
LATEST NEWS