Elate "back to old form" with dominant Delaware Handicap score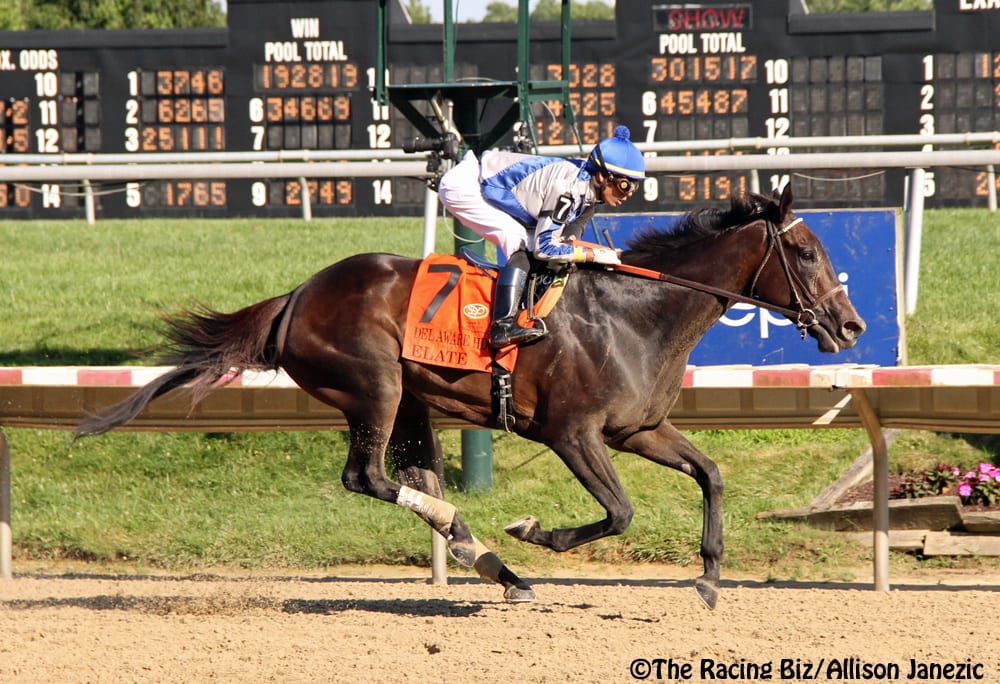 Elate was much the best in the Delaware Handicap. Photo by Allison Janezic.
Jose Ortiz came. He saw. And he won pretty much everything in sight.
Ortiz, the 25-year-old, New York-based jockey, gave up a Saratoga Saturday for a day at Delaware Park, and that turned out be a wise move.
Ortiz turned his four mounts into four victories, capped by a thrilling score aboard the powerhouse mare Elate in the Grade 2, $750,000 Delaware Handicap. All four of his mounts went off favored.
"I'm just happy and blessed to be in the position that I am," Ortiz said after the DelCap.
Elate, the five-year-old Medaglia d'Oro mare trained by Hall of Famer Bill Mott, perhaps is fashioning a Hall of Fame career herself. As, for that matter, is Ortiz.
Elate became the seventh runner to win Delaware Park's biggest race twice, today's win joining her three-length score of a year ago. It was her fifth win in graded stakes company, seventh win overall, and pushed her career earnings to just shy of $2.1 million. It also gave Mott his fourth DelCap win — he also won two consecutive runnings with Royal Delta in 2012 and 2013. That tied him with Todd Pletcher and Henry Clark for the most DelCap wins by a trainer.
Elate also is three-for-three at Delaware Park. She is owned by her breeders, Claiborne Farm and Adele Dilschneider.
"When you win a nice big race like this, you love it," said co-owner Claiborne Farm's Dell Hancock. "The first race I ever won in my life was [at Delaware Park] for myself. I love this paddock. To see her come in her and be the way she is, it's just a thrill."
Elate started her 2019 campaign off with a pair of stakes placings, in the Grade 2 Azeri and Grade 1 Apple Blossom, both at Oaklawn Park. She then won the Grade 2, 1 1/8-mile Fleur De Lis at Churchill Downs.
This win made her a perfect three-for-three at 10 furlongs, and it's clear she's a runner who likes plenty of distance.
"The further she goes the better she is," Hancock said.
Ortiz agreed.
"I'm a little disapointed they don't have more races at a mile-and-a-quarter," the jock said. "I think going a mile-and-a-quarter, I think she can be the best filly in the United States."
She'll have a chance in next month's nine-furlong Personal Ensign to make a case for distaff divisional leadership.
In the DelCap, it was local hopeful Gotham Gala, the Arnaud Delacour trainee who won the local prep race, the Obeah, who grabbed the early lead. Under Daniel Centeno, she was able to dole out measured early fractions: 24.04 seconds for the first quarter-mile, 48.19 for the half.
Gotham Gala held a length lead over Escape Clause after three-quarters of a mile in 1:12.34, with Elate biding her time while wide a couple of lengths behind.
She moved into contention on the far turn while remaining wide on the course.
"I had to go a little bit wide on the turn because I saw Joe Bravo [on Blue Prize] making a move on the inside," Ortiz explained. "I said, 'Should I wait and go behind him or go wide and ride her like the best?'"
He decided on the latter course, which, aboard a horse who went off at 3-10 although the field also included a Grade 1 winner, Blue Prize, and Escape Clause, who finished ahead of Elate in the Apple Blossom and missed winning by just a nose, proved to be the right answer.
"I trust Bill [Mott]," Ortiz said. "I knew she was ready. She's getting back to her old form."
Elate cruised up outside the leaders with breathtaking quickness. Gotham Gala couldn't go on, and while Escape Clause put up a brief fight, she was no match for Elate.
Elate spurted well clear leaving the furlong grounds before getting geared down late to amble across the finish line with a 4 1/2-length advantage. Running time for the 10 furlongs was 2:02.51. That was more than two seconds than the 2:04.83 that was Elate's winning time a year ago.
Escape Clause held second, a head in front of Blue Prize, while Gotham Gala finished fourth.
Elate paid $2.60 to win and topped a one-dollar exacta good for $5.60.
It capped the key racing event of the Delaware Park meeting.
"We take a back seat to Philadlephia with the Phillies and the Eagles, we take a backseat to Baltimore with the Orioles and the Ravens," said Delaware Park racing analyst Rich Glazier, who attended his 50th Delaware handicap today. "This is the one thing we have that's major league here. It puts us on the racing world and the national spotlight."
NOTES Ortiz also scored aboard Bronx Beauty in the Dashing Beauty Stakes, Capla Temptress in the Just a Kiss, and Parlor in the Glasgow. Of the three, all were favored and only Bronx Beauty was more than even-money, going off at 1.10-1… Those three races were part of the MATCH Series, as was the Hockessin Stakes, which went to Altissimo… Handle on the nine-race card was $2,824,770, off more than 19 percent from last year's total of just less than $3.5 million on a 10-race card…