DELAWARE PARK REUNION AIMS TO BRING "FAMILY" BACK TOGETHER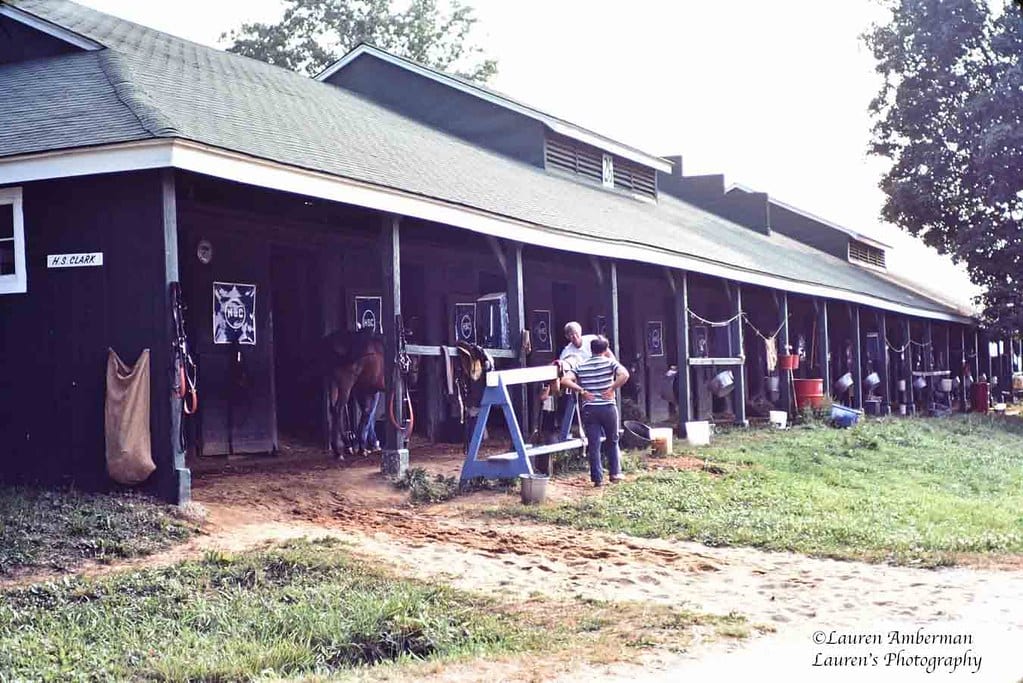 Frank Vespe

June 25, 2021
A scroll through Lauren Heathcote Amberman's Facebook page is, for Midlantic racing folks of a certain vintage, a stroll down Memory Lane.
It is, in fact, a treasure trove, a photographic journal of a specific moment, a specific place.
There's Kattegat's Pride winning a 1980 race at Pimlico, and over there is Alydar, in the famous Calumet Devil's Red and Blue silks, prior to the 1978 Preakness.
Here's a packed grandstand at Delaware Park for the 1978 DuPont Handicap, and another at Laurel Park for the Washington, DC International, and over there a horse winning in the – of course – snow at Bowie.
There's a fresh-faced young jockey named Mario Pino, just about, oh, 7,000 wins ago. And here's the late trainer Eddie Gaudet, holding court. Always and eternally holding court.
For the racing fan, it's an easy hole to fall into. But for the folks who lived and worked on those backsides at the time, it's something else altogether.
"One of my friends, her name is Casey Lattimer [and she was on the backside during that era], she made a comment one time," Heathcote Amberman says. "She's like, every day is like a racetrack reunion on here with your pictures."
Now, Heathcote Amberman's aiming to turn the virtual reunion into something more tangible. She is organizing a "Delaware Park Race Track Reunion" to take place July 10 – Delaware Handicap day – in the picnic area near the paddock.
"For those folks who worked at the Mid-Atlantic thoroughbred racetracks in the 1970's, 80's, & 90's, it is time to move off-line and have an in person reunion!" she writes on Facebook.
So far, 43 people have said they're interested in the event, and Heathcote Amberman is taking a "the more, the merrier" approach. At the same time, though, she says it's not about numbers.
"The main thing is, even if 10 people show up, I'll be happy to be able to see these people that I haven't seen for 40 years," she says.
Heathcote Amberman's own racing tale is at once unique to her and of a type that was once common in racing.
"I have the love of racing in my blood," she says.
A Baltimore County native, she grew up attending races throughout the region: Laurel, Pimlico, Bowie, Charles Town, Shenandoah Downs. Summer vacations usually involved a racetrack somewhere: Saratoga, Finger Lakes, Hollywood Park.
"I, of course, loved horses, too," she says. "And I took riding lessons as a teenager."
Her parents gave her a camera one Christmas, and soon…
"My friend Ann and I decided that after our first year of college, we were going to get a job with the racetrack to walk horses for a summer job," she recalls. "So we went to Pimlico, and we got jobs."
Her job was in the barn of about-to-be Hall of Famer Henry S. Clark, who entered the Hall in 1982; because she had a cousin already working in the barn, "I probably had an in," she says with a laugh. She started walking hots in the morning, accompanying runners to the track in the afternoon.
After a summer on the backside, she was hooked. She quit college, went to work full time for Clark, followed him to Delaware for the following summer.
"Working at Mr. Clark's barn, he was the consummate old school trainer," Heathcote Amberman remembers. "He'd come early to the barn. He'd be dressed in nice pants and a white shirt, be walking around the shedrow. I can still hear him go, 'Good morning, good morning, good morning.'"
Clark's main client was the Christiana Stable of Harry Lunger and Jane DuPont Lunger, for whom he trained two-time Delaware Handicap winners Obeah and Endine, as well as the good stakes winner Cyane who became an important sire, and others.
"The older people that he had as grooms and foremen and running the barn, these men were just pros, complete horsemen," Heathcote Amberman says. "Just to have that experience of being around the quality of horses and those men, Mr. Clark and everyone: it's an experience I won't forget.
And when she wasn't walking horses, she was clicking pictures: horses, grooms, trainers, jocks, the whole panoply of racing and backstretch life.
"I started taking lots of pictures," Heathcote Amberman says. "I was taking pictures of anybody who asked me, 'Hey, take a picture.'"
Soon, she turned photography into a business.
"I was selling a lot of pictures," she recalls. "I was like the only one [other than the track photographer] who had a camera, taking pictures. Occasionally, somebody from the newspaper might come up and take pictures, but, you know, I was kind of the only one at the time doing what I was doing."
For the next several years, Heathcote Amberman went where racing took her: Maryland, Delaware, Florida, New York. Fast horses, beautiful places, and always, always the people.
It's been a long time since. Heathcote Amberman left the business by the mid-1980s, the twists of life turning her away from the racing. But the love of racing that was in her blood as a young girl remains in her blood today.
Come July 10, Heathcote Amberman and whatever mix of racing folk show up will cobble that community back together, if only for the day. The stories, the laughter, the memories: they'll flow freely, and maybe, maybe if you look at things from just the right angle, it'll feel like no time has passed at all.
"A lot of people say that it's like we were a racing family," Heathcote Amberman says. "The community was a family. I was a part of that family, too."
DELAWARE PARK RACETRACK REUNION
LATEST NEWS