Laurel Park picks and ponderings April 8, 2021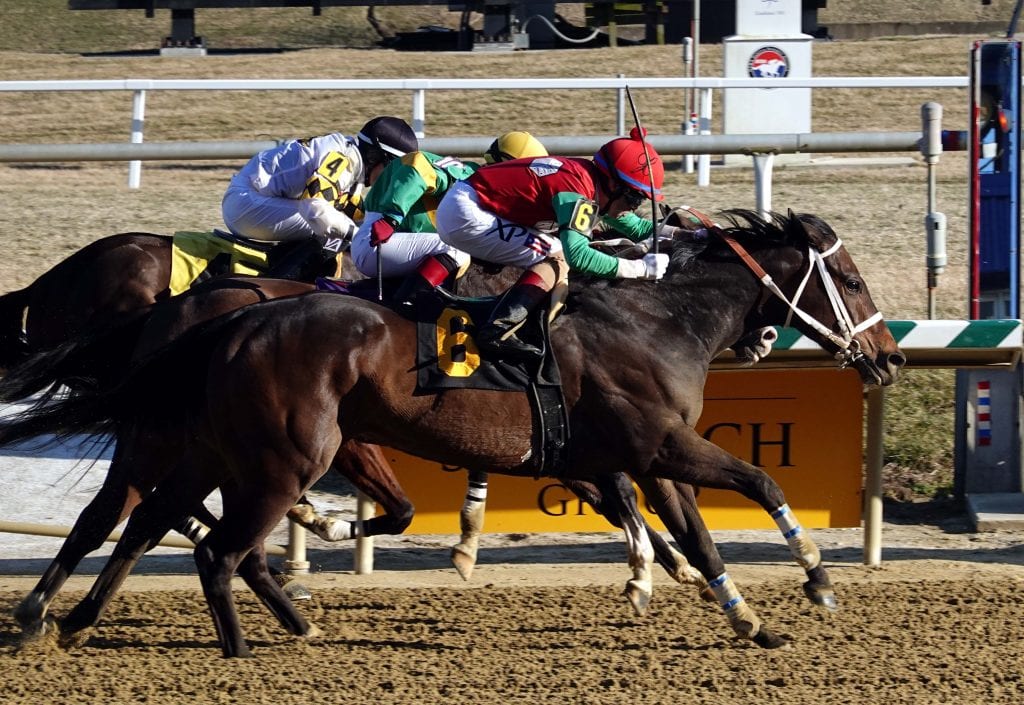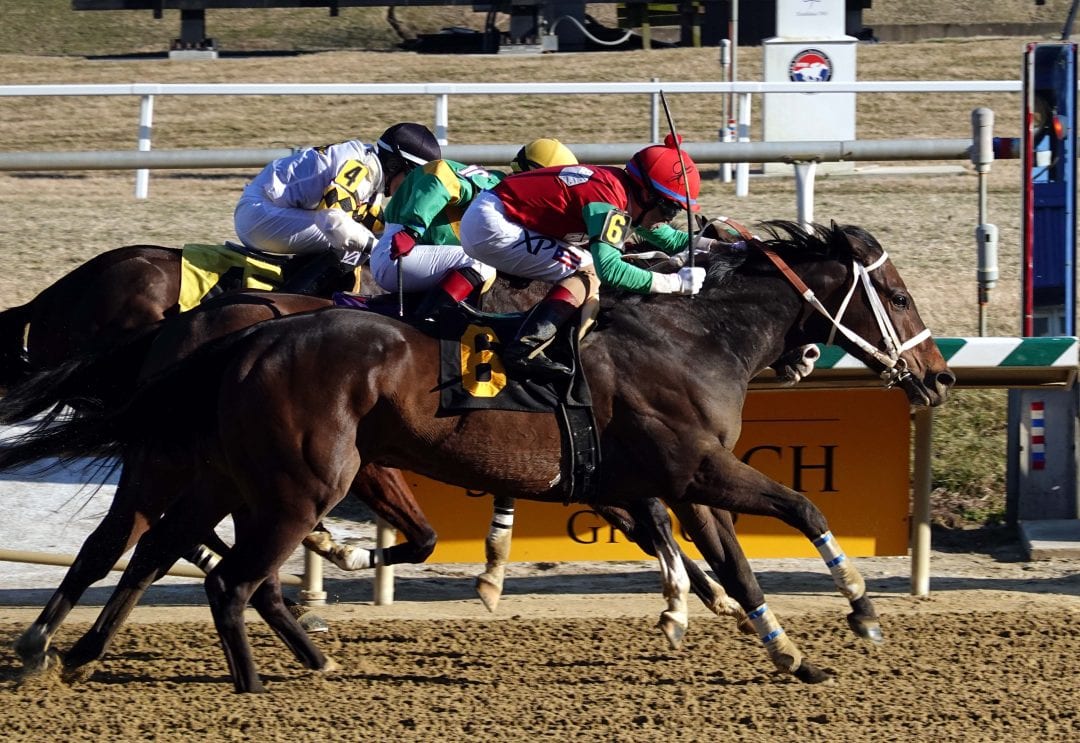 Anna's Bandit. Photo by Laurie Asseo.
In which we pick the races from Laurel Park each day…
Post time: 12:40 p.m.
Carryovers: Rainbow Jackpot Pick 6 — $0 Super High 5 — $0 Late Pick 5 — $0
ANALYSIS
RACE 1: MAIDEN CLAIMING $10,000, 3-YEAR-OLDS TO 5-YEAR-OLDS, 5 1/2 FURLONGS
1-5-2-3
We'll kick off the month-long spring meet with a field of seven maiden claimers. This race marks the return of two regular jockeys: Katie Davis, who comes back from Aqueduct, and Alex Crispin, fresh off his suspension from the weight snafu in late January. Davis has the nod on my top pick, #1 Sweet Asta (7/2). This gelding closed well last out to get fourth at big odds, and was done in by a brutally wide trip two races back. He's been slowly improving since returning from a long layoff, and adds blinkers for the first time. Should save ground and pack a (relatively) good punch in the stretch. #5 Not Telling (8/5) has boatloads of early speed, but also an unsightly 0-for-18 career record. Set the tempo going a mile in his last start and backed up badly, now cuts back to a distance he's done well at in the past. When sprinting around two turns at Charles Town, he twice held the lead late and was caught in the last few jumps. #2 Here Comes Rudy (5/2) battled for the lead throughout in his last start going 1 1/16 miles. He makes his fourth career start here, and lures Tais Lyapustina away from Sweet Asta, who she had been riding regularly as well. May challenge Not Telling on the lead.
RACE 2: CLAIMING $5,000 (CONDITIONED), 3-YEAR-OLDS AND UP, FILLIES AND MARES, 7 FURLONGS
6-2-7-1
#6 Congress Hall (3/1) won the battle but lost the war last out. She dueled all the way around with 4/5 favorite Scamper Along, and while she outfinished that rival by a quarter of a length, Petes Pride got a great trip off of them and beat them both. Ran just one tick off her career-best brisnet figure in that race, earning a 70. Will be a tough customer on the lead once again. #2 Olive's Bumpa (5/1) goes first off the claim for Stephen Murdock, who gave her a brief freshening since her last start and adds blinkers. She surged well in her races two and three back, but was flat after rating off the rail last out. Will look to save ground, and might even elect to come through up the rail. Crispin gets the mount for the first time. #7 Cairo Queen (5/2) takes a big drop from the $16,000 n/w3L level, where she wasn't competitive in her last two spots. That drop may attract a lot of money she might not necessarily deserve, but she has run figures in the 70s and the low 80s in the not-so-distant past. Perhaps the drop will wake her up.
RACE 3: CLAIMING $8,000, 3-YEAR-OLDS AND UP, 1 1/16 MILES
5-6-1-3
#5 King Mauro (9/5) has been very tough to catch since moving to the Michael Gorham barn. His last two starts have been gate-to-wire victories, including a dominant win at this level going a mile last out. I can toss out his last two-turn race, as he was lugging out and unable to get to the lead. In the stretch, he was not persevered with. This should be a much better outing. #6 Southside Warrior (8/1) exits the same race as King Mauro, and was the 4/5 favorite in that spot. King Mauro slowed things down plenty in that race, and Southside Warrior never had much of a shot of catching up. He won four back with a sharp figure of 89, and closed well in his races right after that. He runs the risk of getting pace-compromised again, but at the least, he could round out the exacta at a much better price than last time. #1 Hayne's Fever (7/2) went gate-to-wire around two turns last out, going much faster than accustomed to in the process. Lyapustina is likely to send again and challenge King Mauro for the lead. He almost ran that rival down two back when coming from off the pace.
ANALYSIS
RACE 4: CLAIMING $10,000 (N/W2L), 3-YEAR-OLDS AND UP, 1 MILE
2-9-7-8
The first rainbow pick 6 of the meet begins here. Let's see if a big pot can build for the mandatory payout day on May 2. #2 Big Rinne (5/2) was racing over his condition in his last two, competing against n/w2L rivals. In spite of that, he made up lots of ground last out, with a six-wide bid to get second. He made his 2021 debut on January 8 off a 16-month layoff, and has been improving in every race since then, save for two back when he was pulled up and walked off after never being in serious condition. #9 Mo American (12/1), another stone-cold closer, tries winners for the first time in this spot. He came from well out of it to win by 1 1/4 lengths in a two-turn maiden claimer over a sloppy track. It's a big jump in class, but he's coming off a lifetime-top figure, and I'm always a sucker for a horse making their first start at a low-level condition, especially at a price like that. #7 Tale of Dixie (20/1) is also coming off a maiden win, and is making just his sixth career start. He's going to have to improve a few points to win this one, but he's put in good rallies lately and seems to like the distance. Taking a stand against the big favorite, #4 Martini Lane (1/1), who will take a lot of money but has been burning a lot of it lately against similar.
RACE 5 – CLAIMING $5,000 (CONDITIONED), 3-YEAR-OLDS AND UP, 6 FURLONGS
3-7-5-10
The first late pick 5 of the season, with carryover potential, begins here. With a field of thirteen signed on, it looks like a good race to go longshot hunting. #3 Jezzum Jim (10/1) is tied for the best last-out figure in the field, with an 82, and is the only one here who has run a figure in the 80s in back-to-back races. He earned that figure despite running in a tough field at Penn National last out, a race where he bore out up the backstretch. Usually, he's prominent on the early pace; that early speed could come in handy here. Hugh McMahon claimed him out of that last race. #7 Pascal Chant (8/1) finally broke through at the n/w3L condition last out, drawing off after stalking the pace. It was an encouraging race, as usually he sits off the pace but can't close the deal. #5 Bourbon Street (7/2) was eased up in his last start after a very wide trip. It's unlikely he'll get caught in the five-path again, and has plenty of front-running efforts with big figures in his last few races. He's had one workout since that dismal March 5 race, and while it wasn't that fast, it's encouraging that he's at least been on the track since then. 
RACE 6: ALLOWANCE OPTIONAL CLAIMING (N/W2X), 3-YEAR-OLDS AND UP, 1 1/16 MILES
4-2-7-9
Today's feature drew a full field going long. There's a grade 2 winner in this field, in 2019 Remsen Stakes victor #4 Shotski (6/1). He made his return off almost a year's layoff two races back, and it was a complete disaster. His start last out represents significant improvement. He set the early pace and held well against some challenges, before fading in the last eighth. His figure improved 35 points off his 2020 debut. Gets blinkers off and Sheldon Russell in the saddle. A price near his morning line would be very generous. #2 Mischief Afoot (7/2) makes his second local start here, after a sixth-place effort in the Harrison Johnson. He was wide and towards the back off a very slow pace, and didn't have much of a chance as such. This is a decent field, but he should at least save more ground here. In his final start of 2020, in a n/w1x contest at Aqueduct, he rallied from a similar crawl up top to get up by a head. That was encouraging to see. #7 Oxide (8/1) stretches out after racing well in sprints. Took them gate-to-wire at seven furlongs two races back, earning a strong figure of 94, but didn't do much after being near a fast pace last out. He broke his maiden going two turns at Churchill Downs last May, earning an 89 in the process.
ANALYSIS
RACE 7 – MAIDEN CLAIMING $40,000, 3-YEAR-OLDS, FILLIES, 6 FURLONGS
6-9-8-5
A field of eleven, with three first-timers, lines up here. #6 Mosler's Touch (10/1) improved sharply second time out, opening up a large lead before fading in the last eighth. That's a stark contrast from her debut, where she tried to get to the lead and couldn't do it. All her workouts since then have been bullet drills. Wouldn't surprise me at all to see a gate-to-wire win here. #9 No Chance Given (3/1) got the trip last out and couldn't capitalize, but it was still a lifetime-best figure, and she gets a drop in class here. Looks live, especially if Mosler's Touch can't last on the lead. #8 Asbuilt (6/1) turned in a solid performance when going shorter in her second start, rallying on to get up for second after a rough break. Last out, she tried to stretch to a mile and backed up badly. Should improve here.
RACE 8- ALLOWANCE (N/W1X), 3-YEAR-OLDS AND UP, FILLIES AND MARES, 7 FURLONGS
4-8-9-2
#4 Queen of Tomorrow (2/1) has raced just once this year, but it was a sharp win in a Maryland-bred n/w1x allowance. She pressed the early leader, then took charge and drew off with a figure of 85, right around where she usually runs. Claudio Gonzalez and Angel Cruz are always a tough combo. #8 Ski Bunny (6/1) ran four figures in the 80s in a row prior to her last effort, where she was a non-factor while going two turns at Parx. Anthony Farrior gave her a brief freshening since that February 15 effort, she now returns here and looks to rebound. Workouts have been sharp. #9 Remain Anonymous (5/2) has finished second at this level three times in a row, while taking more and more money each time. Her figures make her a contender, but they did all the other times she lost. Taking the wait-and-see approach here.
RACE 9 – CLAIMING $25,000, 3-YEAR-OLDS, FILLIES, 6 FURLONGS
5-6-7-4
Wrapping it up with some young claimers. #5 Keepyourskateson (7/2) was done in by a rough start in her first try against winners. Ran in the 70s consistently prior to that, including a dominant win with a good trip two starts back. Should be forwardly placed if she can get away cleanly. #6 Guns Blazing (5/2) drops in class, cuts back in distance, and adds blinkers. Ran a strong second, with a figure of 76, in her last start at this distance, which took place at Delaware Park in October. #7 Instigated (2/1) looks for some improvement after two dull local races. In her starts at Tampa Bay Downs earlier in her career, she lasted on the lead to win twice. Can she keep it going on the front end against softer?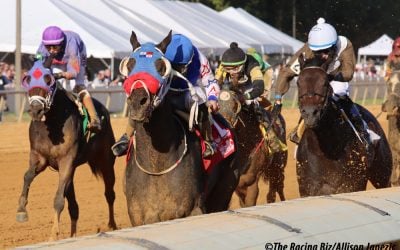 We provide full-card picks and analysis for this afternoon's races at Laurel Park.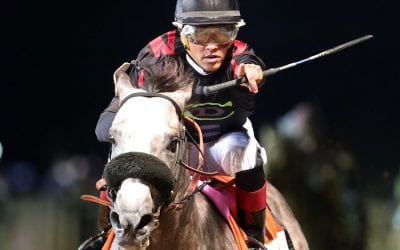 We've got Charles Town picks and preview today as the track presents its Friday card!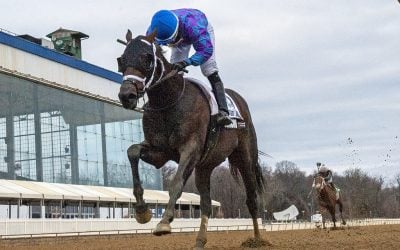 Which Laurel Park jockeys are off to hot starts? Asking for a friend; no, wait, actually asking for the betting public. Answers within…