BACKTRACKS: MARKET WISE, LONG-DISTANCE STAR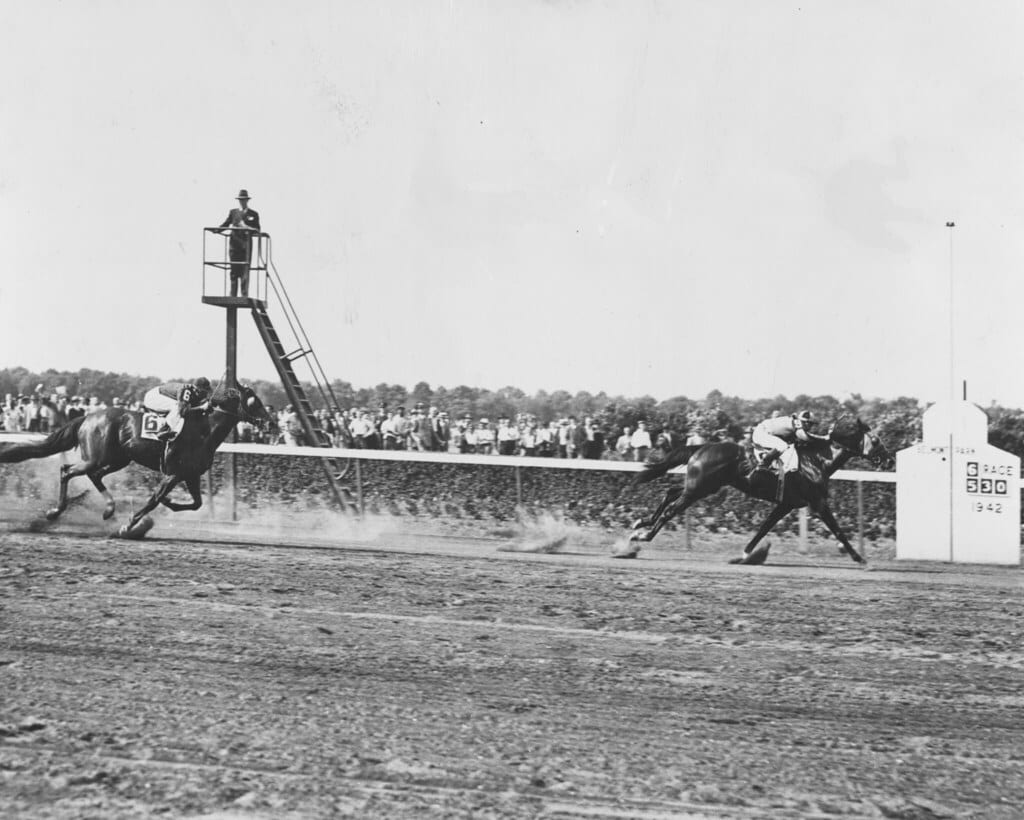 From Fighting Finish to the future
Cary Travers Grayson had been a lifelong horse enthusiast, both as a rider and as an owner. His professional pursuits in both medicine and the Navy ultimately led to his position as personal physician to three Presidents and earned him the rank of Rear Admiral.
During those first two decades of the 20th century, Grayson partnered with his friend Samuel Ross to breed and race Thoroughbreds, including My Own, winner of the Saratoga Handicap and Saratoga Cup in 1923. Grayson's good handicapper ranked just behind Kentucky Derby and Belmont Stakes victor Zev; had Zev been unable to compete in the International Stakes in 1923, My Own would have raced against Papyrus in his place. A few year later, Grayson purchased Blue Ridge Farm, a breeding operation near Upperville, Virginia, picking up where its late owner Henry Oxnard left off and continuing Blue Ridge's breeding program.
In 1934, Grayson leased Brokers Tip from Colonel E.R. Bradley, standing the stallion at Blue Ridge. Brokers Tip had been the beneficiary of the "Fighting Finish" of the 1933 Kentucky Derby – when his jockey Don Meade and Herb Fisher, on Head Play, engaged in a late-stretch wrestling match. That Derby triumph proved to be the only win of Brokers Tip's career.
Despite chronic soundness issues, Brokers Tip had an attractive pedigree. He was by Black Toney, the sire of 1924 Kentucky Derby winner Black Gold, among other stakes winners, out of a mare sired by French champion Sardanapale. Though that unsoundness shortened his career, Grayson capitalized on Brokers Tip's pedigree, pairing his mare On Hand with the leased stallion to produce a lanky bay colt named Market Wise.
Like Brokers Tip, On Hand was also not a stellar racehorse, finishing second in her only start for owner Bernard Baruch's Kershaw Stable. But her grandsire was the immortal Colin and those bloodlines made her a valuable addition to Grayson's broodmare band when he purchased her from his friend Baruch.
Unfortunately, Admiral Grayson passed away in early 1938; his widow carried on the Blue Ridge breeding operation, which continues. She then sold Market Wise at the 1939 Saratoga yearling sales to Isabel Dodge Sloane for $2,300. As a two-year-old in 1940, Market Wise first raced in Sloane's Brookmeade Stable colors, amassing a grand total of zero wins in five starts.
Was this son of Broker's Tip going to head down the same road as his sire and his dam, never realizing his potential? Or was something better on the horizon?
Failed jockey, failed trainer, big success
After losing his jockey's license for rough riding in 1924, George Washington Carroll decided to turn to training. Much like his career as a jockey, however, Carroll found the training game a tough slog, claiming horses here and there but never gaining enough success to escape odd jobs.
By 1940, he was working for Hugh Fontaine, trainer for Brookmeade Stable, clocking horses and working around the Sloane barns. One day, a friend introduced Carroll to Louis Tufano, a contractor from Long Island who was looking to break into owning a few racehorses. Tufano wanted to buy a couple of horses and have Carroll train them. Mrs. Sloane sold two horses to the nascent owner for $3,000: Flank, who was valued at $2,500, and Market Wise.
Market Wise was still a maiden, but, when Carroll saw him coming on fast at the end of a six-furlong maiden race, the trainer knew that the colt needed more distance to take advantage of his running style. In his next race, this one a mile-and-seventy yards at Empire City Race Track, Market Wise finally broke his maiden.
Carroll moved the stable south to Tropical Park and Hialeah, where Market Wise won four of his ten starts between late October and mid-April. Those races gave Tufano enough confidence in his horse to nominate him for the 1941 Kentucky Derby. His trip in the Wood Memorial Stakes at Jamaica rewarded that confidence.
In the Wood, Market Wise usurped King Cole as New York's best Derby candidate, using his characteristic late kick to win this prestigious stake race by a nose. The jockey on board Market Wise for this victory was none other than Don Meade, the same jockey that had ridden the colt's sire Broker's Tip to victory in the Fighting Finish Derby of 1933.
With the win, Market Wise was off to Louisville for the Kentucky Derby. Tufano threatened to keep his colt in the barn, though, citing the track's condition in the days leading up to the race:
"I'm not taking any chances hurting or ruining my colt for 90 Kentucky Derbies," the owner grumbled, "The way I feel now, we pull out unless it rains before the Derby and the track is softer."
By Derby Day, though, Tufano must have been satisfied with Colonel Matt Winn's treatment of the racing surface because Market Wise joined ten others in the starting gate for the 1941 Kentucky Derby.
Whirlaway whirled to a race record victory in the Run for the Roses, setting a record of 2:01 2/5 for the mile-and-a-quarter and winning the first of eight Derbies for Calumet Farm. Market Wise hung out mid-pack throughout the race and came on at the end to finish third.
The two would meet again in the Dwyer, Whirlaway winning that one by a length-and-a-half. However, as the year went on, Market Wise's late running style found a home in the progressively longer races of the summer and autumn. He won the Rockingham Park and Edgemere Handicaps before meeting Whirlaway again in late September in the Jockey Club Gold Cup
"He'll run all day"
Whirlaway had already sealed his place as one of racing's immortal champions with his wins in the Kentucky Derby, the Preakness Stakes, and the Belmont Stakes to complete the fifth Triple Crown. That was part of a three-year-old campaign in 1941 where he would start twenty times and never finish out of the money.
However, a meeting with Market Wise in the two-mile Jockey Club Gold Cup would prove a challenge for even a Triple Crown winner.
Belair Stable's Fenelon set the race's early pace, Whirlaway and Market Wise stalking. When Whirlaway made his usual late move for the lead on the final turn, Market Wise went with him, running with the Triple Crown winner down the Belmont stretch. By the sixteenth pole, the two were head-to-head, Whirlaway on the rail and Market Wise on the outside. In the race's waning yards, Whirlaway swerved slightly, but Market Wise stayed straight, that split-second waver enough to give Tufano's colt the lead. At the wire, Market Wise was a nose in front of Whirlaway, his time of 3:20 4/5 a new North American record.
Market Wise finished his three-year-old season with victories in the Gallant Fox and Governor Bowie Handicaps and the Pimlico Special. At four, Tufano's colt beat Whirlaway again in the Suburban Handicap before sitting out the rest of 1942 with a wrenched knee.
Carroll and Tufano brought the son of Brokers Tip back at age five in 1943, racing him ten times that year with three victories. His last race was the Narragansett Special, which he won by a head under legendary jockey Johnny Longden.
They tried to bring him back in 1944, but the same chronic unsoundness that had kept Brokers Tip from doing more on the racetrack brought Market Wise's career to an end, as well, though the son had long outpaced his sire with his victories in races like the Wood Memorial, the Jockey Club Gold Cup, the Suburban Handicap, the Pimlico Special, and many more.
The horse that had cost Tufano a pittance, often reported as $1,000, ended his career with a record of nineteen wins, seven second-place, and ten third-place finishes in fifty-three starts. For his breeder, Admiral Grayson, Market Wise proved the best horse he bred, amassing $222,140 in winnings. For Brokers Tip, who had limited opportunities in the breeding shed, Market Wise would be the best of his 112 foals.
Tufano and Carroll would continue racing after Market Wise, but they would not find another horse to carry them to the heights that the son of Brokers Tip had. Market Wise eventually retired to Kentucky's Hedgewood Farm, where he would go on to sire 150 named foals, including To Market.
His son To Market would win the Arlington Handicap and the Hawthorne Gold Cup among his twelve victories and then later would become the damsire of Relaxing, Champion Older Mare of 1981 and the 1989 Kentucky Broodmare of the Year. Her best foal was Easy Goer, 1989 Belmont Stakes winner and famed rival of Sunday Silence. Market Wise, the bargain colt that beat a Triple Crown winner, the son of a horse whose lone win happened to be a Kentucky Derby, has his name preserved in the pedigrees of royally bred iconic champions. Who could have predicted that all those decades ago?
Admiral Cary Grayson attended to Presidents, indispensable to more than one occupant of the Oval Office, but his legacy continues not in the history books. It remains on Blue Ridge Farm, perhaps the oldest continuously-operated breeding farm in Virginia.
Members of the Grayson family still own Blue Ridge, celebrating its rich history in the mid-Atlantic breeding scene. Here, Broker's Tip sired Market Wise, whose remarkable talent at running long was carried forward through the generations, his name immortalized in the pedigree of champions.
For Louis Tufano and George Washington Carroll, his owner and trainer, Market Wise was the horse of a lifetime. Their faith in this bargain colt with bad feet was rewarded with victory after victory, potential realized because of a former jockey turned conditioner and a former bricklayer turned contractor:
"Say, this horse is a sweetheart. He's honest. He'll run all day." Tufano swooned over his colt. "Better horses around? I'm just waiting to be shown."
Sources
Craigie, Walter. "State-Bred Market Wise Proves Good Bargain." Richmond Times Dispatch. September 30, 1941.
Feder, Steve. "Strike Threatens Today's Kentucky Derby." San Bernardino County Sun. May 3, 1941.
Haggerty, Joe. "Sprint Failure Takes Distance Race at $89." Daily News (New York, NY). October 26, 1940.
Hayden, Fred. "G. Washington Carroll's Best Friend Is Market Wise of '41 Turf Fame." Sioux City Journal (Sioux City, IA). March 1, 1942.
"Jockeys Refused License." Daily Racing Form. May 28, 1925.
Jones, Jimmy. "Whirlaway Breaks Record to Win Derby." Louisville Courier-Journal. May 4, 1941.
Lardner, John. "Louis Tufano, Ex-Bricklayer, Races His Market Wise Anyplace, Anyhow, and Against All Equine Comers." Richmond Times Dispatch. October 22, 1941.
"Market Wise: How a Man Made a Champ of a Tenderfooted Horse." Chattanooga Daily Times. February 8, 1942.
"Market Wise Through Racing." Daily Racing Form. June 14, 1944.
"Market Wise Wins Wood Stakes; Derby Next." Chicago Tribune. April 27, 1941.
McCann, Dick. "Market Wise Wins, Whirlaway 2d as 51,903 Bet a Record Two Million." Daily News (New York, NY). May 31, 1942.
"Says Market Wise Through for 1942." Windsor Star. August 21, 1942.
"Story of Breeder's Faith in His Horse." Daily Racing Form. May 25, 1942.
Tynan, Murray. "Market Wise Defeats Whirlaway by a Nose." Miami News. September 28, 1941.
LATEST NEWS