SPURN, MOSCHONAS HAVING THE LAST LAUGH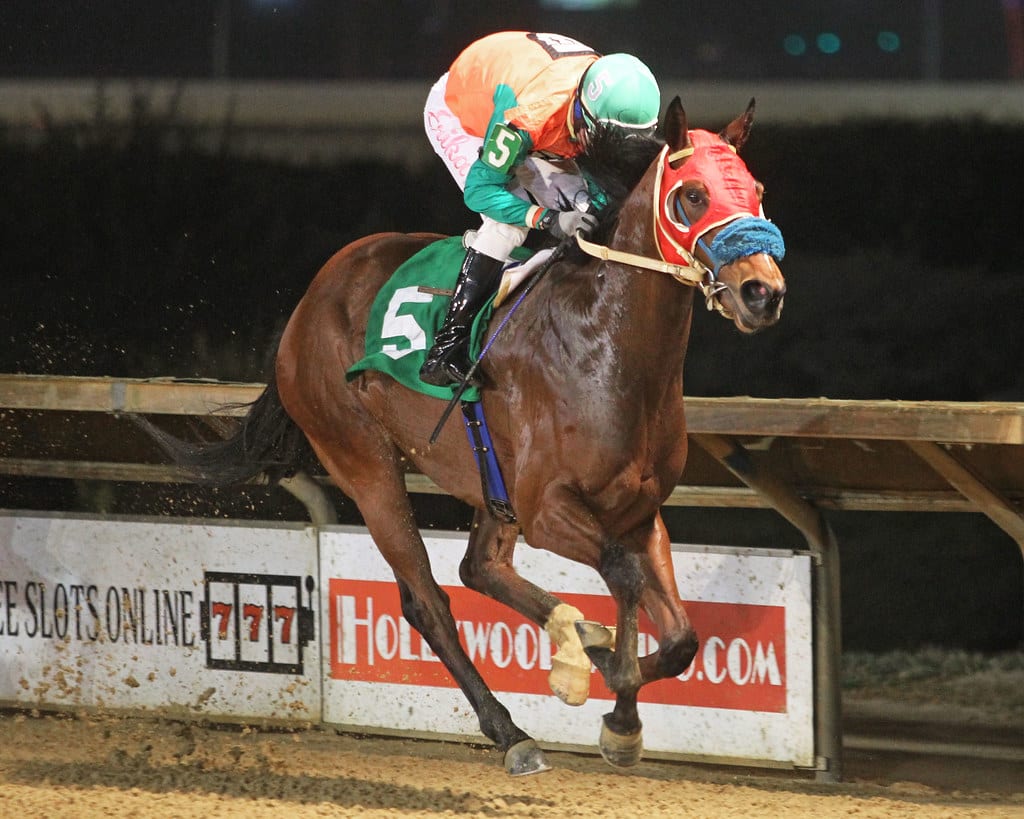 Ted Black

April 7, 2021
Trainer Gerasimos Moschonas can still remember the first time that he set his eyes on Spurn when he purchased the Hunt Crossing colt from breeder Ronald Kilbourne. And he can still remember the reactions of onlookers in the barn area at Charles Town when he walked his new charge through the shedrow and into his stall for the first time.
Now Moschonas and Spurn are having the last laugh.
On April 1 – no fooling — in a one-turn allowance, Spurn recorded his second straight victory when the three-year-old handled a tough field of older runners to win by a neck in 52.78 seconds. It was the third win in seven starts for Spurn and his second allowance score in eight days, having prevailed March 24 in 52.28 for the same distance.
"When I looked at him and decided to buy him, he was a little on the small side," said Moschonas, who will turn 79 this month. "He looked like he still needed time to fill out. Then when I took him to the track for the first time, the other people there were laughing because he was so small. He just needed time to grow, so I took my time with him. Even now he is still a little on the small side. But this horse is a real Godsend!"
In his most recent triumph, Spurn took care of a group that included such well-regarded runners as the talented but flighty River Crosroad RVF, hard-hitting Bubba Grump, and fellow soph Golden Key. Under Victor Rodriguez, he broke well to race just off Golden Key down the backside, collared that one on the far turn, and then turned aside the late inside bid from River Crosroad RVF for the score.
Moschonas, perhaps best known locally as the conditioner of Sea Dubai, who earned over $220,000 racing for the trainer, was not shocked when Spurn finished seventh in his career debut last August 15 in a one-turn maiden special weight event for state-bred juveniles.
But he admitted being a little surprised when the Hunt Crossing colt forged a 25-1 upset in his next start on Nov. 21 by getting the 4 1/2-furlongs in 54.23 with Victor Rodriguez aboard.
"I thought he would improve a little off his first start," Moschonas said. "I still wasn't sure he was ready to win next time out. But he's quick, and he ran a big race. I was so happy that night. I really thought he might need another race or two. But he won for me that second time out and he was good."
In each of his next two starts, Spurn finished fifth in two-turn allowance events in which Social Chic scored for trainer Jeff Runco. Moschonas realized that Spurn did not want to go that far just yet, but his options were limited at the time.
March, on the other hand, proved to be very productive for the trainer and his improving colt. Now Spurn appears to be growing in more ways than one.
On March 10, Spurn, a 39-1 longshot, finished a solid second behind Golden Key in a one-turn allowance for state-breds. Two weeks later he displayed ample early speed to press the pace down the backside and through the far turn, surged to command at the lead of the lane then edged clear late to a two-length score while stopping the timer in a solid 52.28 for the one-turn dash distance with Rodriguez up.
"He's got a lot of natural early speed," Moschonas said after Spurn's April 1 triumph. "I knew he wanted to be back in the 4 1/2-furlong races. He's done good every time I've dropped him in for those races. He was really good last start and he was really good tonight. I only bet $20 to win on him. But I got the purse and I'll take that any day. I'm walking to the test barn and everyone is trying to call me, my brother, my wife, everyone."
LATEST NEWS