LAUREL PARK WINTER: 10 STORIES THAT MATTERED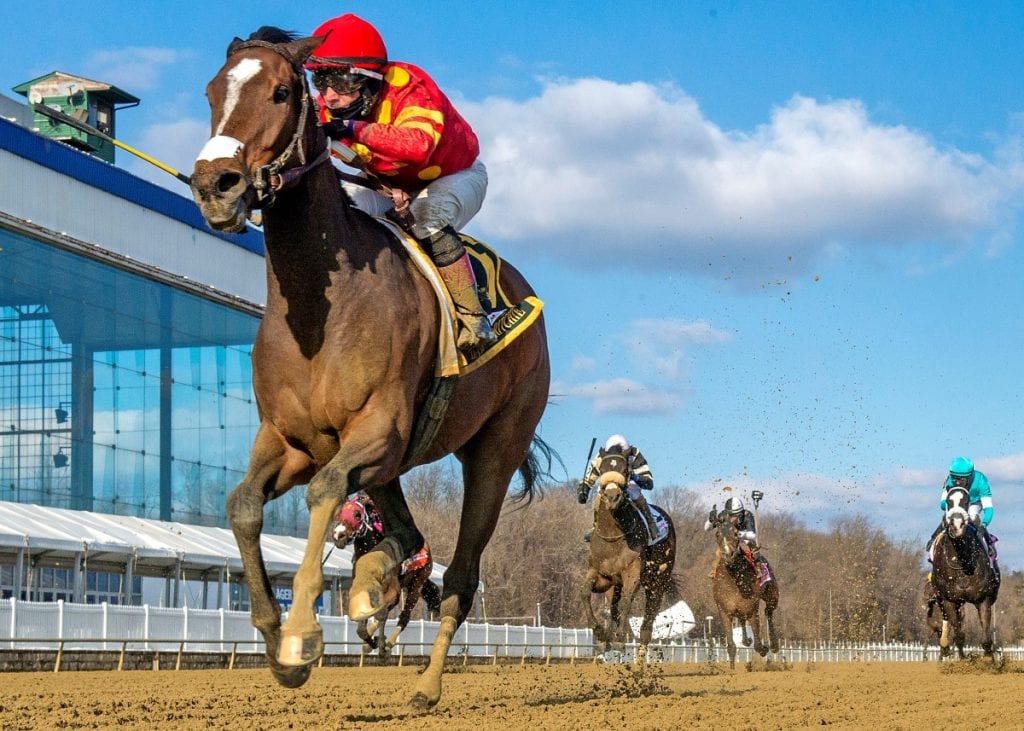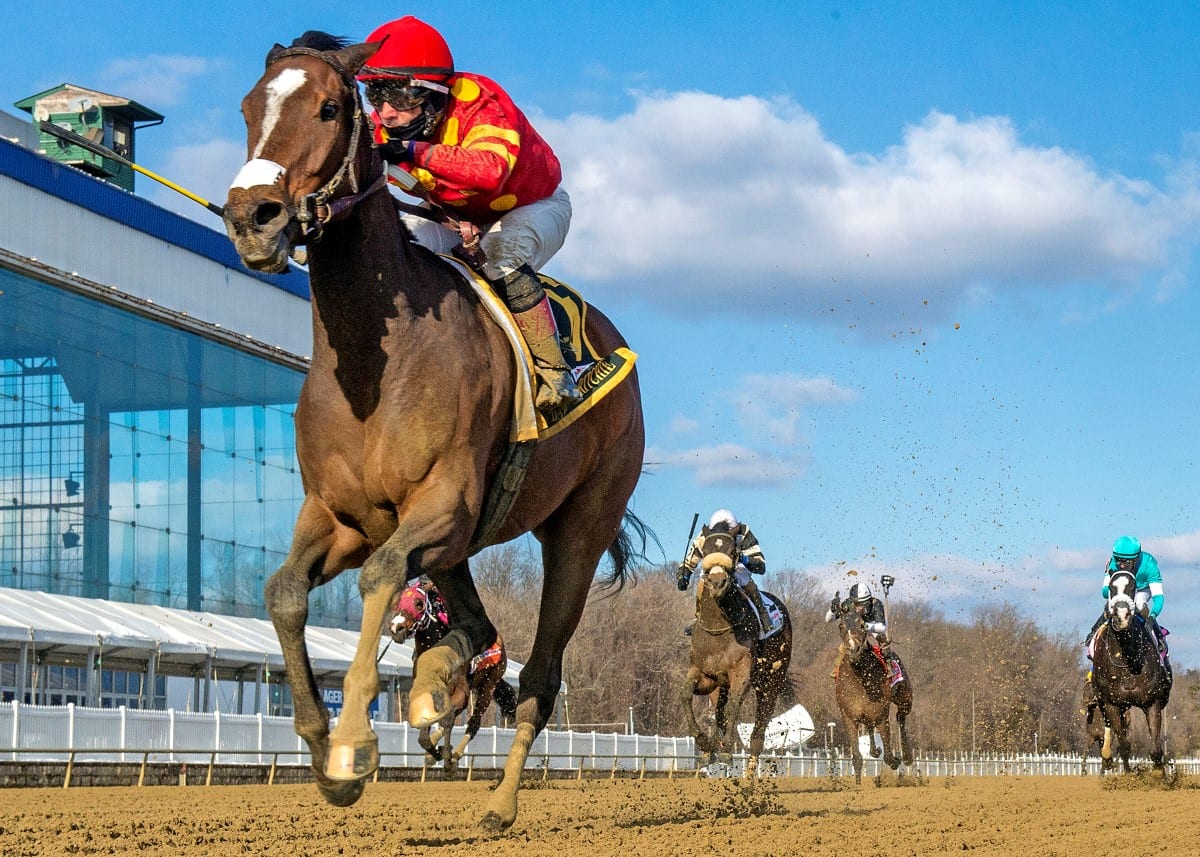 THE EMERGENCE (and stumble) OF ALEX CRISPIN
Crispin won the Eclipse Award for outstanding apprentice jockey in 2020 after a fantastic summer of riding at Delaware Park. Setting up shop at Laurel this winter, he hit the ground running in 2021. He had five multi-win days in the first six days of the meet, including four-win days on January 3 and January 9. Crispin had done enough to hold on to the leading riding title, with 33 winners to runner-up Sheldon Russell's 32. The bad news for Crispin: he was suspended 30 days – the entire racing month of March – for weighing in five pounds underweight following a January 16 race. If horsemen forgive the peccadillo, Crispin figures to be a prominent presence in Maryland the rest of the year.
ANOTHER TRAINING TITLE FOR CLAUDIO GONZALEZ
Gonzalez won his fifteenth Maryland training title at the Laurel winter meet, with 28 winners from 116 starters. The headliner to his meet came on February 5, when he saddled four winners. He's been the leading trainer in Maryland for four consecutive years, and is in position to make it five straight seasons. He was followed home by Mike Trombetta (17-for-78) and Jerry Robb (15-for-56).
1,000 WINS FOR CAROL CEDENO
One of the leading riders in the mid-Atlantic, Carol Cedeno earned a major career milestone on January 2, with her 1,000th victory. She crossed the wire first in a non-winners of two claiming race on Perpetrate, then had to sweat out a steward's inquiry while they were looking at possible interference by her mount in the stretch. Her horse was cleared of all charges, and her milestone win was allowed to stand. Cedeno has done her best work at Delaware Park, where she's been the leading jockey six times. She rode at Laurel regularly this winter, and finished tied for tenth with thirteen wins.
BIG WAY TO GET YOUR FIRST WIN
Natalia Lynch earned her first career training win in style on January 16. Her horse Wendell Fong won the Fire Plug Stakes in a 6-1 upset, with a dramatic rally from the back of the pack. Last early on after an awkward break, Wendell Fong made a five-wide bid for the lead in the stretch. With strong encouragement from Sheldon Russell late, Wendell Fong got up in the last few strides for a neck victory. 
STAKES GALORE FOR SHELDON RUSSELL
Wendell Fong was one of three stakes winners that day for Sheldon Russell, and one of seven he earned on the meet overall. He won on several horses trained by his wife, Brittany Russell, including Whereshetoldmetogo in the March 13 Not For Love Stakes, Maythehorsebwithu  in the February 20 Miracle Wood Stakes; and Hello Beautiful in the January 16 What a Summer Stakes. Russell's other January 16 winner came in the Geisha Stakes, where he guided Gale to victory for trainer Jonathan Thomas.
FEARGAL LYNCH ON THE COMEBACK TRAIL
Feargal Lynch's 2020 season ended prematurely, when he suffered neck and back fractures in a spill on July 23. After months of recuperation and rehabilitation, Lynch returned to the saddle on February 7, finishing eighth aboard Saintly Samurai. Eight days later, Lynch found his way back to the winner's circle, as he guided Nomo Ron to victory in a n/w3x allowance optional claiming race for trainer Anthony Farrior. Lynch won two races at the winter meet, from 27 mounts. 
HIBISCUS PUNCH PULLS THE UPSET IN BARBARA FRITCHIE
The February 20 Runhappy Barbara Fritchie Stakes looked like a coronation for Hello Beautiful. She was a perfect 7-for-7 on the Laurel dirt, and was coming off an impressive win in the What a Summer Stakes. As the 2-5 Fritchie favorite, she stalked the pace and looked poised to strike, but came up empty in the stretch and was a well-beaten fifth. Instead, Hibiscus Punch, a recent allowance winner, drew off in the stretch and posted a 41-1 shocker. That marked the third Fritchie win for jockey Horacio Karamanos, and the first career graded stakes win for trainer Justin Nixon. 
SHACKLED LOVE WINS THE PRIVATE TERMS
A month later, the March 13 Private Terms Stakes saw another big upset. Shackled Love, a Maryland-bred gelding sent off at 21-1, battled on the lead with favored Maythehorsebwithu. The two continued to duel in the stretch, and although both showed plenty of heart, Shackled Love, who raced wide throughout, got the upper hand in the last few strides. He won by half a length, covering 1 1/16 miles in 1:43.56 under jockey Charlie Marquez, who picked up his first career stakes win in this race. Gary Capuano was the winning trainer.
SHARE THE RIDE DOMINATES THE GENERAL GEORGE
As the 4/1 third choice, Share the Ride won the General George Stakes February 20 as much the best. He battled for the lead while racing in between horses in the early stages, then seized control of the lead as they entered the stretch. He drew off in the last eighth, and crossed the wire two lengths in front. That win marked his second graded stakes win of his career, following a victory in the Fall Highweight Handicap at Aqueduct last fall. Victor Carrasco had the winning mount, his first graded stakes victory, for trainer Miguel Penaloza. 
EQUINE HERPESVIRUS STRIKES THE BACKSIDE
The first local horse with equine herpesvirus (EHV-1) emerged in early March at Laurel Park and kicked off a scramble among track officials and state regulators to get the highly contagious disease under control, with the shuttered Bowie Training Center sputtering back to life as a home for horses stricken with the disease. As of April 6, Laurel, Pimlico, and Bowie are all under quarantine orders, with Pimlico slated to emerge April 12, Bowie on April 17, and Laurel on April 18 – as long as no additional horses test positive.
[FAG id=71038]
LATEST NEWS