Laurel Park picks and ponderings December 27, 2020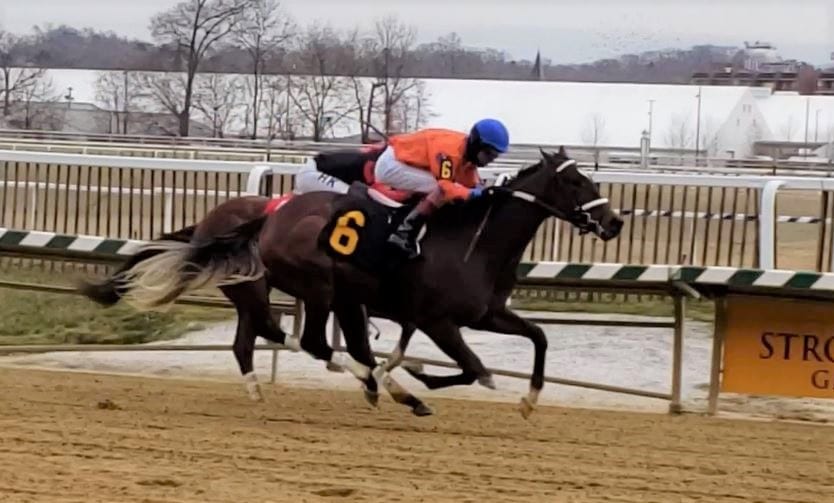 Virginia Beach. Photo: the Racing Biz
In which we pick the races from Laurel Park each day…
Post time: 12:25 p.m.
Carryovers: Rainbow Jackpot Pick 6 — $14,260 Super High 5 –$1,696 Late Pick 5 — $0
 ANALYSIS
RACE 1: MAIDEN CLAIMING $40,000, 2-YEAR-OLDS, FILLIES, 1 MILE
3-4-2-1
#3 Tayler's Chrome (3/1): Florida invader goes first out for Claudio Gonzalez. She's run competitively against better maiden claimers down there, including a third-place finish when stretching out to seven furlongs last out. Shouldn't have much trouble with the distance, and joining the Gonzalez barn should only help. 
#4 Salamina (5/1): She ran a strong race second out, and it was reasonable to believe she'd move forward off that race next out. Unfortunately for her, she laid an egg despite a good stalking trip. Jerry O'Dwyer has given her some time off since that race, and adds blinkers for her comeback effort. Her works in the interim have been solid. Looking for a bounceback effort here.
#2 Closertotheheart (4/1): Got pummeled in the wagering last out when going 1 1/16 miles, off three straight brisnet figures in the mid-70s. She ran evenly in the stretch and was fifth. Will cutting back to one turn help the cause?
RACE 2: CLAIMING $5,000 (CONDITIONED), 3-YEAR-OLDS AND UP, FILLIES AND MARES, 5 1/2 FURLONGS
8-9-6-5
#8 Splendor Gal (7/2): Ran a nice race last out, recovering after a poor break to miss by a nose, while earning a season's best figure of 81. Has good tactical foot, in a race loaded with speed.
#9 Gottaflathaveher (9/2): Drops back to the conditioned level, after trying open horses last out and not finding much success. While her lone recent win came in a gate-to-wire effort, a trip she'll have a hard time working out here, she doesn't need to be on the front end to run well. Another one who can take advantage of fast fractions.
#6 Dat Deres Gold (6/1): Her first race off a break, last out at Charles Town, was going well until she blew the turn. You can toss that race. Just missed in two starts in a row against better before going on the shelf in late August. Another one who has speed, but doesn't need to be in front early on.
RACE 3: MAIDEN SPECIAL WEIGHT, 2-YEAR-OLDS, FILLIES, 7 FURLONGS
3-8-6-4
#3 Little Huntress (8/5): One of the few Brittany Russell horses to *not* win, it seems. She set the pace on debut and looked clear turning for home, but got caught in the last few strides. Should get an uncontested pace once again, but has she matured enough since that November 21 race that she can hold on? I'm willing to bet that she has. 
#8 My My Girl (9/5): Chased a Russell 2-year-old all the way around last out, and finished well-clear for second. The same scenario could play out here. Looks much better than the rest, but I don't know if she can run with Little Huntress.
#6 Cowgirl Night (15/1): She's closed well in just about all of her starts, and Anthony Farrior is very good with horses jumping back to maiden special weights from maiden claimers. She's the perfect type to clunk on late and get a share of the exotics at a price.
ANALYSIS
RACE 4: CLAIMING $5,000 (CONDITIONED), 3-YEAR-OLDS AND UP, 5 1/2 FURLONGS
7-3-6-9
#7 Holy Saint (5/2): He got bet in his first start off the claim for Anthony Farrior, against better horses of the same condition. He showed little in that race, however. This is his first try at this level, so the hope is he'll wake up a bit. Steadily ran figures in the mid-70s over the late summer and fall; those numbers would win this race. 
#3 Victory Given (5/1): An iron horse in training; this 3-year-old gelding will make his nineteenth start of the year in this race. After a few near-misses, he surged to victory at this level last out, under the capable hands of hot-riding Alex Crispin. Should sit right off the pace, and pack a strong closing punch.
#6 Robber Bob (9/2): He knows only one way to run: go as fast as he can, as far as he can. The only serious speed in here is DC Fireman, whose pace figures aren't fast enough to go with Robber Bob, and Shuddawuddacudda, who is very cheap. As such, Robber Bob shouldn't have much trouble establishing his own terms on the lead. From there, the rest could be in trouble.
RACE 5 – MAIDEN CLAIMING $10,000, 3-YEAR-OLDS AND UP, 6 FURLONGS
2-12-8-9
#2 True Shipman (5/1): Since dropping to this level for the first time, he's been steadily improving. Last out, he got outkicked by a big favorite who drew away from the others, but he held on well to finish second. His figure of 72 is a lifetime top, and the best last-out number in the race by ten points. 
#12 Tiz Auction Time (3/1): He's lightly-raced, drops to this level for the first time, and adds blinkers. These are all good signs in a race like this. Ran into a vastly superior 2/5 shot in his last try, but he ran on well and was a clear-cut second.
#8 Hinting (5/1): His most competitive races have come at shorter distances. He tried to stretch out in his last two races, and it didn't go so well. Cutting back to six furlongs should help, especially in a race without much early speed. He's shown some of that in the past.
RACE 6: CLAIMING $5,000 (CONDITIONED), 3-YEAR-OLDS AND UP, FILLIES AND MARES, 1 MILE
2-1-6-5
#2 Introspection (2/1): She's won her last two races going away, working her way up the class ladder in the process. She's prompted the pace in her last few races, but now finds herself in a race without any early speed at all. That could enable her to take charge early and leave them reeling. 
#1 Bring Me Answers (3/1): Has also shown something resembling early speed in her recent races. She's dropping from the open level, where she was a mild third after a wide trip. This looks like a field where she can be forwardly placed and outkick the others in the stretch.
#6 Simmard Shenanigan (3/1): She won at this level two starts back, drawing off in a 1 1/16 mile affair. Like the other two, she should be forwardly placed. The only downside is that her ceiling isn't quite as high as the other two's.
ANALYSIS
RACE 7 – MAIDEN CLAIMING $25,000, 3-YEAR-OLDS AND UP, FILLIES AND MARES, 6 1/2 FURLONGS
6-7-2-3
#6 Originally From Dot (8/5): Ran huge in her debut, battling gamely in the stretch to lose by a nose to a more experienced rival. Claudio Gonzalez claimed her out of that race, and now enters her at the same level. Clearly the one to beat.
#7 Fancy Princess (8/1): Another one coming off a strong debut, she closed with gusto after a wide trip against slightly weaker. Draws a bit further to the inside than she did in that last race, and can easily outkick her rivals and get a piece.
#2 Top Hat Boss (6/1): Woodbine shipper has gotten entangled in pace battles in her recent tries, but has held on better each time. Her last race, her fourth career effort, was not unlike the last race of Originally From Dot, in that she fought on the lead, but faded in the last sixteenth.
RACE 8: STARTER OPTIONAL CLAIMING $25,000, 3-YEAR-OLDS AND UP, 1 MILE
2-5-7-6
#2 Beyond the Victory (2/1): He's proven in his last two starts that he can't go two turns against these types. He raced well in his last try at a mile, which was his first start off a brief break. He set the pace, then got clear in the stretch before fading. Comes in here in form, and has dominant speed figures. He's going to be tough on the lead here.
#5 Confessor (6/1): Visually, his form has been up and down, but his figures have been in the same upper 80s/low 90s range needed to win this type of race. He was hung wide early in his last start at Parx, against better, and flattened out. Should enjoy a better setup here.
#7 Universal Payday (9/2): Probably the best closer in a race with lots of horses with good late speed. He drops from the n/w2x level, and gets blinkers off. He's shown a mild amount of early speed in most of his races, so he could get the jump on his fellow late-running rivals.
RACE 9: MAIDEN CLAIMING $40,000, 3-YEAR-OLDS AND UP, FILLIES AND MARES, 5 1/2 FURLONGS
7-9-4-1
#7 Bourbon Wildcat (9/5): Her only bad race came when she ducked in after the start. Otherwise, she's gone out to the front and held in well, running a big number each time. Will be dangerous on the front end. 
#9 Lady Magnolia (8/1): Interestingly, she was scratched out of a $16,000 spot a few weeks ago, only to return against tougher here. Showed promise in her lone start in a dirt sprint, which came in her debut as a 2-year-old. She finished a solid second, losing only to the precocious Shippy. Worth a shot as someone fresh to this type of race.
#4 Gimme's Goldengirl (9/2): She got bet in her career debut at this level, and rallied wide for third. If she can build on that race, she'll be tough.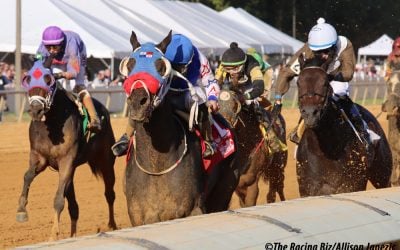 We provide full-card picks and analysis for this afternoon's races at Laurel Park.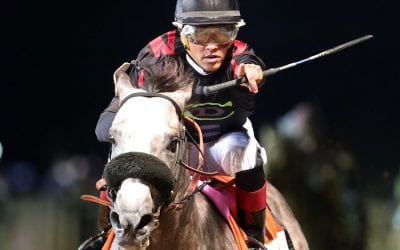 We've got Charles Town picks and preview today as the track presents its Friday card!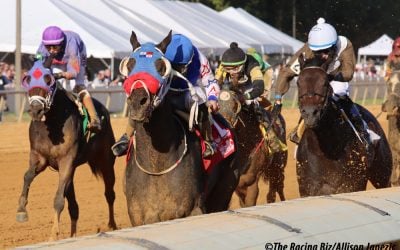 We provide full-card picks and analysis for this afternoon's races at Laurel Park.