LAUREL: CLAUDIO GONZALEZ WRAPS UP TRAINING TITLE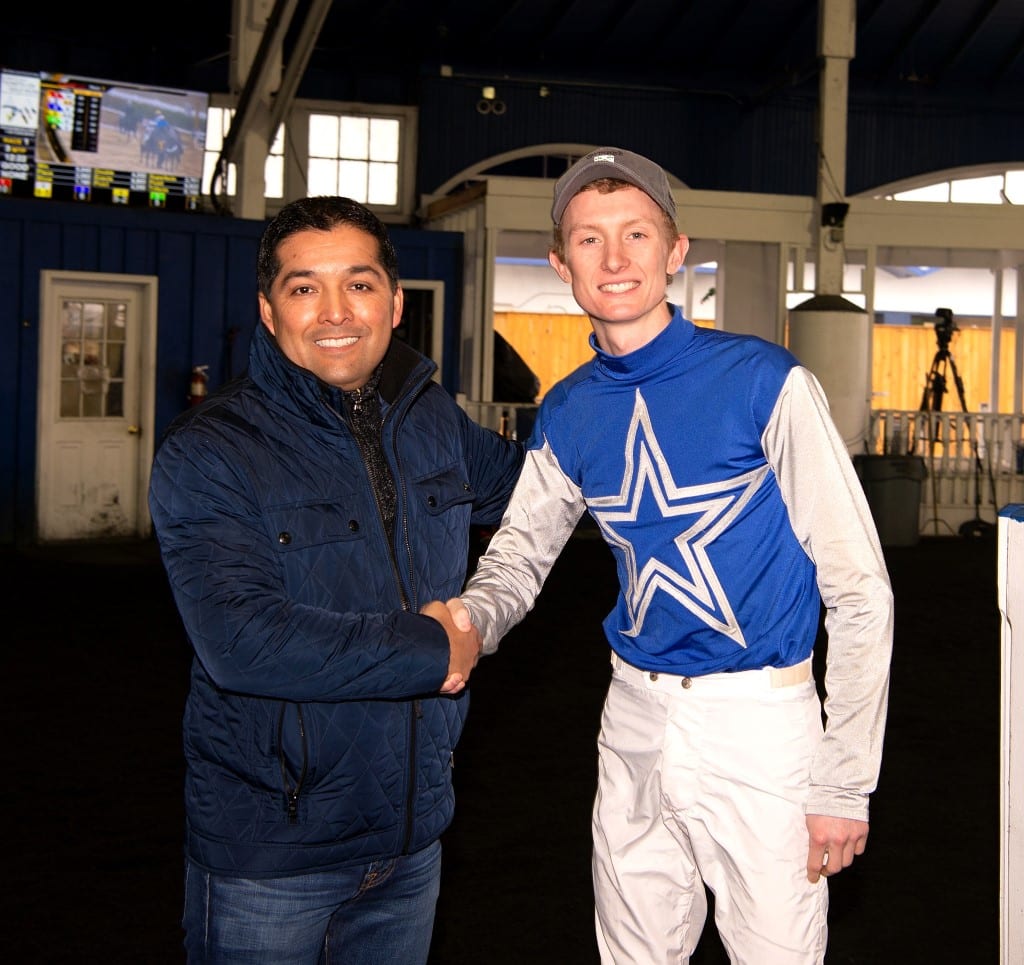 Press Release

December 27, 2020
Midwest Thoroughbred, Inc.'s Tayler's Chrome, a juvenile daughter of two-time Horse of the Year California Chrome, captured Sunday's opener at Laurel Park to clinch the fall meet championship for trainer Claudio Gonzalez.
Ridden by Angel Cruz, Tayler's Chrome ($7.60) pressed the pace for a half-mile and took a 2 ½-length lead into the stretch before drawing off to win by five in 1:38.28 over a fast main track in the one-mile waiver maiden claimer for 2-year-olds. One of three horses in for a $40,000 tag, she was not claimed.
It was the 25th win of the fall meet for Gonzalez, putting the title out of reach for runner-up Brittany Russell, who would later win with impressive second-time starter Little Huntress, her 24th victory from just 49 starters. Gonzalez also won with 3-year-old filly Originaly From Dot ($3.80) in Race 7
Gonzalez, a 44-year-old cancer survivor, has now won 12 of the last 13 meets in Maryland dating back to Laurel's 2017 spring stand, and owns or shares 15 titles overall. With just New Year's Eve remaining on the live racing calendar in 2020, he will finish with the most wins in the state for a fourth consecutive year.
"When we win the title it's not only for me, it's for all the people working for me. It's a team; everyone is excited. No matter what, in the end we want to win. It's a good feeling," Gonzalez said. "It's very special for everybody. My assistants, the grooms, everybody. There are very good trainers here and that's why to win the title is a special, special feeling."
Gonzalez entered the Christmastide Stakes Day program Dec. 26 tied with Russell at 22 wins. Trying to become just the fourth female to lead the trainer standings in Maryland following Karen Patty (1992), Mary Eppler (2016) and Linda Rice (2017), Russell won the $100,000 Dave's Friend with Whereshetoldmetogo.
But Gonzalez captured the $100,000 Native Dancer with historic Pimlico Special (G3) winner Harpers First Ride and $100,000 Anne Arundel County with 2-year-old filly Miss Leslie – a horse he claimed for $25,000 two starts prior – to retake the lead.
Claimed by Gonzalez for $30,000 out of a Sept. 14, 2019 win at Churchill Downs, MCA Racing Stable's Harpers First Ride won for the seventh time in 11 starts in 2020, four of those wins coming in stakes – the Deputed Testamony, Richard W. Small and Native Dancer at Laurel and Pimlico Special at Pimlico Race Course.
A gelded 4-year-old son of Grade 1 winner Paynter, Harpers First Ride has earned $495,623 this year, growing his career bankroll to $573,055. He will figure in the conversation for Maryland-bred Horse of the Year along with Knicks Go, who went three-for-three in the Midwest this year topped by a victory in the Breeders' Cup Dirt Mile (G1).
"The horse surprises me every race he runs. Every race he runs better and better. He walked today and he walked like he knows he won. It's really good when you see that," Gonzalez said. "He won four stakes, he won the Pimlico Special, and all the stakes he won he won good. It's the first time I've had a horse like that. With Harpers, every day is special. From the day we claimed him, he started doing good."
Among the early 2021 stakes for 4-year-olds and up going a route of ground at Laurel are the $75,000 Jennings for Maryland-bred/sired horses at one mile Jan. 16, the $100,000 John B. Campbell at about 1 1/16 miles Feb. 13 and $100,000 Harrison E. Johnson Memorial at 1 1/8 miles March 13. Gonzalez said the connections will keep all their options open for the soon-to-be 5-year-old.
"He proved that he won his races easy and maybe he has to take the next step and race with the big guys and see how he does," he said. "It all depends on how he's doing after the race, day by day, and we'll make a decision what we're going to do."
Gonzalez has 99 wins in Maryland this year heading into Thursday's fall meet-ending program, where he has five horses entered. He also finished first overall in 2017, 2018 and 2019 but said this year takes on added significance, especially since live racing was paused in the state for 2 ½ months from mid-March to late May due to the covid-19 pandemic.
Aside from Harpers First Ride, Gonzalez's other stakes winners this year were 3-year-old Lebda in the Miracle Wood and Private Terms, Princess Cadey in the Beyond the Wire; Fly On Angel in the Grade 3 Charles Town Oaks; Eastern Bay in the Polynesian Stakes; and Completed Pass in the Laurel Dash;
"I don't pay attention to those things. It's not like I have just really good horses. A lot of the horses we have we claimed. They do a little bit better and they run. Like [Saturday], the filly we claimed [Miss Leslie] and she won the stake. You never know," Gonzalez said.
"The horses tell me where I have to put them. Every race they go, they say ok I'm ready for the next step and we go," he added. "It's special this year because for everybody it was a strange year with the coronavirus. It's extra special for everybody."
LATEST NEWS