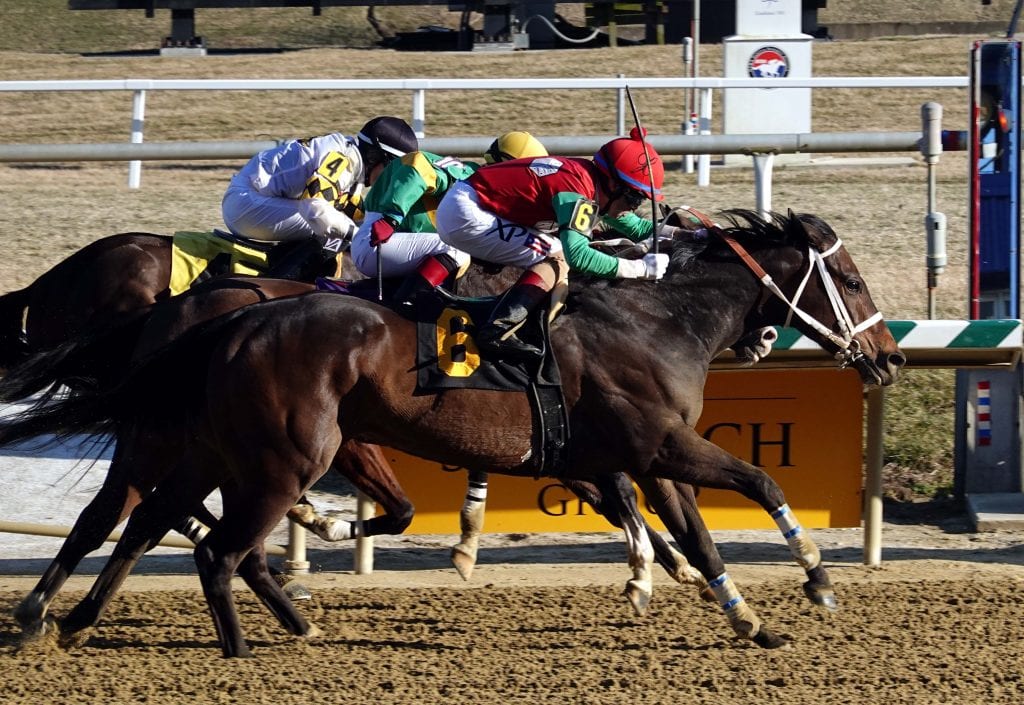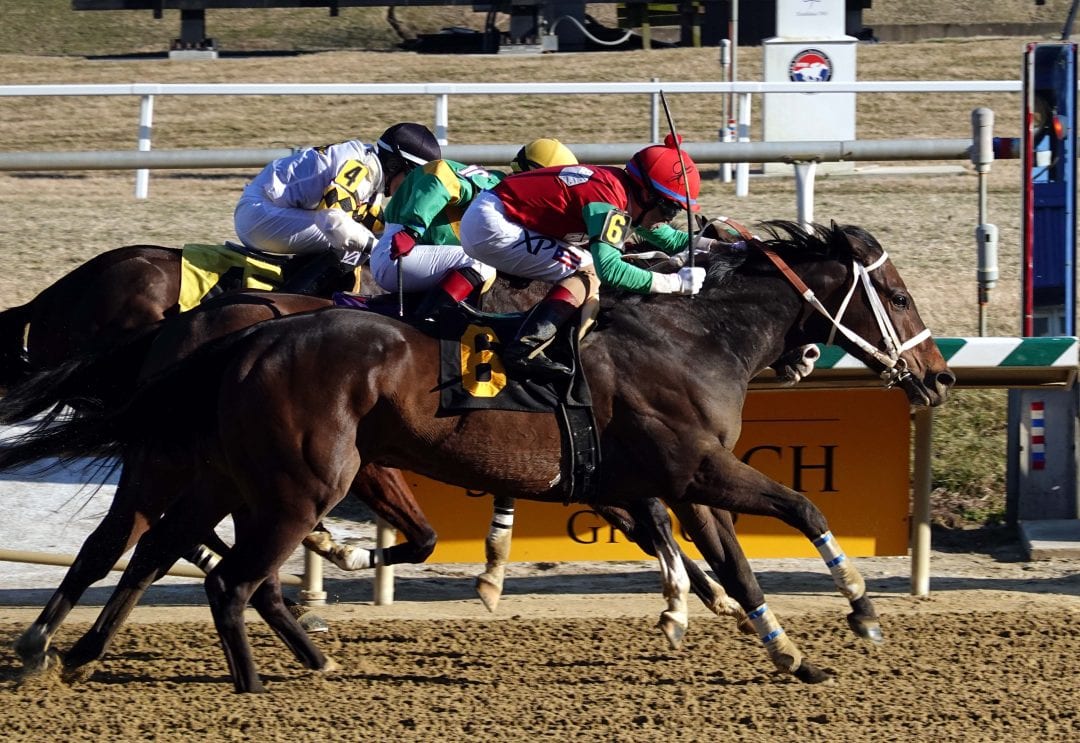 ANALYSIS
RACE 1: CLAIMING $10,000 (CONDITIONED), 3-YEAR-OLDS AND UP, FILLIES AND MARES, 5 1/2 FURLONGS
6-3-2-4
#6 Stay Out (2/1): Had a bit of a frustrating time in her last race. She was rated off the pace, behind a leader who set an insanely slow pace over a speed-favoring track. Unsurprisingly, she had little left to give in the stretch. She has the most early speed in this race, and if she breaks cleanly, Jorge Ruiz can gun her to the top and try to run them off their feet.
#3 Gottaflathaveher (3/1): She's coming out of the same race as Stay Out, and made a strong middle move off that slow pace. Her brisnet figures have improved steadily in her last few races, and looks to be rounding into peak form. If Stay Out tires on the lead, she'll get first jump.
#2 Fille d'Esprit (9/5): Lightly-raced filly ran a lifetime top in her last race, while outfinishing both Stay Out and Gottaflathaveher. Trainer John Robb is 27% second off the claim. 
RACE 2: MAIDEN CLAIMING $25,000, 3-YEAR-OLDS AND UP, FILLIES AND MARES, 5 1/2 FURLONGS (GRASS)
5-10-9-7 (DIRT: 15-13-3-1)
#5 Whispurring Kitten (3/1): Looks to finally get back to the grass after getting washed off a few times. She ran a giant race back in May against better, in her first race off a long layoff. Her dirt form has been solid, but she hasn't quite shown the same early speed as in the past. Michael Merryman is 3-for-8 with horse going third off the layoff. 
#10 Conga in Paris (10/1): Lightly-raced filly cuts back from 1 1/16 miles, after racing wide throughout against better and showing little. In her debut, at Delaware Park, she flew going five furlongs and was a clear-cut third. The 5 1/2 furlong distance looks like a good fit. 
#9 Sea Story (5/1): She's shown some decent kick earlier in the year, and improved her figure sharply second off the layoff in her most recent grass race. In that spot, she made up almost four lengths in the last eighth, earning a career-best figure of 73. If Whispurring Kitten backs up on the pace, this one looks like a prime candidate to reel her in.
RACE 3: MAIDEN SPECIAL WEIGHT, 3-YEAR-OLDS AND UP, FILLIES AND MARES, 7 FURLONGS
8-1-4-7
#8 Dance for the Gold (7/2): Ran a big race second out at Delaware. She chased a heavy 1/2 favorite, but closed strongly in the stretch to miss by a neck. Earned a figure of 80 in that race, an improvement of eleven points from her last start. As long as she takes any sort of step forward third out, she's going to be very tough.
#1 Pago Querido (8/1): Cuts back in distance after showing speed and fading while going 1 1/8 miles at Saratoga. That represented improvement from her prior race, where she didn't show speed at all. She's been freshened up a bit since that last race, and looks to get to the lead from the inside. Intriguing at a possible price.
#4 Bonkers (5/2): She's the only one in the field who can steadily run figures in the 80s, but she's hit the board in each of her last three without winning. That's usually not a good sign. Last time out, she was a clear-cut second behind her heavily favored stablemate going a mile and seventy yards. It's possible this is finally a field she can beat, but I don't know if I'd take low odds on that proposition. 
 ANALYSIS
RACE 4: STARTER OPTIONAL CLAIMING $25,000, 3-YEAR-OLDS AND UP, 1 1/16 MILES (GRASS)
4-1-10-11 (DIRT: 8-1-11-6)
#4 Make a Stand (7/2): Won a n/w2L claiming race at Monmouth Park two starts back in solid fashion, followed by a solid-closing second at Belmont Park last out. Faces a softer field than that here, and has a good closing punch. Notable that Trevor McCarthy, who frequently rides for Jamie Ness, elects to ride this Mike Trombetta horse instead.
#1 Bellarmine Hall (4/1): Ran by far a career-best grass race last out, stalking the pace and drawing off impressively. The race is an outlier from his usual form; can he maintain it? This is the aforementioned Ness horse that McCarthy jumped off; Jamie Rodriguez gets the mount instead.
#10 Daddy's Cozy (5/2): Makes his third start off a year-plus layoff. Last out, he checked in the stretch and was put up as the winner by disqualification. Despite the long break, he ran a figure of 84, right about where he had been running in 2019 before going on the sidelines. Should enjoy a good trip stalking the pace.
RACE 5 – ALLOWANCE OPTIONAL CLAIMING (N/W1X), 2-YEAR-OLDS, FILLIES, 6 FURLONGS
5-4-7-3
#5 Kewpie Doll (4/1): This race is essentially a matter of deciding which recent maiden winner you find most impressive. I liked this filly's win, which was her dirt debut. She stalked the pace, battled in the stretch, and drew of in the last eighth for a sharp-looking score. She was in over her head last out, now drops in class on her preferred surface. 
#4 Miss Wild (3/1): Yes, she beat nothing when breaking her maiden at Monmouth Park, but she still ran a giant figure of 85, while accelerating towards the end. She faded after getting involved in a pace tangle in the Sorority; this race is going to be a test of how resilient she is on the front end.
#7 Whiskey and Rye (7/5): She's the likely favorite, although I doubt she'll be as low as her morning line odds indicate. Beat a solid maiden field last out in gate-to-wire style, albeit over a speed-favoring Pimlico track. In her debut, she got entangled in a pace battle, and promptly gave way. Is she fast enough to outrun these, or has she matured enough in the last seven weeks that she can withstand pace pressure?
RACE 6: MAIDEN SPECIAL WEIGHT, 2-YEAR-OLDS, 5 1/2 FURLONGS (GRASS)
10-9-3-4 (DIRT: 11-14-12-16)
#10 Virginia Fib (20/1): One of the few in here who has run on at the end of his races, he was a sharp-closing third last out in the Jamestown Stakes. Looks to grab a piece once again. If he goes off anywhere near his morning line, he'll be a steal. 
#9 Gallant George (9/2): Ran a gutsy race first out, battling on the pace and holding on to second. He finished eight lengths ahead of the horse he dueled with in that race. Workouts since that outing have been very sharp.
#3 Filigree (5/1): Arnaud Delacour and Daniel Centeno team up with this firster, who looks very well-bred for grass and has been working well at Fair Hill. The board will tell the story. 
ANALYSIS
RACE 7 – ALLOWANCE OPTIONAL CLAIMING (N/W2X), 3-YEAR-OLDS AND UP, 1 MILE
4-2-3-6
#4 Toughest 'Ombre (7/2): Cuts back to a mile after almost wiring the field going 1 1/16 miles last out. He's run at least a 90 in each of his last four starts, and has dangerous early speed. In fact, the only time he's run less than 90 this year was when he faced a stakes-quality field back in June and encountered some traffic trouble. 
#2 Thundershook (5/2): The slight morning line favorite in a mid-open race, he's won five of his last six, mostly against weaker competition in Pennsylvania. He ran a big race last out at Pimlico, closing from behind going six furlongs to get up in the last few strides. He should relish the long stretch of the one-turn mile. 
#3 Unmatchable (8/1): Ran huge first off the layoff, stalking the pace and drawing off to a huge win at six furlongs. He earned a figure of 94 in that spot, the second-highest figure he's ever run, despite it being his first race in ten months. I don't have too many distance concerns with him; his career top figure of 104 came going a mile at Churchill Downs, and he won at this distance going two turns at Ellis Park.
RACE 8: MAIDEN CLAIMING $40,000, 3-YEAR-OLDS AND UP, FILLIES AND MARES, 1 1/16 MILES (GRASS)
1-2-7-8 (DIRT: 2-4-8-6)
#1 Begonia (6/1): Ran well in her first start off a brief layoff last out, after encountering early traffic trouble. She's lightly-raced and drops in for a tag for the first time. 
#2 Along the Way (6/1): She didn't show her customary early speed in her last race, and it ended up costing her. She set the pace in her last two before fading. There doesn't look to be much speed to pressure her here, which could mean that she gets to set some very comfortable fractions. 
#7 Gifted Talent (10/1): Closed strongly to just missed last out, in her first start off the layoff. She ran a career-top figure by five points in that race, improving to a 75.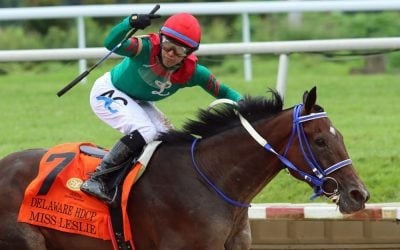 Racing returns to Delaware Park May 24, and we return with Delaware Park picks and analysis for the track's 86th racing season.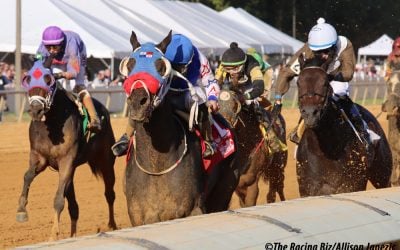 We provide full-card picks and analysis for this afternoon's races at Laurel Park.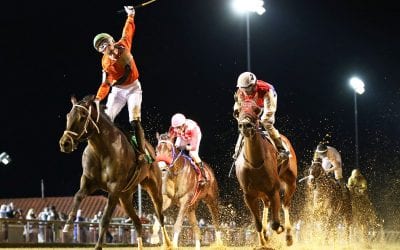 Full-card picks and analysis for this evening's live racing card from Charles Town Races!