Laurel Park picks and ponderings June 19, 2020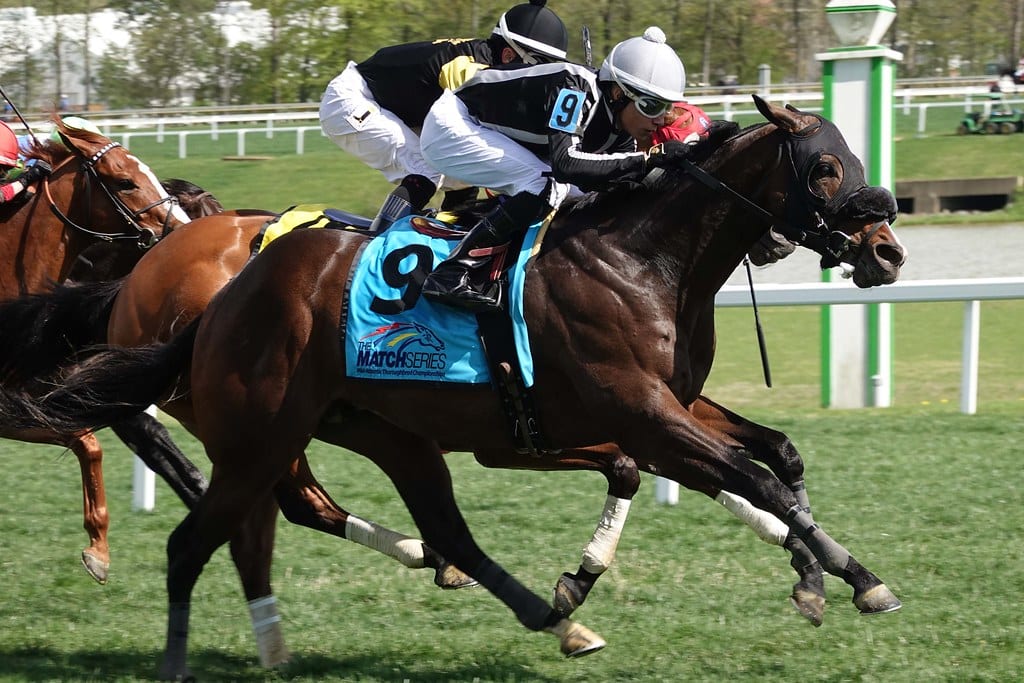 Dirty. Photo by Allison Janezic.
In which we pick the races from Laurel Park each day…
Post time: 12:40 p.m.
Carryovers: Rainbow Jackpot Pick 6 — $6,254  Super High 5 –$13,472   Late Pick 5 — $0
Notable: Until further notice, no fans are allowed to attend the races at Laurel Park. For more info, click here.
RACE 1: CLAIMING $10,000 (N/W2L), 3-YEAR-OLDS AND UP, FILLIES AND MARES, 6 FURLONGS
9-3-12-7
#9 Si Mamacita (5/2); Makes her second start off the layoff here, after a screw-tightener on grass last out. She broke her maiden on dirt impressively four races back, and in her last dirt race, she narrowly missed against better. This is her first try at this level on dirt.
#3 Zig (3/1): She didn't embarrass herself against a similar field last out, closing well down the stretch to finish a solid third. That race represented significant improvement, as she ended up just one point off her career brisnet top. 
#12 Adabel (15/1): Broke her maiden two races back, in her first start off a long layoff. That was a career-best race, from a figure standpoint, by far. Last out at Charles Town, she had a rough break in a 4 1/2 furlong race, a sure sign of doom. If she can break cleanly here, she's eligible to take a step forward off that big win two back.
RACE 2: CLAIMING $16,000 (CONDITIONED), 3-YEAR-OLDS AND UP, FILLIES AND MARES, 5 1/2 FURLONGS (GRASS)
8-5-2-7 (DIRT: 11-12-16-4)
#8 Caterina One (7/2): Speedy filly makes her first start of the year, after numerous tries at the level last year. In her last grass race, she battled on the lead and gave way grudgingly in the stretch. The only other serious speed challenge comes from a horse who hasn't raced in more than a year. She shouldn't have too much trouble handing in there. 
#5 Missimard (15/1): She was knocking on the door at the level last year, with several figures in the mid-70s at big odds each times. Was a non-factor on dirt last time, but now gets back to her preferred surface.
#2 Nevisian Sunset (3/1): She's also got speed, but has been racing primarily around two turns. Now, she goes back to 5 1/2 furlongs, and I don't know if she's fast enough to go with Caterina One early on. Still, she ran some figures in the 80s on the grass last year, and should be able to stalk even she can't get the early lead.
RACE 3: MAIDEN SPECIAL WEIGHT, 3-YEAR-OLDS AND UP, FILLIES AND MARES, 6 FURLONGS
11-2-4-1
#11 Rollick (12/1): Her dirt debut was an impressive one: she battled on the lead at Tampa Bay Downs, dismissed her dueling partner to sound defeat, and held on well to finish third. She was 6/5 in that race despite coming off a long layoff. Michael Stidham apparently thinks enough of her that, even though she's stabled at Monmouth Park, he didn't want to wait for a spot there, and has her ready to go now. The post position is the only deterrent. 
#2 Bernardette the Jet (7/2): Horses don't usually close from the outside at Churchill Downs, so that she made up any ground from the 7-path on the turn last out is very impressive. In her race two starts back, she gobbled up ground late to finish second behind Ilchester Cheetah, who has gone on to be a very productive allowance filly. She's going to be flying from the back. 
#4 Bobby's Goldengirl (4/1): Got hung wide on the lead in her last start, but still held on respectably, missing second by 1 1/2 lengths. Cuts back in distance, draws further inside, and has the same dangerous early speed.
ANALYSIS
RACE 4: CLAIMING $5,000 (CONDITIONED), 3-YEAR-OLDS AND UP, FILLIES AND MARES, 6 FURLONGS
5-3-4-2
#5 Joyful Noise (5/1): Closed furiously in her last race to finish third against similar competition. Yomar Ortiz struggled over the winter, but he's been heating up with the weather, with three wins to his credit so far at the meet. 
#3 Swirrlie Shirlie (4/1): Exits the same race at Joyful Noise, and she may have been the best horse in that race. This speedster broke slowly, was rushed up just to be near the pace, came in in the stretch after going wide, and missed by just 3/4 of a length. With a clean break here, all those problems go away.
#4 Conquesthardcherry (5/1): Easily the most consistent member of the field, running a figure of 73 in each of her last three races. Defeated a similar field two back after a good stalking trip, and closed well to get fourth last out. Definitely a strong exotics candidate.
RACE 5 – CLAIMING $5,000, 3-YEAR-OLDS AND UP, 5 1/2 FURLONGS
7-12-6-8
#7 Cobh (8/1): Ran a big race first off the bench last out, thumbing his way through traffic to get third at 26/1. The two who finished in front of him that day are better than anyone he'll have to face here. Trevor McCarthy, who rode him last out, isn't in the house this weekend, but Sheldon Russell, who's been the hottest jockey on the grounds, will get aboard.
#12 La Maquina Gris (5/1): Drops in class from the $8,000 level, where he wasn't much of a factor last out. He won two in a row against conditioned claimers over the winter, and has consistently run figures in the mid-80s. He should find this spot to his liking. 
#6 Twin Valor (9/2): When he was last seen, in February, he overwhelmed a similar field while going a mile, winning gate-to-wire. He gets a major cutback in distance, which should play well into his early speed. 
RACE 6: MAIDEN SPECIAL WEIGHT, 3-YEAR-OLDS AND UP, FILLIES AND MARES, 1 1/16 MILES
1-2-3-7
#1 Somewhere Golden (6/1): $170,000 purchase goes out for the first time for Graham Motion, who is 16% with horses debuting at a mile or longer. All her Fair Hill workouts have been at five and six furlongs, suggesting that she's being prepared for stamina. 
#2 Lasting Union (9/2): Flashed speed in her last race at Gulfstream Park, before backing up badly. Still, no  one else in the race has shown that much speed, and she could end up lonely on the lead if Toledo is able to slow things down enough. 
#3 White Winged Dove (12/1): Makes her first start in the United States, after two starts in Europe. She's been working well at Fair Hill, and gets lasix for the first time. In a race where no one has really proven anything, she can shake things up, at possibly a big price. 
ANALYSIS
RACE 7 – ALLOWANCE OPTIONAL CLAIMING (N/W2X), 3-YEAR-OLDS AND UP, 1 MILE
9-11-3-1
#9 Bustoff (9/2): He had a nice little winning streak last summer, but he's won just one of five races since it was snapped. Last out, he tried to go 1 1/4 miles, and got clear late, but was collared in the end. The mile should be much more to his liking. Even though he hasn't been winning, it's not for lack of trying; his figures remain not far from his peak. 
#11 The Right Path (8/1): Comes back to the mid-Atlantic after facing tougher at Belmont Park last out. Makes his second start off the layoff here, an angle that Jorge Duarte is 29% with. Last fall at Parx, he easily won a n/w1x allowance contest, and narrowly missed at this level at that track next out. 
#3 Toughest Ombre (6/1): Inherited the lead, almost by default, in an off-the-grass n/w3x allowance last out. He got forced into setting a fast second quarter, and backed up badly. He'll get a more honest race here, as it's a full field of dirt horses. He should rate off the pace and pounce. 
RACE 8: ALLOWANCE OPTIONAL CLAIMING (N/W2X), 3-YEAR-OLDS AND UP, 6 FURLONGS
9-8-12-6
#9 Eastern Bay (5/1): First off the claim for Claudio Gonzalez is always a good angle, and he may have claimed a live one here. He ran very well at this level last out, stalking the pace, leading in the stretch, and hanging on for second at 17/1. That was his first start back at this class, after a few races of being in over his head. 
#8 Premier Star (9/2): He began his career with two very impressive sprint wins in Florida, but stopped badly when he tried to go two turns in the Sam Davis Stakes. Cuts back around one turn here, and while he's facing a pretty classy bunch, this 3-year-old is fast enough to merit respect. In fact, he wouldn't have been out of place in the Woody Stephens at Belmont on Saturday. 
#12 Fortunate Friends (10/1): Despite breaking from post ten in his last race, he crossed over to the lead and held on for the upset win. He once again draws the outside post at the same level: can lightning strike twice?
RACE 9: CLAIMING $12,500, 3-YEAR-OLDS AND UP, FILLIES AND MARES, 1 1/16 MILES (GRASS)
2-10-9-8 (DIRT: 11-9-12-4)
#2 Britesideoftheroad (2/1): Consistently the fastest member of the field, she's coming off a strong fourth-place try against $16,000 types at Gulfstream Park. Won for $25,000 at that track four starts back, and now faces much easier. The question: is Kelly Breen looking for an easy win,or is he just trying to dump her?
#10 Jumpstartmyheart (9/2): Makes her first start off a long layoff, after a strong race in the Maryland Million Starter Handicap last out. She was in career-best form at the end of the year, with two wins at Laurel and Colonial Downs against similar to her credit. 
#9 Janelle Dreams (10/1): Has hit the board in seven of eleven on the Laurel grass, oftentimes coming from far out of it to get a piece of the exotics. Got some dirt preps in over the winter, none of which were that impressive; now switches to her preferred surface.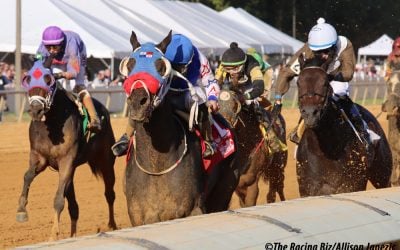 We provide full-card picks and analysis for this afternoon's races at Laurel Park.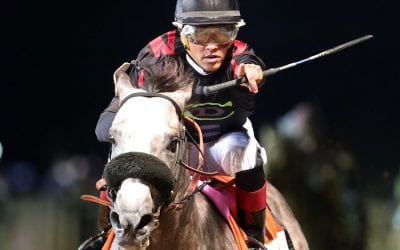 We've got Charles Town picks and preview today as the track presents its Friday card!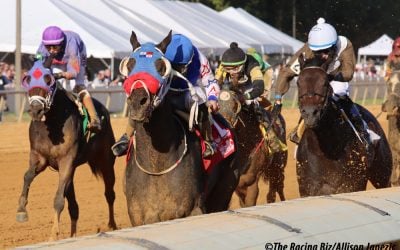 We provide full-card picks and analysis for this afternoon's races at Laurel Park.