Laurel Park picks and ponderings June 6, 2020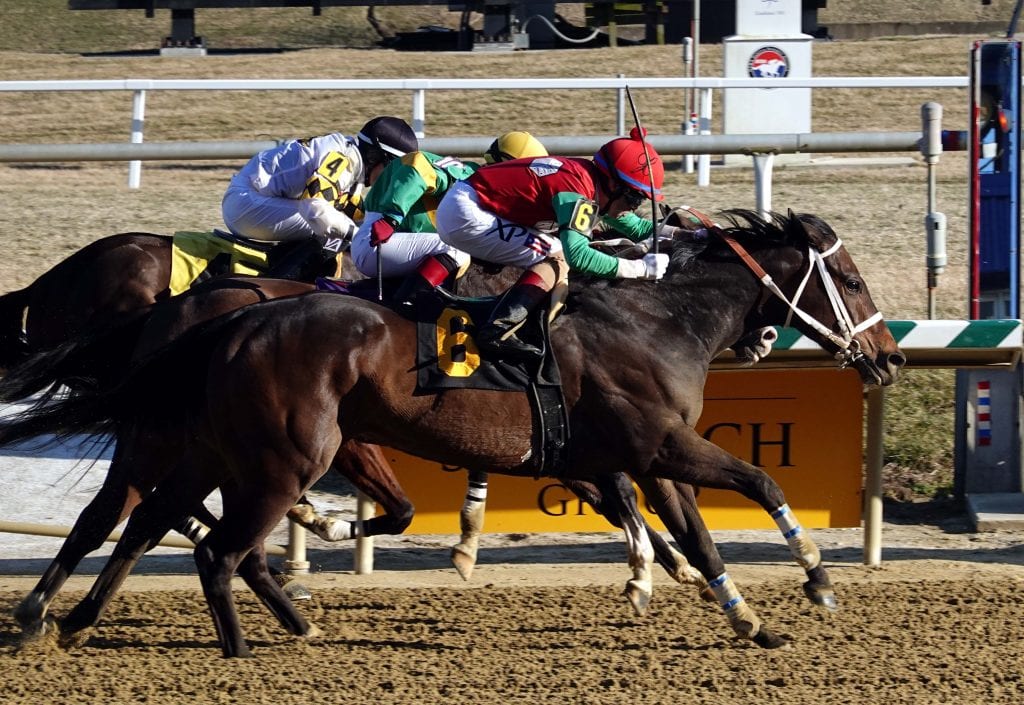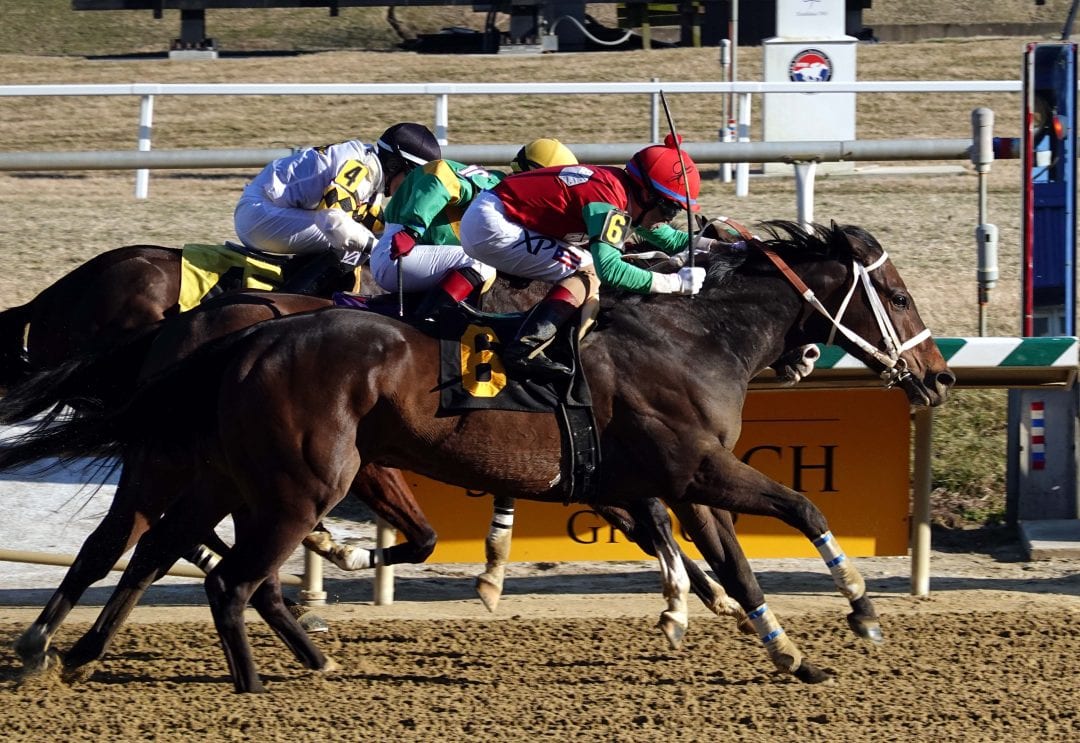 Anna's Bandit. Photo by Laurie Asseo.
In which we pick the races from Laurel Park each day…
Post time: 12:40 p.m.
Carryovers: Rainbow Jackpot Pick 6 — $18,133  Super High 5 — None Late Pick 5 — None
Notable: Until further notice, no fans are allowed to attend the races at Laurel Park. For more info, click here.
ANALYSIS
RACE 1: CLAIMING $5,000, 3-YEAR-OLDS AND UP, FILLIES AND MARES, 6 FURLONGS
4-6-1-7
#4 Dorothyfromdublin (5/2): She scratched out of an allowance race on grass on Monday to race here, and it looks as if she was well-advised to wait. She's hit the board nine times out of eighteen over this track, and is coming off a big win against $8,000 horses. This is a drop in price, but it's still an open race, so it's similar competition. 
#6 Case Dismissed (4/1): Deep-closing filly beat a $5,000 field four starts back, and has been hitting the board without breaking through since then. She didn't get a pace to run at at all last time, but nevertheless passed some rivals to get second. I have to imagine the pace will be faster here.
#1 Fender Baby (4/1): Has by far the fastest early pace figures in the field, and a very advantageous rail post. She'll be able to jump to the lead and set a clear early tempo. From there, it's a question of if she can hang on. 
RACE 2: CLAIMING $16,000 (N/W2L), 3-YEAR-OLDS AND UP, FILLIES AND MARES, 1 1/16 MILES (GRASS)
1-6-3-4 (DIRT: 9-1-3-6)
#1 Instinctive (4/1): Makes her first start in a n/w2L claiming race on the grass. She almost wired a better field last fall at Laurel, and took them gate-to-wire to break her maiden in August. Should be able to control the tempo from the inside. 
#6 Sayyida al Hurra (3/1): Sees some class relief after being overwhelmed down in Florida. The Motion/McCarthy combo is always dangerous on the grass here, and her speed figures are in line with the winning par for this level. 
#3 Princess Anne (8/1): Gary Capuano is a respectable 19% with horses making their grass debuts, and she's never lost a n/w2L claiming race. Worth a shot if the price is right.
RACE 3: CLAIMING $10,000 (N/W3L), 3-YEAR-OLDS AND UP, 6 FURLONGS
6-4-1-8
#6 Mr Chesapeakecity (5/1): Ran a big race in his level debut last out, where he stumbled at the start, rallied wide, and missed by just a neck. The race before that, he sat a great trip off a duel and rolled to victory. His speed figures have been on an upward trajectory, and he's been working bullets during the shutdown. Look for him to get another great setup.
#4 Dirtyfoot (9/5): One of two members of the field who has never lost a n/w3L claiming race. He held his own against allowance company last year, before returning off a long layoff with an uninspiring performance in a starter optional claiming race. With a race on the year under his belt, he should take a step forward, and the figures he heard last year would win this race. That being said, he's likely to be the favorite, and I wouldn't take too low of odds on him. 
#1 Cool Man Cletus (10/1): Didn't show much in his first start at the level, but improved next out when he made a mild rally to finish third. Should be on or near the pace and ready to pounce to turn for home; wouldn't be surprised if he sucked up at a price.
ANALYSIS
RACE 4: MAIDEN CLAIMING $10,000, 3-YEAR-OLDS AND UP, FILLIES AND MARES, 6 FURLONGS
10-3-9-1
#10 Mouse Cat (6/1): Got some action in her debut at Penn National, but blew the break and lost all chance. Despite that awful beginning, she turned in quite the account of herself, rallying from dead last to narrowly miss third. If she can break cleanly here, she's in with a big chance. 
#3 Fast Intentions (9/2): Twice in her last three races, she had the lead late, only to get caught in the final jumps. She's improved her figure in each of her last three races, and will try this level for the first time. Should prompt the pace, and will hopefully finish the job. 
#9 Special Power (20/1): Took a rather dramatic leap forward in her last start. She broke on top, lasted through a speed duel, and held on to finish second. She ran a career-best figure by eight points in that race, and comes in here with the best last-out figure. If you believe in that race, you'll get the right price. 
RACE 5 – STARTER OPTIONAL CLAIMING $25,000, 3-YEAR-OLDS AND UP, FILLIES AND MARES, 5 1/2 FURLONGS (GRASS)
1-3-7-11 (DIRT: 6-7-3-8)
#1 Jenn's the Boss (5/1): She impressed when sprinting on the Laurel grass last year, wiring a field and almost wiring another. Gets back to what appears to be her preferred surface, and should control the tempo early on. 
#3 Bellamy Knows (5/1): Second time out for Claudio Gonzalez, and first out on the year. She broke her maiden last July at Belmont Park, with a sharp figure of 74, before running a bigger figure of 77 while finishing last with a tough trip at Saratoga. Will go around one turn and faces an easier field this time. 
#7 Rockstar Girl (5/1): Gets some class relief and a needed distance cutback for a return to the lawn.  Her figure last year sprinting on the grass wasn't as big as the one she earned routing, but the former race was a more impressive effort. She rallied seven-wide in the stretch and closed furiously to miss by less than three lengths. I expect another big rally here. 
RACE 6: ALLOWANCE (N/W1X), 3-YEAR-OLDS AND UP, 5 1/2 FURLONGS
8-6-2-4
#8 Wonderwherecraigis (5/2): While it's true that he got a great setup in his maiden win, it's also true that he strode away impressively from the winner after the eighth pole, a promising sign for a horse in their first start. He ran a gigantic figure of 88 in that race, and if he can so much as repeat it, the rest of the field will have their hands full.
#6 Carey Times (6/1): Showed strong form early in the year, but backed up after showing speed at this level last out. In fairness to him, that was a brutal pace (including a 22 second opening quarter, virtually unheard of here) and he beat his dueling partner by 6 1/2 lengths. It was a gutsy effort, and it's not likely the pace will be that fast again here. Look for him to hang in there after setting the pace. 
#2 Day the Music Died (9/2): He's been working like a monster coming in here, and won two in a row with strong stretch rallies in the winter. Didn't fire after a wide trip last out, but based on those works, it looks like the time off did him some good.
ANALYSIS
RACE 7 – ALLOWANCE OPTIONAL CLAIMING (N/W3X), 3-YEAR-OLDS AND UP, 1 1/16 MILES (GRASS)
12-4-9-3 (DIRT: 3-5-6-10)
#12 He's No Lemon (4/1): His last start, in the Bald Eagle Derby, was borderline heroic. Despite a half-mile of 50.2 seconds, and a 3/4 mile split of 1:15.2, he rallied from far out of it to get second. He ran a similar race going 1 3/8 miles at Saratoga in the race before that; in that start, he won going away. There may not be much of a pace for him to run at, but he's shown to be capable of making tremendous rallies anyway. 
#4 Gunnison (10/1): Closed well two races back at Gulfstream Park, then prompted the pace last out and fell flat. He's got recent grass experience, unlike most of these, and steady figures in the upper 80s/low 90s, which should be good enough. Worth a shot at a price.
#9 Surprise Twist (4/1): Stakes-placed three times last year, he tends to be near the pace, but then flattens out in the stretch. It's possible this field is weak enough that he could power past, but he's a safer bet to end up in the exotics. 
RACE 8: CLAIMING $16,000 (N/W2L), 3-YEAR-OLDS AND UP, FILLIES AND MARES, 6 FURLONGS
2-5-8-7
#2 Sacred Lady (7/2): She's been a new filly since December, consistently running figures in the upper 70s. Faced a tougher field last out, and couldn't quite get past the winner to finish second. Now drops in class and looks like the controlling speed. 
#5 Make it a Double (3/1): Lightly-raced filly runs first off the claim for Linda Albert, and comes off a solid third against better. She's been weakening after being near the pace; can she hang on this time? 
#8 Olive's Bumpa (6/1): Tries n/w2L claimers for the first time after getting entangled in a speed duel last out. Her better races had been run while rating, so I imagine she'll try that here. Mark Reid sends her out for the first time.
RACE 9: ALLOWANCE (N/W1X), 3-YEAR-OLDS AND UP, 5 1/2 FURLONGS (GRASS)
1-3-8-6 (DIRT: 1-5-7-8)
#1 Kingpin (7/5): Him and Malta are the clear-cut morning line favorites, but the more recent lines give Kingpin the edge in my book. He broke his maiden going away at Fair Grounds two back in a dominant front-running effort, then ran a game second against allowance company despite breaking through the gate before the start.
#3 Malta (8/5): Hasn't been seen since June 22, so he might be a tad rusty here. Still, the races he ran last year were impressive, including a big figure of 96 in a runner-up effort at the level last out. If Trombetta has him cranked up first off the bench, he'll be tough. 
#8 Chateau de Vizille (15/1): Cuts back in distance and has great closing speed, setting him up well to take advantage of a possibly fast pace. It's the first time this 8-year-old has seen a race this short in a while.  
RACE 10 – STARTER OPTIONAL CLAIMING $16,000, 3-YEAR-OLDS AND UP, 6 FURLONGS
8-9-5-2
#8 Kingston Pike (4/1): Won twice at the level last fall, but disappointed after a wide trip last out. Gets a jockey upgrade to Trevor McCarthy, which hopefully will propel him to a rebound. 
#9 His Name is Sue (7/2): Ran some big figures over the winter in New York, including some races in the 90s. Drops sharply in class from the n/w2x allowance level, and goes first off the claim for Claudio Gonzalez. 
#5 Thuman Merman (6/1): Shipped to Will Rogers Downs last out, persumably for the sake of getting a race into him. He got hung four-wide off the pace and flattened out. Prior to that, he had raced well at Penn National, including a strong open claiming win two back. Should bounce back now that he doesn't have to travel so far just to get a race in.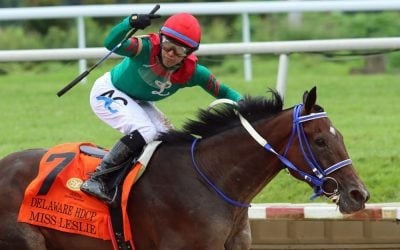 Racing returns to Delaware Park May 24, and we return with Delaware Park picks and analysis for the track's 86th racing season.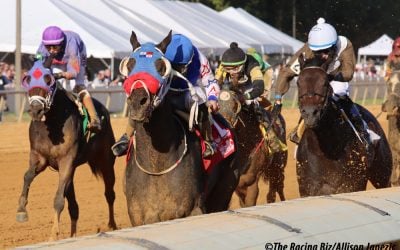 We provide full-card picks and analysis for this afternoon's races at Laurel Park.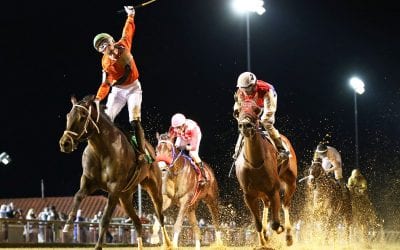 Full-card picks and analysis for this evening's live racing card from Charles Town Races!