Jocks Katie Davis, Trevor McCarthy put wedding on hold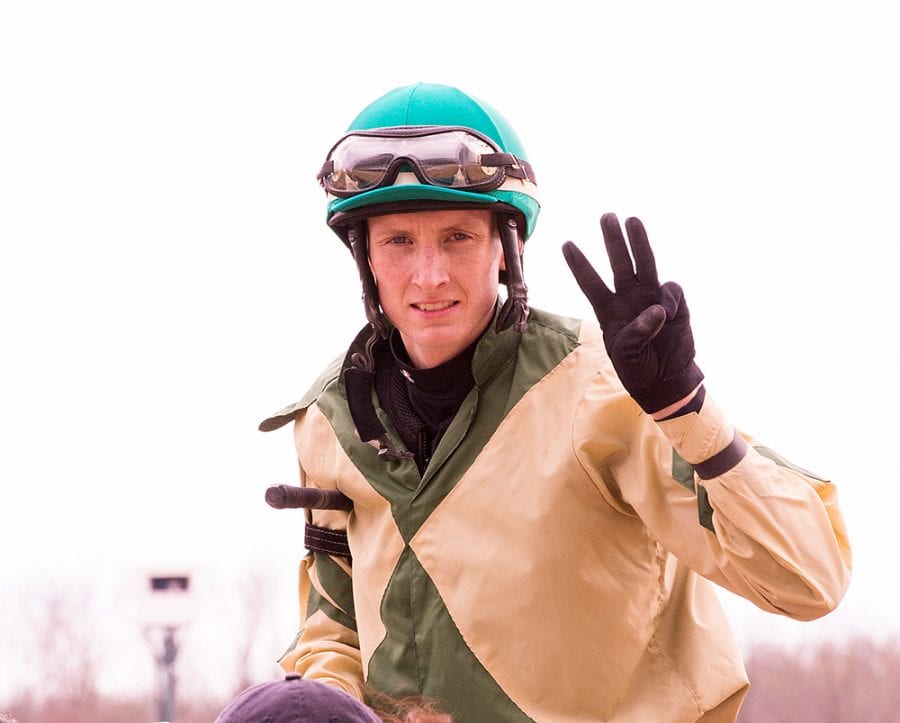 Trevor McCarthy after a riding triple. Photo Jim McCue, Maryland Jockey Club.
More than just another mount or another winner, Trevor McCarthy and Katie Davis found something else at the racetrack. They found each other.
Again.

McCarthy and Davis actually first met as children of successful journeymen Mike McCarthy and Robbie Davis, then riding together in South Florida for the winter before going back to their regular circuits of Delaware and New York.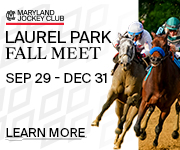 It wasn't until the Laurel Park-based jockeys started dating that they learned their relationship was both a union and a reunion.
"My father and her father rode back in the 90's together at Gulfstream Park, and we used to hang out as young kids. We used to get together at gatherings and we'd go to certain parties or barbecues, and we came across each other at a young age," McCarthy said. "Then our fathers retired and I didn't see them for a good 10, 12 maybe 15 years. I didn't even remember knowing them. It's funny that years later we started riding in Delaware together and then she moved her tack to Maryland."
"It was kind of crazy. My parents were like, 'Yeah, you guys used to hang out as kids,'" Davis said. "When you're young like that, you kind of don't remember. You're on the go, running around, and it was kind of insane that we reunited. It was meant to be, I guess you could say."
McCarthy and Davis became engaged last summer and had been looking forward their wedding April 2 – the scheduled opening day for Laurel's spring meet. The ongoing coronavirus pandemic has put both their personal and professional plans on hold.
Maryland is one of the jurisdictions around the country that has temporarily paused live racing, conducting its last card March 15. After contemplating several scenarios, McCarthy and Davis opted to reschedule their wedding until December.
"We were pretty devastated, but we looked at it as, you know what, it could be worse. We still have each other," McCarthy said. "We were counting down the days and then it's like, 'What a bummer.' But we're just happy to be healthy and happy that our families are healthy and everybody's safe. We were just worried about everybody so we decided to take the safe route."
The couple initially held out hope that they would be able to go through with the ceremony, even in a scaled-back form, until the best choice became clear.
"We were going back and forth over it, honestly. We were kind of up in the air. We thought [we'd] just get married at the court and have a little party. It was kind of a challenge and certainly messed with your mind a little bit," Davis said. "You put so much time and effort into planning a wedding and we were all looking forward to it, and it's hard to just let it go. [But] the timing wasn't right, so we'll just move it forward and keep going."
Given their pedigree, it's certainly no surprise that McCarthy and Davis are proving to be a good fit. McCarthy, 25, is a native of Delaware whose father won 2,907 races while based in the Mid-Atlantic from 1982 to 2002.
Davis, 28, is one of six children that grew up around the sport while their father was winning 3,382 races, primarily on the New York circuit, in a career that lasted from 1981 to 2002. Older sister Jackie and younger brother Dylan are also professional jockeys based in Pennsylvania and New York, respectively.
Since 2011, McCarthy has won 1,467 races and between Laurel and Pimlico Race Course owns 11 riding titles in Maryland – six of them coming in the last seven meets after returning in the fall of 2018 following a stint in New York.
The state's leading rider four times (2013, 2014, 2016, 2019), McCarthy ranked in the top 10 nationally in wins in 2014, 2016 and 2019 and his 38 victories were 12 more than Alex Cintron in the standings when racing was paused with six days left in Laurel's 2020 winter meet, scheduled to run through March 29.
"I'm very lucky. She's a great fiancé and future wife. We get along great and we both understand the business, which is a big plus. She understands what I go through and I understand what she goes through," McCarthy said. "We're both riders and it can have its ups and downs but, at the end of the day, we both respect one another and especially what we do. We're just lucky to have each other. It's a privilege. I'm very thankful for that."
Davis, from Saratoga Springs, N.Y., has won 217 races since turning pro in 2014. She split time between New York and the Midwest early on, later bouncing around the Mid-Atlantic and New England before becoming a regular name in Maryland's entries in late 2016.
"It's very funny. People always ask and, yes, we're very competitive against each other," Davis said. "We really are. When we go out there and we're in the gate, it's every man for themselves. Good luck, I'm not giving you a shot. It's a lot of fun, though. Once you learn how to enjoy it and you don't bring it home too much, you really appreciate the sport and each other even more."
One of the hardest adjustments, McCarthy said, was not letting their job get in the way of their relationship.
"Sometimes it does, and it did in the beginning. Her father would always say, 'Man, I don't know how you guys do it,'" McCarthy said. "It was tough but we always tried to leave it in the jocks' room and try not to bring it home. Especially in the beginning, it was a bit of a curve and we both had to learn how to handle it. At the end of the day, we both came home and we were proud of one another. No matter who had a good day or who had a bad day, or if we both had a good day, we were both proud of the other person. That's everybody's biggest question. We try to motivate each other and stay confident and help one another. We look at it as a plus."
Another plus is having a wealth of personal resources to draw upon. Mike McCarthy won two riding titles at Philadelphia Park and six in Delaware, where he set the single-season record of 218 wins in 1997 and won six races on a single card in 1997 and 1998, a mark he shared until Carol Cedeno won seven in 2018.
"I rode a race one day that his dad actually called me in the jocks' room and was like, 'Man, you rode a perfect race. Before I even said to switch sticks, you already did it. That's what I like to see,'" Davis said. "I was just laughing. It's nice to hear from his side, too, because sometimes people don't want to listen to mom and dad too much, so it's nice to hear from another side as well as someone in the business."
Robbie Davis rode in all three Triple Crown races, finishing second to Risen Star with Kingpost in the 1988 Belmont (G1). He earned more than $115 million in purse money and won 30 Grade 1 stakes including the 1994 Pimlico Special and 1986 Washington D.C. International in Maryland.
"I've leaned on my father for a long time. He's taught me everything I know about racing and about horses. It's nice now that I've gotten close with her father, as well, that I have picked up a couple things that he's talked about," McCarthy said. "My father has been a huge asset to my career and now I kind of get a little taste of another great rider and what ideas he might have.
"Also with Katie passing on ideas for each other, and my dad passing on ideas for Katie. It's kind of like a big spider web where we all come together and it's pretty neat that way. We all get to learn different things and learn from each other," he added. "It's nice to have all that. It's like one big encyclopedia."
It was the desire to learn and improve that led Davis to seek out McCarthy when they first started riding together. Little did they know how things would turn out.
"It was weird because she would kind of come to me and ask me for advice on where to go or what to do, and as a girl that always worked hard, I was always trying to help her," McCarthy said. "In a little more than a year we developed a good friendship, and that friendship became a good relationship and then a romantic relationship, I guess. We were just very lucky. God just kind of guided us into each other's direction."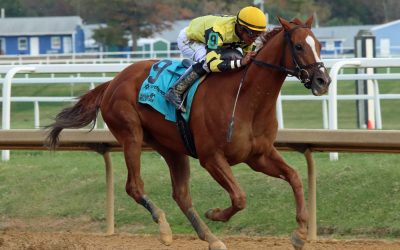 The Friday Laurel allowance feature is a third-level allowance featuring a pair of Maryland Million Classic winners in Monday Morning Qb and Ournationonparade.