Laurel Park picks and ponderings March 14, 2020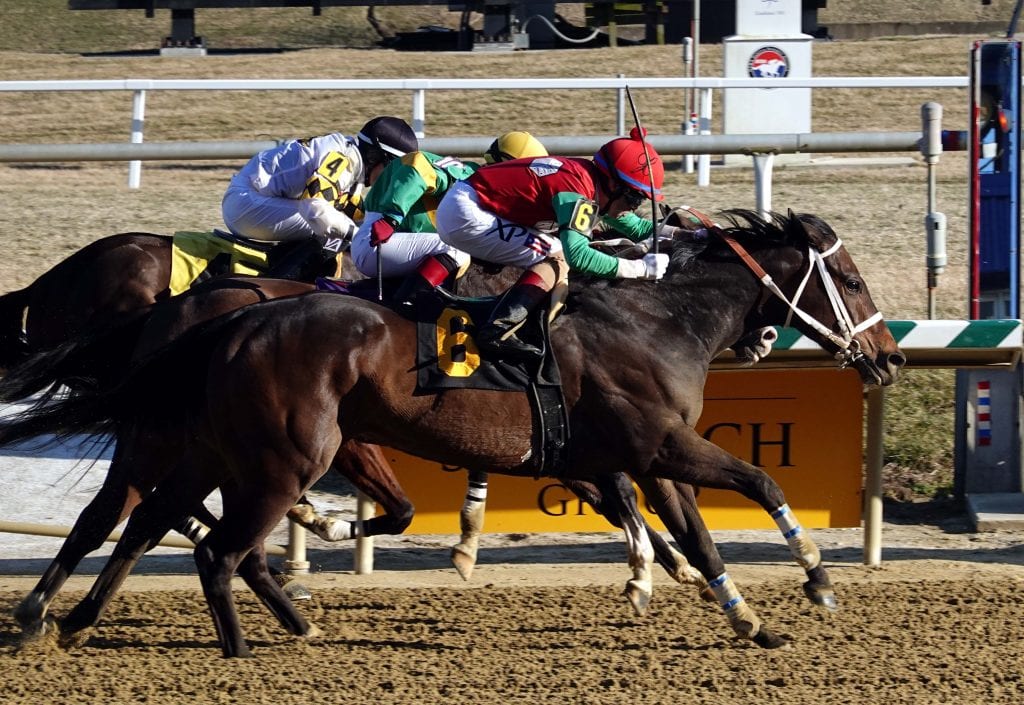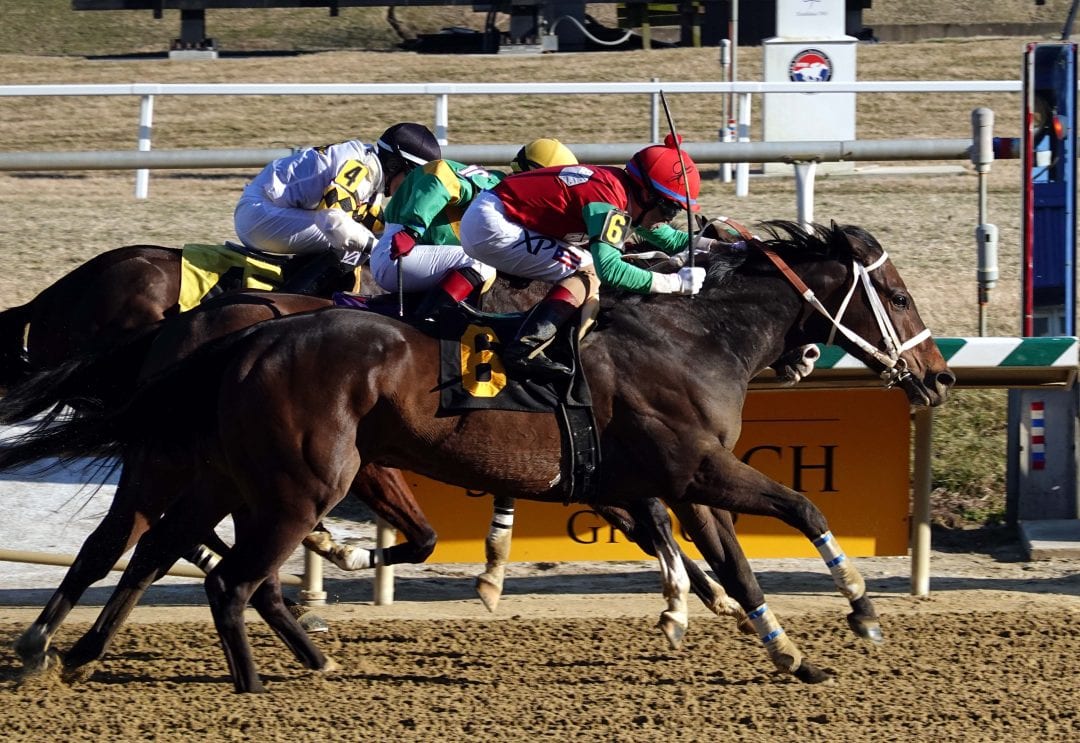 Anna's Bandit. Photo by Laurie Asseo.
In which we pick the races from Laurel Park each day…
Post time: 1:10 p.m.

Carryovers: Rainbow Jackpot Pick 6 — $14,583; Super High 5 — $2,469; Late Pick 5 — None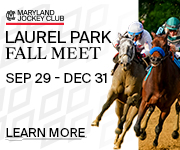 Notable: Until further notice, no fans are allowed to attend the races at Laurel Park. For more info, click here.
ANALYSIS
RACE 1
1-6-4-3
#1 Super Dancer (6/1):

Improved sharply in his third career start, earning a career-high brisnet figure of 75 despite racing wide throughout. It was also his first start over a fast track, something he'll get again here. Cuts back from 1 1/16 miles and faces a tougher field, but I have confidence.

#6 Al Brown (3-5):

Ran a big figure of 84 on debut last out, losing a tough stretch battle in the process. He was also well-backed in that race, in a race where he was the only first-time starter.

#4 Souper Cahiba (12/1):

Disappointed last out after a promising debut. Has run some decent late pace figures, which suggests he could suck up for a piece.
RACE 2 
8-4-1-3
#8 My Man Pots N Pans (5/2):

A proven winner against similar at this distance, he won two starts back after stalking the pace and grinding to victory. Had no chance last out after getting caught behind a slow pace, but it's unlikely that anyone here will be able to last after setting a slow pace.

#4 Sassy King (9/2):

He's been closing well in his last few, he just keeps falling short. So far on the year, he's got three in-the-money finishes without a win to his credit. Got outkicked by a perfect-trip rival last out, but still outfinished the rest for second.

#1 Willmakeyouhappy (2/1):

He's brilliant at sprinting, with two impressive wins in his career. Can he do it at a mile? If he can get a cozy enough lead, MAYBE.
RACE 3 
6-2-5-3
#6 Colonel Sharp (6/1):

His first start off the layoff was a disaster, but he's had a sharp three-furlong workout since then, and trainer Hugh McMahon is 21% second off the layoff. He's got a stalking style that should play well in a race full of speed. Note that, even though he was in a n/w2x allowance last out, the bunch he's facing here is pretty salty; don't know if I could call it a class drop.

#2 Sir Orinoco (9/5):

Another one could rate off a group of speedballs. He battled gamely in his last start, losing to Divine Interventio, who would likely be odds-on in this spot, by half a length. He's also the only one in the race who has run at least an 88 in each of his last three starts, so you know he's consistent.

#5 Day the Music Died (9/2):

Smashed a field of Maryland-breds last out, looping four-wide and drawing off. He loves this track, with a 4-for-7 record over the surface.
ANALYSIS
RACE 4
6-7-8-3
#6 Late Breaking News (9/2):

Coming off two blowout wins at Parx, he's got early speed and proven ability at two turns (albeit at 1 1/16 miles). The only one who could maybe go with him early is Bustoff, who is in over his head at this distance.

#7 Jefazo (2/1):

Has been facing much better as of late, including John Jones and Senior Investment. Form has been consistent as of late, with figures in the mid-90s and good closing kicks from midpack. He's almost a lock to hit the board; can he get over the top?

#8 Degrom (9/5):

Despite a wide trip last out, he overpowered a n/w2x allowance field and won going away. Runs second off the claim for Gonzalez here.
RACE 5 – NELLIE MORSE S.
2-1-3-4
#2 Arrifana (9/5):

She made waves at the Laurel fall meet, winning two allowance races before finishing second in the Comely Stakes at Aqueduct as the favorite. Her last three workouts at Fair Hill have been bullets, and I'm expecting a big effort first off the bench for this potential future star.

#1 Victim of Love (9/2):

Won the What a Summer Stakes two back, and hung in there in the Barbara Fritchie Stakes after being on a moderate early pace. She'll need to get a loose lead to have a chance, but she's fast enough to secure it.

#3 Jennemily (7/2):

Ships from Aqueduct off a solid gate-to-wire win. Her figures have rapidly improved in her last three races.
RACE 6 
3-7-1-4
#3 Bobby G (7/2):

Gets a class test after some impressive wins against softer. His only mediocre race as of late came around two turns; when he got back to one turn last out, he dominated. Figures fit right in with his opponents'.

#7 Tappin Cat (3/1):

Speedy gelding gets a cutback in distance after tiring going a mile and beyond. Last time he was at seven furlongs, he beat a Maryland-bred allowance field going away.

#1 Cerulean Springs (5/1):

This closer has been hitting the board in his last few races, but can't quite break through. I don't think he'll get a great pace to run at, so while he's a must-use in his exotics, he's up against it at low odds.
ANALYSIS
RACE 7 – BEYOND THE WIRE S.
4-3-7-1
#4 Bella Aurora (7/2):

She was the heavy favorite in the Wide Country Stakes, but had a rough break and was never a factor. The impressive winner of the Gin Talking Stakes will seek a cleaner start this time; if she gets it, she'll be a contender.

#3 Naughty Thoughts (5/2):

Already a four-time winner in her career, she's coming off a dominant win in the Wide Country Stakes, where she beat a lot of the rivals she'll face today. It was a major step forward from her prior few races, where she had been racing evenly, unable to pull away. Hopefully, she'll continue to improve.

#7 Long Point Beach (10/1):

Gamely battled on the lead and won for the second time in a row at last out. She'll try to set the terms on the front end, and is a good bet to wire the field at the price you'll get.
RACE 8 
8-3-1-9
#8 Always Talking (9/2):

Had been riding a nice little winning streak at the claiming level, before jumping up in class and losing badly. She drops back to familiar waters here, and looks like the controlling speed. Second off the claim for Magee doesn't hurt.

#3 Tough N Buff (6/1):

Ships up from Gulfstream Park after a solid maiden win there, where she improved her figure by 17 points. Goes first time for the Ness barn.

#1 Girl Next Door (10/1):

Disappointed in her first start off a long layoff last out, but takes a drop in class here, and has a solid maiden win in July in her back pocket.
RACE 9 – HARRISON JOHNSON MEMORIAL S.
2-5-1-7
#2 Alwaysmining (2/1):

How can you not root for this guy? After getting the fall off, he's come back and won two stakes races in a row. With a win, he'll become the second horse to win three stakes this year. Can he do it? He should be able to set a mild pace up front, and he's proven that can hang in there late after being on the lead.

#5 Someday Jones (5/2):

He defeated Alwaysmining two starts back, when that rival was shaking off the rust from his layoff. Last out, he couldn't get by Alwaysmining, and his figure declined by a few points. What to do here? He should get his usual stalking trip and make a menacing move on the turn. Whether he follows through is up for debate.

#1 Senior Investment (6/1):

Coming off two wins in a row against allowance company, where he stalked the pace and moved strongly. He'll be in the catbird seat off Alwaysmining early on, and will be involved near the end.
RACE 10 – PRIVATE TERMS S. 
7-4-2-5
#7 Took Charge (5/2):

After a ridiculously impressive maiden win at Belmont Park in June, he got some time off. Finished a good second last out, with a brisnet figure of 90. Had a sharp four-furlong workout in anticipation of this spot.

#4 Big City Bob (2/1):

Sapling Stakes winner was a solid third in the Champagne Stakes, losing to top Derby prospect Tiz the Law by 4 ¼ lengths. Improved his figure each time out in his four races as a 2-year-old.

#2 Lebda (5/2):

Set a ridiculous pace in the Miracle Wood Stakes last out, but still managed to hang on by ¾ of a length. Hopefully, he'll be able to ration out his speed a bit more.
RACE 11 
2-5-1-7
#2 Garrison's Charge (5/1):

Tries winners for the second time in his third start off the layoff. Got stuck farther behind the pace than he'd probably like to be; should be more forwardly placed this time.

#5 The Magical One (10/1):

Second off the claim for the Robb/Perez combo. Got involved in a tussle on the lead last out and gave way, but shouldn't have to deal with fractions that fast here.

#1 Goodluckjohnathan (3/1):

Consistently the fastest member of the field, he always hits the board, but sports an unsightly 1-for-24 mark lifetime. Looks like a great horse to use underneath, but can't endorse a win bet.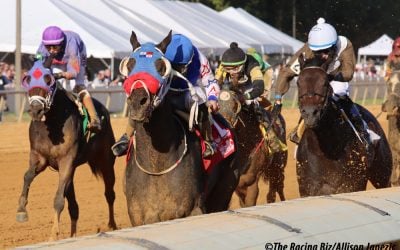 We provide full-card picks and analysis for this afternoon's races at Laurel Park.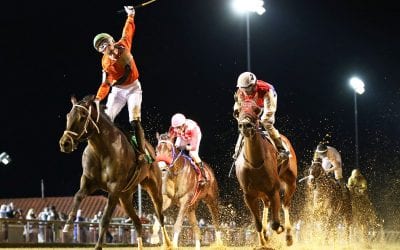 Full-card picks and analysis for this evening's live racing card from Charles Town Races!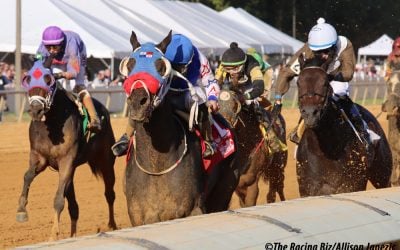 We provide full-card picks and analysis for this afternoon's races at Laurel Park.