Laurel Park picks and ponderings February 21, 2020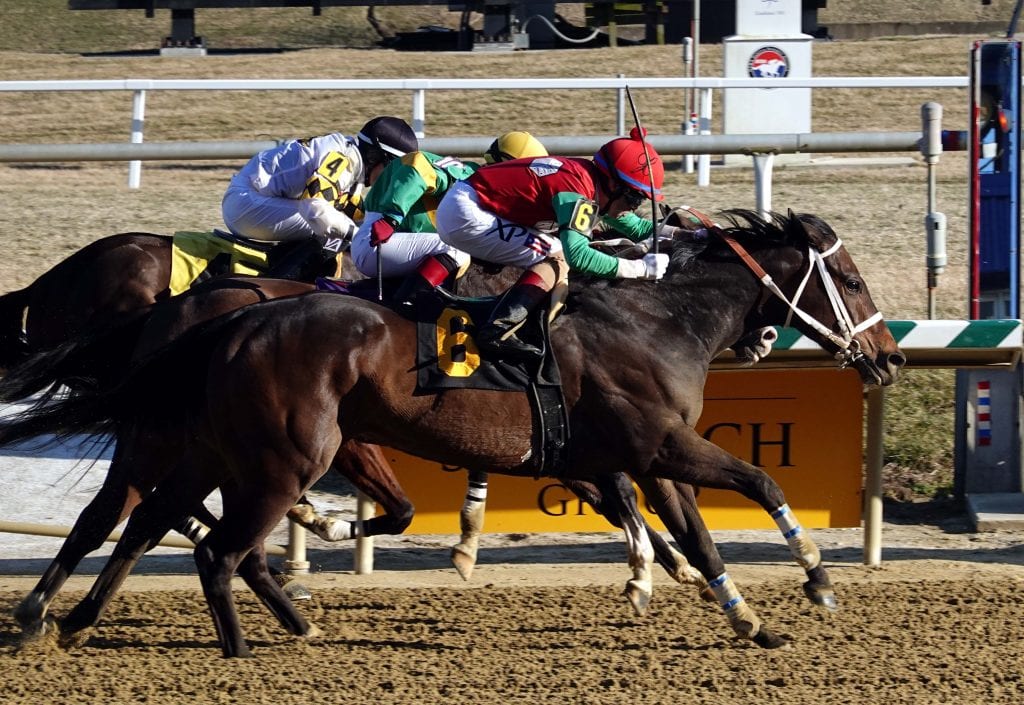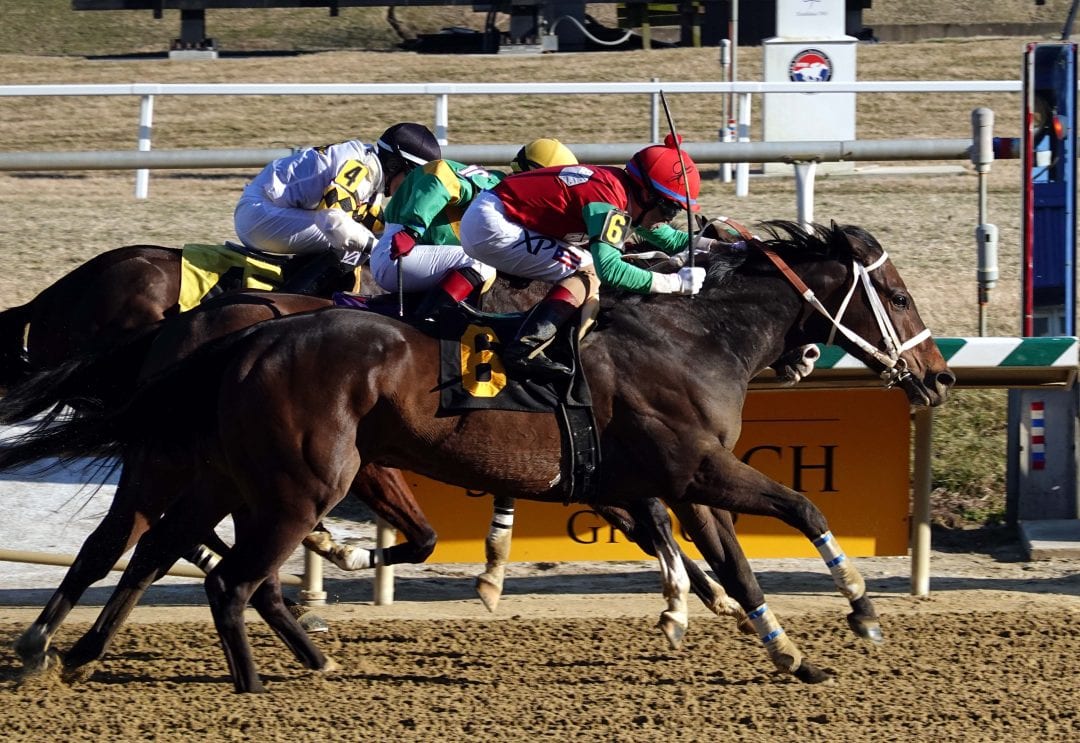 Anna's Bandit. Photo by Laurie Asseo.
In which we pick the races from Laurel Park each day…
Post time: 12:25 p.m.
Carryovers: Rainbow Jackpot Pick 6 — None; Super High 5 — None; Late Pick 5 — None
Notable: 
ANALYSIS
RACE 1
6-4-2-3
Favored #6 Toy (3-5) is the sort of horse we usually try to beat; he's repeatedly failed to win at this maiden special weight level, which makes chasing him at short odds a bit of a fool's errand; but in this particular field, especially after the scratch of likely second choice Dreams of Yvonne, he probably figures best… We think #4 Super Dancer (15-1) could move forward today; the Tres Abbott trainee hasn't shown much to date, but this will be his first time on a fast track, and he does get blinks on; plus, this is a horse they bought for just $30k; they could drop him to an easier spot with minimal financial risk, and by keeping him in this company, they seem to be suggesting there's talent here that has yet to bear itself out in the afternoon… 
RACE 2 
7-1-4-2
A couple of likely contenders in this four-horse field (after scratches) want the early lead, which may be a benefit to #7 Stakes On a Plane (3-1), who leaves lifetime company after an easy win last out; like that trainer Magee claimed this one back after losing him two back… #1 Dancie (5-2) won decisively against similar last out and figures to try to control this from the jump…
RACE 3 
4-6-2-5
The last time #4 Cheytac (7-5) ran against $16,000 company (though at the never-two level), he won off by nine lengths; he's been facing better, and though a recent $40,000 claim, he slips into this race by dint of that appearance for $16,000 and looks to be too tough in here… Trainer Jose Corrales has two in here, and #6 Awesome D J (6-1) looks the better of the two; three back he got his never-three condition a level up from here, and last out he ran second in open claiming behind the good-right-now Lion Lord, who's won four straight, most recently an allowance at PEN… 
ANALYSIS
RACE 4
6-2-3-4
Favored #2 Lawn Boy (4-5) ran a huge race last out to win a first-level allowance in his first in the Mancilla barn, and if he comes anywhere near repeating that, he'll win again today; will he? That's the question, and we're inclined to try to beat him because a) he looks likely to have early company in this spot, which may wear him out; b) we'd like to see him run a similar effort to validate that last; and c) he may have simply freaked in the mud… On a fast track, we'll give a shot to #6 Successful Zip (9-2), who may have a chance to sit just off the speed sorts and then run 'em down in the lane at a distance he likes… Curious spot for #3 Willmakeyouhappy (8-1), who, owning a single win, skips a condition to run against never-three horses here; the Cal Lynch trainee impressed on debut, breaking slowly, rushing up, jumping tracks while doing so, and then driving clear to win; he'll need to move forward, but in just his second career start, he can certainly do that…
RACE 5 
7-1-3-4
Top choice #7 Puttheglassdown (7-2) has kept pretty good company of late; last time out, he made a bit of a middle move before emptying out a bit in a two-other-than at AQU that was won by Joevia, last year's Belmont Stakes show horse… We're inclined to take a stand against #4 Colonel Sharp (2-1), who's been away since August and drops a level today despite having run well with an excuse last time… #1 Charge to Victory (5-2) figurest to try to take 'em all the way from the inside stall and rates a chance to do that…
RACE 6 
1-4-3-5
Top choice #1 Doctorsofmischief (3-1) ran a good race but just missed last time in a three-other-than at PRX at long odds and has shown the abilty to go to the front or rally; she makes her second start after a couple of months away, and jock Abner Adorno comes down for his only mount of the day… #4 Its a Journey (3-1) has won against second-level allowance/optional claiming types twice in her last four starts, but it's not clear the cutback to six furlongs is going to be a positive… #3 Angel At War (5-2) ran perhaps better than it looks last time when fourth in the What A Summer; the top pair returned to be second and fourth in the G3 Fritchie last weekend; but after winning the first six starts of her career, she's won just once in 19 tries, since the end of 2017, which makes taking short odds a little bit problematic…
ANALYSIS
RACE 7
9-3-2-8
Certainly the favorite, #2 Judi Blue Eyes (3-1), deserves to be the chalk after three straight runner-up finishes at the level, but that's the problem, isn't it? She's already lost seven times at or below this level, which makes trying to beat her the play here… #9 Talkback (4-1) makes her first start since May and first in trainer Mark Reid's barn after a couple of OK efforts at Gulfstream last spring; Reid wins 22% of the time with horses making their first start in his barn and is 2-for-6 when those horses are coming off similarly long layoffs; this one also looks to be the only runner here with true sprinter early speed… Let's give another crack to #3 Silent Fluidity (2-1); her two against similar are kinda blah, but she broke her maiden nicely at the $40k level and gets trainer Lynch's go-to rider in McCarthy here; trainer Lynch could drop her off the two most recent performances, so leaving her here seems a bit of a vote of confidence…
RACE 8
2-9-3-5
We're looking for #2 Sebray (5-1), in his first start since early August, to step forward here; he has some pretty OK efforts in his past, trainer Mancilla liked him enough to claim him back after losing him three races ago, and his runners have been lights out in the last few months… #9 Holy Week (8-1) ran a stinker last out against better at AQU but has better efforts on his resume and attracts leading rider McCarthy… #3 Kierland (12-1) defeated similar two back and is worth a gander at long odds…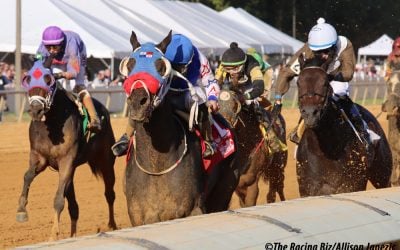 We provide full-card picks and analysis for this afternoon's races at Laurel Park.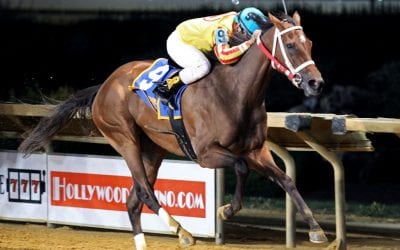 We provide picks and analysis for this evening's card at Charles Town Races.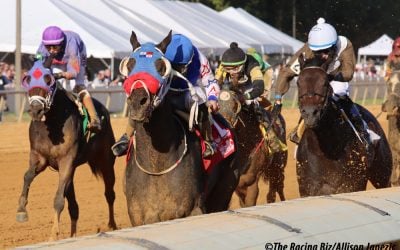 We provide full-card picks and analysis for this afternoon's races at Laurel Park.