Pumpkin Rumble retires and more: The week in social media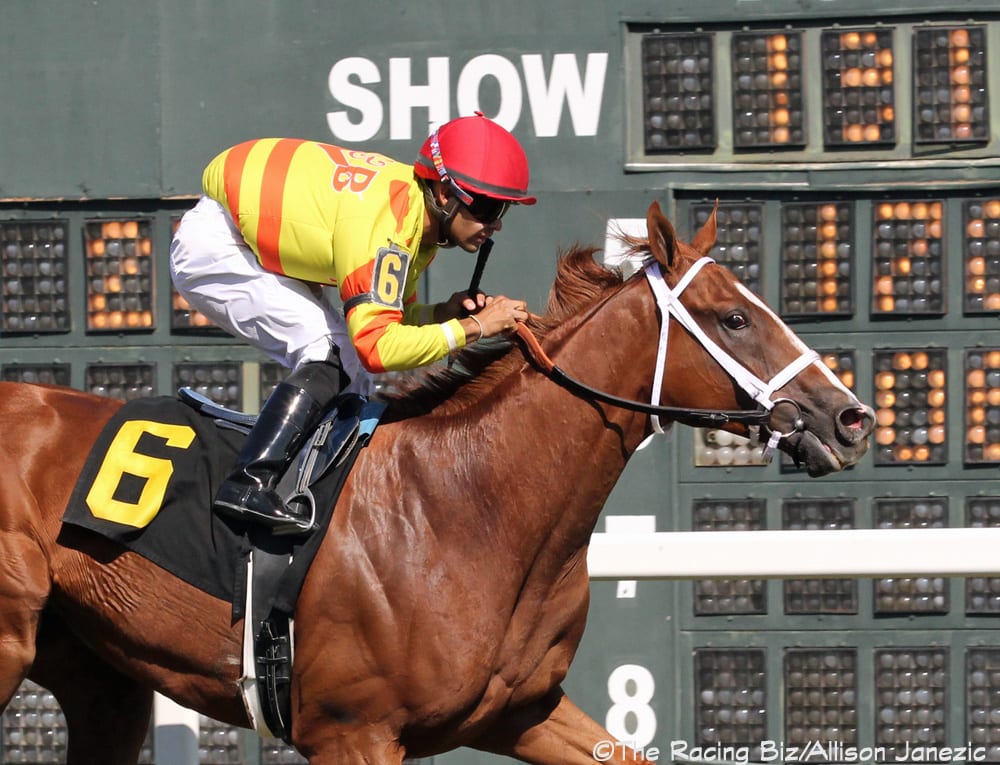 Pumpkin Rumble won the Alphabet Soup at Parx Racing in September 2019. Photo by Allison Janezic.
Trainer Jamie Ness picked up his 3,000th victory, Pennsylvania-bred Pumpkin Rumble has been retired from racing, and Maryland-bred Alwaysmining remains undefeated so far this season.
Here is the 411 on what racing fans in the Mid-Atlantic region have been talking about on social media this past week:
Pumpkin Rumble retires
Pumpkin Rumble, a Pennsylvania-bred multiple graded stakes winner, has been retired from racing due to a minor injury. After claiming glory in four stakes races, including consecutive runnings of the Valedictory Stakes (G3) at Woodbine, owners Al and Bill Ulwelling decided that their 9-year-old gelding had done more than enough to earn his retirement.
Bred by Smart Angle, Pumpkin Rumble was originally owned and trained by Hugh Robertson, who was in a partnership with Greg Giles. The Ulwellings then claimed Pumpkin Rumble for $30,000 in his second career start in March 2014, and they then maintained ownership of the gelding.
For the last few years of his career, Pumpkin Rumble was based in Canada and conditioned by trainer Kevin Attard. The chestnut son of English Channel appeared to thrive on competition, winning 11 of his 48 career starts and finishing in the money in 18 other attempts. Pumpkin Rumble collected $704,850 in earnings.
Pumpkin Rumble has now been accepted into the LongRun Thoroughbred Retirement Society. The Thoroughbred farm located in Canada serves to place retired racehorses into their new homes off the track.
Huge thanks to LongRun Thoroughbed retirement group for accepting PUMPKIN ? RUMBLE. He had a small injury and we have decided to retire him sound. He did a lot for us and we are grateful that he has a good forever home! Thank you LongRun!!!

— Al & Bill Ulwelling ???? (@UlwellingRacing) February 19, 2020
3KNess
It was a landmark day for 45-year-old trainer Jamie Ness this past Tuesday, when he went 2-for-2 at Parx Racing to reach his 3,000th victory.
Ness first sent out Mark the Rules on Tuesday. It was a $7,500 claiming event that his charge rose to victory in, and just two races later, Ness reached his milestone win. This time it was Late Breaking News who made his way to the winner's circle for Ness. The 7-year-old gelding skipped away an undisputed winner in the one-mile $25,000 claiming race on the main track, bringing Ness to win number 3,000.
Ness won his first race back in 1999 at Canterbury Park with a horse named Blue Rocket. It was a win well deserved, as it took Ness more than 30 attempt to reach his first winner. But by 2009 Ness was named the fourth winningest trainer in North America. He then found himself the runner-up in 2010 and 2011, before finally rising to the top of the standings in 2012 after sending out 395 winners. Ness also picked up nine training titles in a row at Tampa Bay Downs spanning from 2007 to 2015. The trainer, who now largely competes in the Mid-Atlantic region, has also claimed seven training titles at Delaware Park, including the last five.
Ness's 3,000 wins come from 12,285 starters, a 24 percent win margin. To date, the trainer has found success in 47 stakes races and has picked up over $50.7 million in earnings.
Alwaysmining digs in to win
Runnymoore Racing's Alwaysmining, who was recently named Maryland-bred champion three-year-old male of 2019, reminded the racing world on Saturday how he earned his newly crowned title when he charged to victory in the $100,000 John B. Campbell Stakes at Laurel Park.
Alwaysmining, a four-year-old gelded son of Stay Thirsty, proved best in the 1 1/16-mile Campbell, prevailing in a race-long duel with favored Monongahela. After leading every step of the way, Alwaysmining proved unwilling to give in to the pressure of his rival and pulled off the win by a resolute neck. With jockey Julian Pimentel in the irons, Alwaysmining completed the race in a final time of 1:42.46 on the main track.
The John B. Campbell Stakes was the second consecutive win for Alwaysmining in 2020, as the gelding found success one month earlier in the Jennings Stakes at Laurel Park. To date, the Kelly Rubley trainee has visited the winner's circle nine times from nineteen career starts and has banked earnings of $536,442.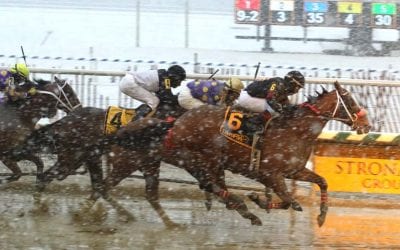 C Z Rocket, a multiple graded stakes winner who was second in the Breeders' Cup Sprint, tops 36 nominations to the G3 General George at Laurel.