Multiple graded winner Late Night Pow Wow retired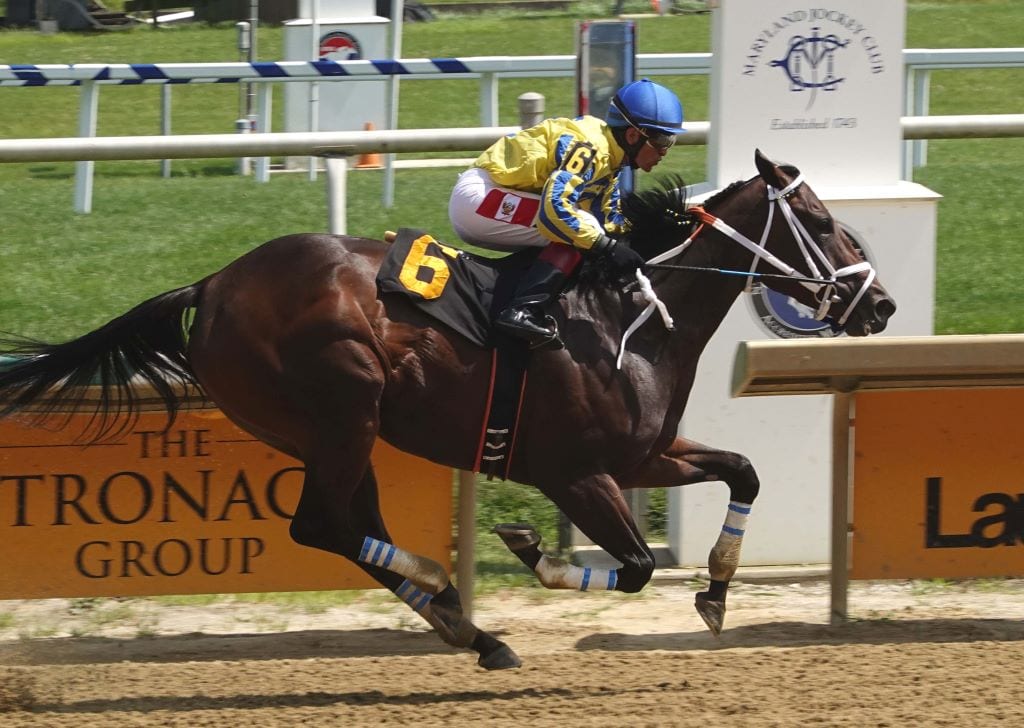 Late Night Pow Wow took the Twixt Stakes at Laurel Park in July in what would be her final victory. Photo by Laurie Asseo.
In the weeks since she finished a troubled sixth in the Presque Isle Downs Masters, Late Night Pow Wow had been resting for a possible return to the races this winter and potential title defense in the Grade III, $250,000 Barbara Fritchie Stakes at Laurel Park in February. But the talented West Virginia-bred daughter of Fiber Sonde trained by Javier Contreras has been retired, according to her conditioner.
"I think the owners [Breeze Easy LLC] did the right thing by retiring her," Contreras said. "She got bounced around pretty good in the race at Presque Isle. She went to the farm, and she never really acted like she wanted to run again."
Late NIght Pow Wow emerged as a budding star in the summer of her sophomore campaign when she won the $50,000 Sylvia Bishop Stakes for state-bred three-year-old fillies at Charles Town and came back one month later to take the Grade 3, $300,000 Charles Town Oaks on her home track and followed that up the following month with a narrow victory over Moonlit Song in the $125,000 Cavada on West Virginia Breeders Classics night.
"She took me on an amazing ride," Contreras said on New Year's Day. "When she first started, I knew she would be pretty good, and I thought she could make some money running locally. But I never imagined she would be that good."
Contreras also owned the filly early in her career but sold her to Breeze Easy — Mike Hall and Sam Ross — following her win in the Cavada.
The Bishop, Oaks, and Cavada victories were only the beginning for Late Night Pow Wow. She ventured to Laurel Park last winter and captured the $100,000 Willa On The Move and the $100,000 What A Summer. She then capped a nine-race win streak by taking the Barbara Fritchie, edging California invader Spiced Perfection, who had won the Grade I La Brea Stakes in her previous outing.
Late Night Pow Wow's second graded stakes tally enabled her to join Soul Of The Matter and Afternoon Deelites, both Grade I winners, as the only West Virginia-breds to win multiple graded stakes.
"Winning the Charles Town Oaks was like my Derby," Contreras said. "That was incredible. But then she stayed really good for another few months and won those stakes at Laurel and won the Fritchie against some really good fillies and mares. That was really special. I always knew she would do well at Charles Town, but I never expected she would be that good running in those open stakes. She just did some amazing things."
After capturing the Barbara Fritchie, Late Night Pow Wow ventured to Keeneland Race Course in Kentucky and finished third in the Grade I Madison Stakes, returned to Laurel last summer to take the Twixt Stakes then encountered traffic trouble early and often in the Presque Isle Downs Masters. Initially, Contreras expected to have Late Night Pow Wow ready for the same trio of stakes she had won last winter, beginning with the recently contested Willa On The Move then advancing to the What A Summer and the Barbara Fritchie.
"The plan was to give her some time off after the Presque Isle race then have her ready for the three stakes at Laurel in the winter," Contreras said. "But she really got banged up in there and just never really came back to herself. They did the right thing by deciding to breed her. They have a lot of really good sires in Kentucky to choose from."
Late Night Pow Wow won her her debut on Sep. 23, 2017 on the Charles Town Oaks under card that year, and she did not return until the following spring, when she captured an allowance event. Contreras then wheeled her back eight days later for the It's Binn Too Long Stakes on the Charles Town Classic undercard, in which she finished a sharp second.
That would prove to be her last setback for nearly a year as the daughter of Fiber Sonde embarked on a nine-race win streak that had Contreras feeling as if he and the filly had reached racing's zenith.
Late Night Pow Wow was bred in West Virginia by John McKee, whose Beau Ridge Farm has also produced such past standouts as Hidden Canyon, Bullets Fever and Rachel's Turn, who won 15 of 35 races for McKee and recorded victories at six different ovals during her career. Bullets Fever won all eight of his starts for trainer Jeff Runco and owner David Raim, while Hidden Canyon won nine of 15 starts and earned nearly $320,000 for Contreras.
Jockey Fredy Peltroche was aboard Late Night Pow Wow throughout her nine-race win streak that included both the Charles Town Oaks and Barbara Fritchie.
In all, Late Night Pow Wow won 12 of 15 starts in her career and earned $700,400.
On New Year's Day, Contreras confirmed that he has the full sister to Late Night Pow Wow, a newly turned two-year-old filly named Fiona Bella, whom he co-owns with Breeze Easy. Contreras noted that Fiona Bella is still in the process of being broken and may not see the races until the fall, as was the case with Late Night Pow Wow.
"She's a big filly," Contreras said. "They're breaking her now. I don't expect to see her race until later in the year. We'll have to wait and see if she's anything like Late Night Pow Wow."
LATEST WEST VIRGINIA NEWS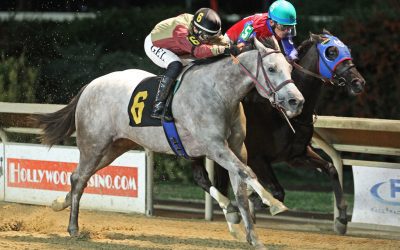 King Kontie and Jubawithatwist shared top honors as they dead-heated for the Henry Mercer Memorial Stakes win at Charles Town.