Late Night Pow Wow prevails in Cavada thriller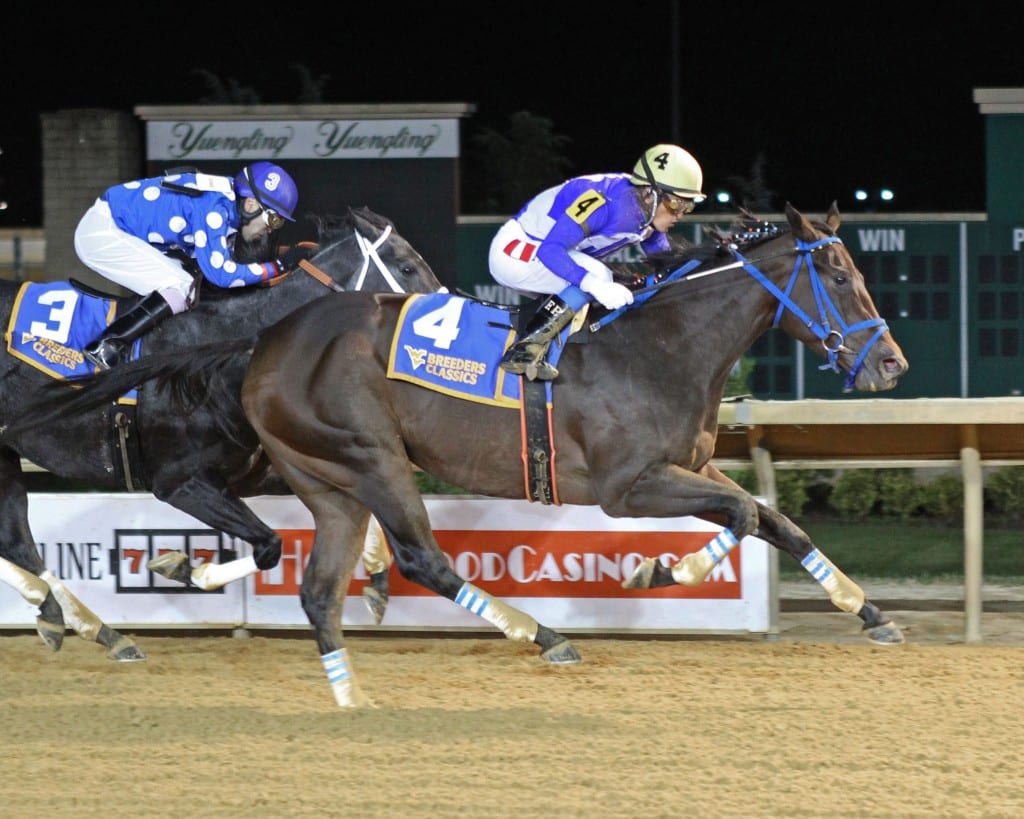 Late Night Pow Wow bested Moonlit Song in the Cavada. Photo by Coady Photography.
by Frank Vespe
Most years, the $125,000 West Virginia Cavada Breeders Classic — the seven-furlong test for state-bred fillies and mares — plays second fiddle to the $300,000 Classic.
This year, however, was not most years. This year's Cavada brought together a graded stakes winner, the reigning queen of the West Virginia-bred distaff division, and a Laurel Park-based runner who already owned three stakes wins on the season.
And they did not disappoint.
Hooking up near the quarter-pole, Late Night Pow Wow — the three-year-old filly who won last month's Grade 3, $300,000 Charles Town Oaks — and defending Cavada champ Moonlit Song put on a show, battling heads apart to the wire before Late Night Pow Wow inched clear late to win by a half-length. It was over six lengths back to the Laurel Park-based Anna's Bandit in third.
The running time for the Cavada — 1:24.99 — was more than a second faster than boys did it in the $75,000 Onion Juice one race prior.
"I expected a battle," said winning trainer Javier Contreras. "Moonlit Song is obviously the one to beat. There was no home court advantage here. [Moonlit Song] loves this racetrack. She has a great trainer [Tim Grams] behind her. But we battled back and got it done."
It has been a charmed year for Late Night Pow Wow, a daughter of Fiber Sonde out of the Indian Charlie mare Holy Pow Wow. She broke her maiden last September at first asking but did not re-emerge until April of this year. When she did, though, she hit the ground running. She entered tonight with a season ledger of six wins in seven tries, the lone blemish a half-length defeat in the 4 1/2-furlong Its Binn Too Long Stakes in April.
She has never been beaten around two turns, however. She won the Sylvia Bishop Memorial, for state-bred three-year-old fillies, with ease in late August.
Contreras' obvious next move would have been to wheel his filly back in the Sadie Hawkins, but he opted instead for the $300,000, Grade 3 Charles Town Oaks here. She responded with the race of her life, prevailing by a neck at 9-1 odds.
"I was waiting to see how she came out of that race, but she came out of it better than ever," Contreras said. "It was amazing. I thought she would be worn out a little bit — not at all."
All of which led to tonight and her matchup with Moonlit Song, a four-year-old who is also a daughter of Fiber Sonde. She laid waste to the local three-year-old fillies last year and was dominant in winning this event in 2017 as the 3-10 favorite. This year hasn't been quite as strong, however; she entered this matchup with four wins from eight starts but was second in both of her prior stakes tries this year.
When the gates opened tonight, longshot Ghost Fever grabbed the early advantage with Moonlit Song breathing down her neck. Those two went the opening half-mile in 48.17 seconds just a half-length apart. Late Night Pow Wow and jockey Fredy Peltroche, meanwhile, were biding their time in fifth.
"She was a little nervous in the gate," said Peltroche. "I wanted her to sit just off the leaders anyway. In the Oaks, she sat fifth and then made her move between the three-eighths and the quarter pole."
Getting a similar trip in this event, she drew approximately even while three-wide at the quarter pole before inching clear late for the win.
"My filly likes being on the outside," Peltroche said. "I stayed after her in the lane and she responded."
Contreras, also the owner of Late Night Pow Wow, who was bred by John McKee, said that he planned to give the filly a break before bringing her back in the spring.
She's done all her running to date on her home track, but Contreras said that might change next year; he might see if she can take her show on the road. "She deserves that," he said.
But that's off in the future. Tonight, he could only marvel.
"It's pretty amazing, and she's only a three-year-old," the trainer said
WEST VIRGINIA BREEDERS CLASSICS NOTES Battleground Star remained undefeated with a win in the $75,000 Triple Crown Nutrition for two-year-old fillies to kick off the card, getting 6 1/2 furlongs in 1:20.45 with Arnaldo Bocachica up for owner-trainer-breeder Jeff Runco… Burnin Ring O Fire ran his record to three-for-three, taking the Moscarelli Memorial for two-year-olds in 1:20.05 for 6 1/2 furlongs. J. D. Acosta was up for Ollie Figgins, III… Buff's Eye View went worst-to-first, circling the turn and prevailing by a head to win the WV Lottery for three-year-olds, getting seven furlongs in 1:26.71. Jose Montano rode for trainer David Walters and owner-breeder Michael Miller… For the second straight year, the Dash for Cash blew up the toteboard, this year with Scythe winning by a half-length for owner-trainer-breeder Leslie Condon. Running time for the 4 1/2 furlongs was 52.20 seconds, and Scythe returned $41.60 to win… Follow the Notion won the WVTBA Onion Juice, for older runners, with another worst-to-first move, prevailing by three parts of a length in 1:26.04 with Montano once again doing the honors. It was the second Onion Juice win in three years for the seven-year-old Great Notion gelding, who was bred and is owned and trained by Gary Williams, Jr.