"My Derby" for trainer Contreras as Late Night Pow Wow wins CT Oaks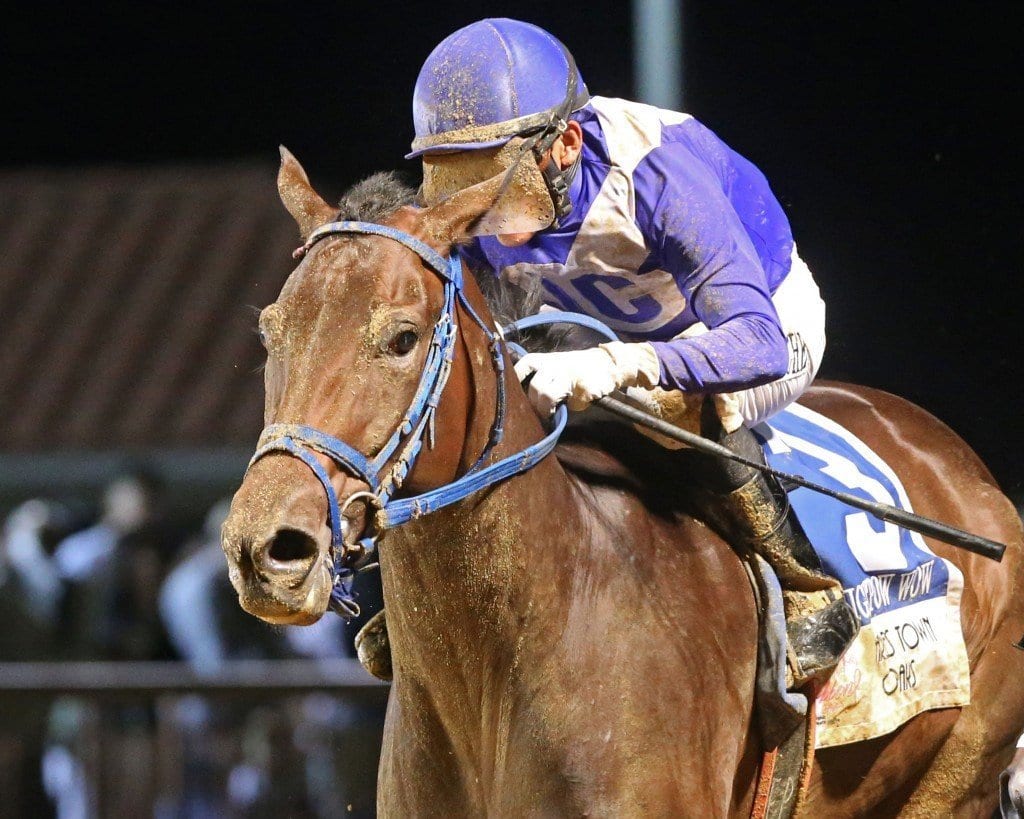 Late Night Pow Wow upset the Oaks. Photo by Coady Photography.
by Ted Black
On the night when autumn promptly arrived in the Eastern Panhandle of West Virginia, Saturday night's "Race For The Ribbon" card at Charles Town proved to be the ideal setting for its second graded stakes on the calendar, the Grade 3, $300,000 Charles Town Oaks for three-year-old fillies.
The card also included six other stakes, five for West Virginia-breds.
And it proved to be the ideal setting for Charles Town-based trainer Javier Contreras to earn the first graded stakes victory of his career, which he accomplished when Late Night Pow Wow upset the Oaks.
"It's not the Derby, but it's my Derby," Contreras said afterwards.
The two-turn affair for three-year-old fillies looked wide open on paper despite several late defections, Sower was made the 6-5 favorite for trainer Linda Rice, while Sense Of Bravery was the 5-2 second choice for trainer Brad Cox. Local star Late Night Pow Wow got only moderate support at 9-1, despite riding a four-race win streak when she had been the odds-on choice each outing.
When the gates opened in the Charles Town Oaks, Sower broke best of all and gained command along the inside from Take Charge Paula, while Sense of Bravery loomed just off the top pair three-wide on the first turn, with Late Night Pow Wow, accustomed to being on the lead, racing in fourth along the fence. Positions remained unchanged until entering the far turn when Late Night Pow Wow and longshot Chauncey surged past the favorites and turned the Oaks into a match race for the final furlong.
In fact, Chauncey looked well on her way to a 40-1 shocker, but Late Night Pow Wow fought back to forge a neck score while stopping the timer in a sharp 1:24.37 for the seven furlongs. Sower lasted for the show spot but was no match for the top pair when they kicked into gear.
A sophomore daughter of Fiber Sonde owned and trained by Javier Contreras and bred in West Virginia by John McKee, Late Night Pow Wow notched her fifth straight victory and seventh win in eight starts and pushed her earnings to more than $288,000.
"She was doing so good and this is her home track and I don't like running three-year-old fillies against older fillies and mares," Contreras said, explaining why this spot and not the Sadie Hawkins one race later. "She was just doing so good, so I figured we needed to take a chance."
Fredy Peltroche has ridden Late Night Pow Wow, a Fiber Sonde filly out of the Indian Charlie mare Holy Pow Wow, in all eight of her starts. Contreras gave the rider credit for his efforts.
"It was such a great ride. The track has been fast, but it's been fair," he explained. "Speed really hasn't been holding up tonight, so I told Fredy to just sit and wait until the three-eighths pole, and that's what he did. She ran a tremendous race. Some people thought I was a fool for running her in here, but now I'm the one holding the trophy."
Peltroche also got the sense that speed was not holding over the previous races despite the fast clockings being posted, so he listened to Contreras and let the filly settle into an ideal stalking spot before making her move. The patience was certainly rewarded.
"The track is fast but speed has been coming back a little," Peltroche said. "I decided to let her settle and then I turned her loose a little leaving the three-eighths pole and she really responded. Me and [Chauncey] were side-by-side the whole way through the stretch and it was close the whole way. But this filly just loves this track. She loves racing here under the lights."
Chauncey, who got in off the also-eligible lost following several late defections, rebounded from a seventh-place effort in the Grade 3 Monmouth Oaks to run second in a superb effort for trainer Lacey Gaudet, who committed to the race once the filly drew into the field.
It marked the second straight race in which local runners bested open competition.
One race earlier on the card in the $50,000 Pink Ribbon Stakes for fillies and mares at the same two-turn distance of seven panels, Lake Ponchatrain easily lived up to her billing as the 6-5 favorite when, under Arnaldo Bocachica, she bided her time through the early stages as Renaissance Rosie and Starship Reina dueled through the opening splits of 23 flat and 45.9, swept to command with a serious move leaving the quarter pole and romped home seven lengths clear while stopping the timer in 1:24.59.
A six-year-old Afleet Express mare owned and trained by Ernest Haynes, Lake Ponchatrain notched her third straight score, sixth win in 10 starts this year and 16th victory in 40 career tries and pushed her earnings to nearly $460,000. Lake Ponchatrain has won 11 of 22 starts and banked nearly $300,000 over the local strip.
But Haynes, who has been known to call an audible, said she will head down the road for her next outing.
"She loves this track, but she can take her races with her anywhere," Haynes said. "She's going to Remington Park next month for an Oklahoma-bred stakes that goes for $130,000 and I think she'll do well there. Tonight, I told Arnaldo just to let her settle back because there looked like a lot of speed in the race. Most horses have about a three-eighths-mile run in them, but this mare can turn it on for more than that. When he set her down leaving the half-mile pole and she started passing horses, I knew she was going to be okay. She's just a really, really nice mare."
"The trainer told me to just let her settle and move at the three-eighths pole, but I let her start running about the half-mile pole and she really responded," Bocachica said. "I wasn't sure if I moved too soon, but she really finished up strong. She's always loved this track and she passed those other horses without any problem. Everything just worked out perfect tonight."