Genaro: Not be a racing Grinch, but…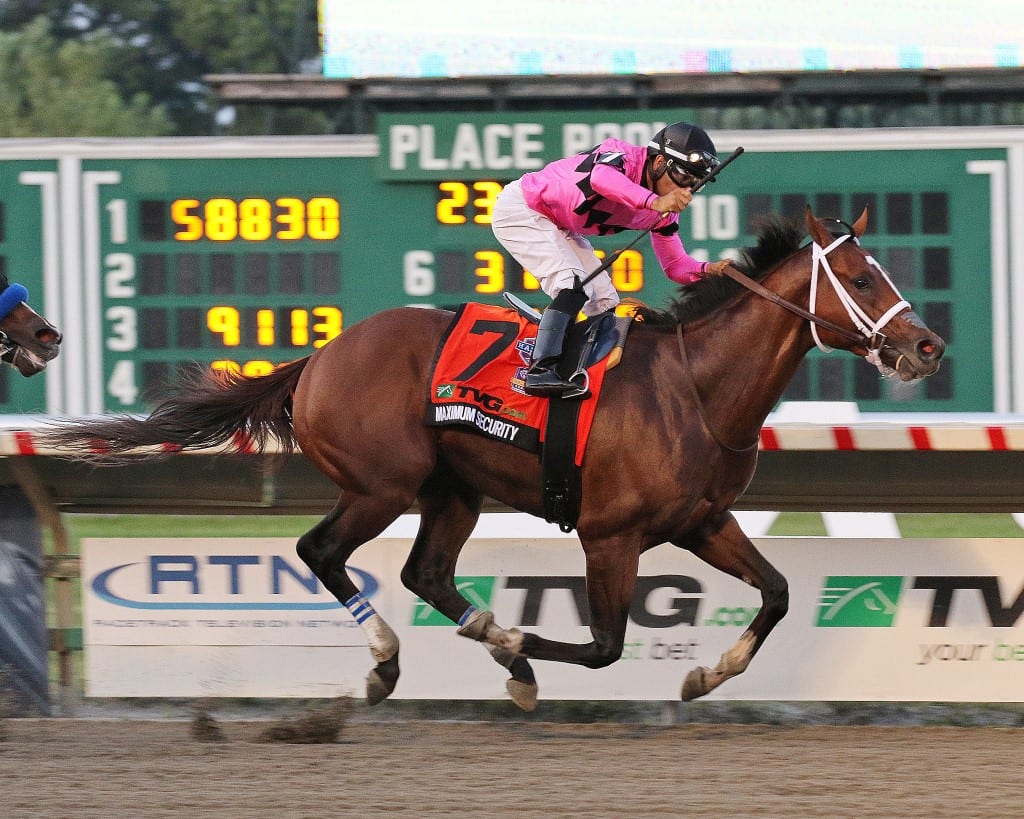 A fist pump from Luis Saez as Maximum Security wins the Haskell. Photo by Ryan Denver/EQUI-PHOTO.
Not even the glow of the holiday season could lighten owner Gary West's mood when it comes to Maximum Security.
Even the colt's third Grade 1 win this year could not soothe the rancor in the man who has fought horseracing, in the press and in the courts, for most of 2019, the man who has fed his indignation over a Derby DQ while apparently starving any joy that the sport and the gift of a talented colt might bring him.
And there is (or should be) a lot of joy in a homebred that started his career in a $16,000 claimer and ended his sophomore campaign with earnings of $1.8 million, a colt that may well, in a few weeks' time, become an Eclipse Award winner.
On December 7, Maximum Security won the Cigar Mile (G1) at Aqueduct Racetrack. That day, West told the New York Racing Association, "It doesn't make up for everything, but it's nice to win a Grade 1 race anywhere, and the Cigar Mile is a pretty nice race to win."
Both he and trainer Jason Servis indicated that the Pegasus Stakes (G1) at Gulfstream Park on January 25 would be the colt's next start.
But on December 15, The Stronach Group dropped some pretty major news about that race. It would be run without medication; its 2019 purse was being cut by 67%, from $9 million to $3 million; and 2% of that purse ($60,000) would be donated to Thoroughbred aftercare programs.
In 2017, the first year that the race formerly known as the Donn Handicap was run, the Pegasus purse was $12 million. In 2018, it was $16.3 million.
So much for Maximum Security and the Pegasus.
A few days after the Pegasus announcement, West told the TDN that his colt would instead head to the $20 million Saudi Cup on February 29 at King Abdulaziz Racetrack in Riyadh.
If the Pegasus purse cut was the injury, what he considered the insult was something of a surprise.
"If a horse owner had a shot to win a $20-million race or a race for less than $3 million…I am not sure why they would run for less," said West in the TDN, adding, "If The Stronach Group cares so much about horse aftercare, why in the world would they show their concern by reducing the value of their already enormously-reduced purse for the Pegasus by 2% at the expense of owners and try to tell the racing community that is a benefit to them? Where I come from, that doesn't even pass the laugh test."
Of course, whatever Mr. West thinks, Thoroughbred aftercare is no laughing matter.
And there's certainly nothing funny about the recent news from Penn National. Just a few days ago, four veterinarians from that track in Grantville, PA  got a lump of coal in their Christmas stockings when they were given probation and $5,000 fines for violating state and federal medication laws. The vets administered medication within 24 hours of a race and submitted false records, essentially misbranding the medications they were giving to racehorses. The risk of such behavior to the health of horses and jockeys is incalculable.
"We wanted to win," said trainer Stephanie Beattie in 2017, "and they weren't testing for those drugs at that time."
What's the old saying? If you're not cheating, you're not trying?
For much of the year, racing organizations have fought against bad press about injuries, about fatalities, about whips, about PETA, about Lasix. Seldom—maybe never? —did racing entities get ahead of a story; they played catch-up and got defensive, made knee-jerk decisions and conflated issues and convinced actually not very many people that the lives of horses and jockeys are in good, responsible, ethical hands. 
In a story I wrote recently for Thoroughbred Racing Commentary, Megan Arszman, marketing and communications director for the Indiana Horse Racing Commission, said, "We really are our own worst enemy."  That's a stance it's hard to argue with in the face of cheating vets and trainers, and an owner who dismisses initiatives and responsibility for aftercare. And it's not as though these examples are exceptions; there are dozens of decisions in the sport that have elicited despair, criticism, and incredulity not from people opposed to racing, but from people who love it.
We can create policies and protocols. We can legislate and advocate. And I hate to be a racing Grinch, but unless the people most directly involved with the horses see them as more than creatures from which to make money, 2020 won't be much to look forward to.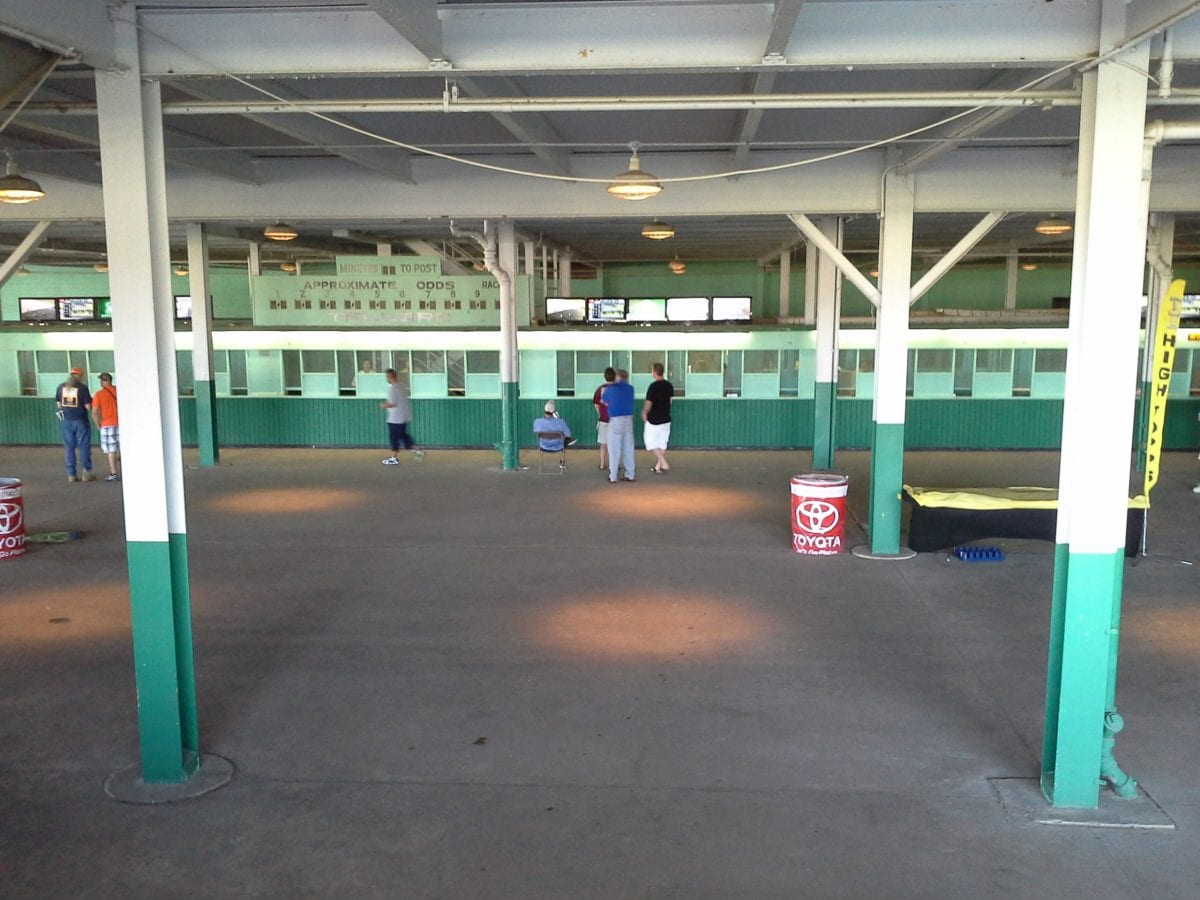 In a new Off the Pace, Mike Valiante shares a dozen rules for handicappers to follow to help them turn accurate prediction into profits.