Laurel Park picks and ponderings December 8, 2019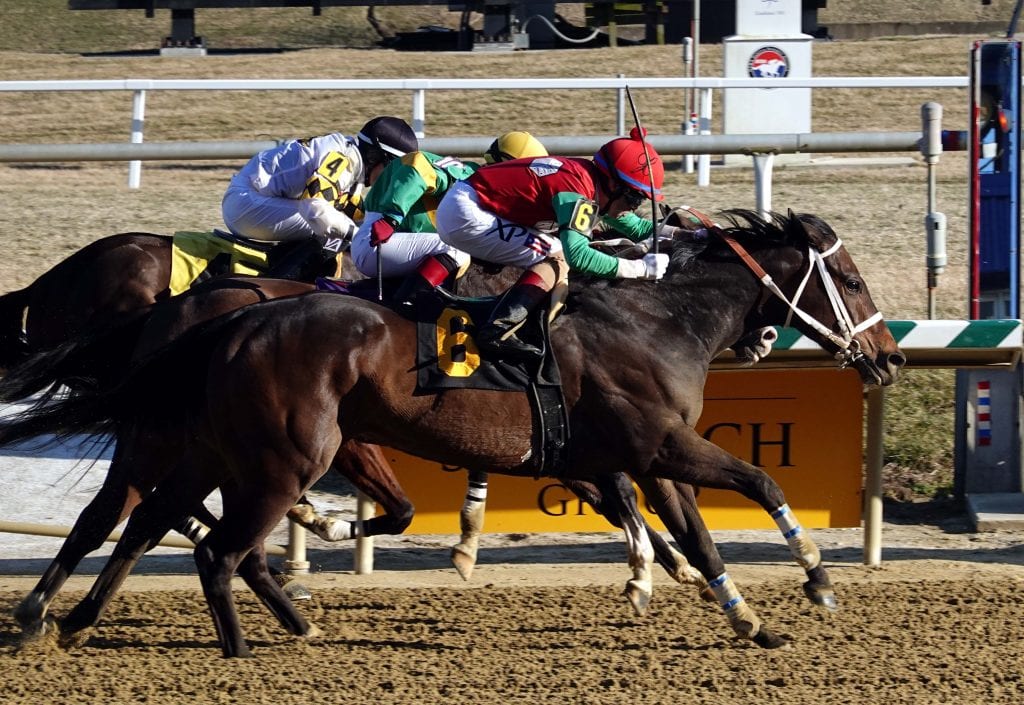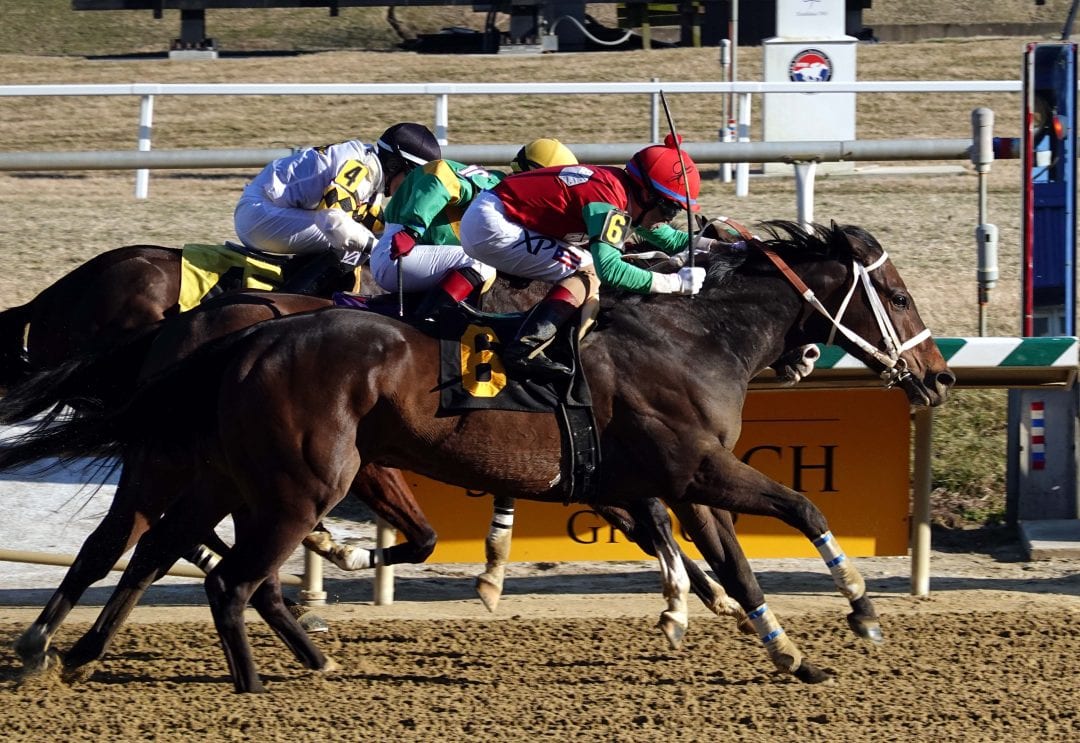 Anna's Bandit. Photo by Laurie Asseo.
In which we pick the races from Laurel Park each day…
Post time: 12:25 p.m.
Carryovers: Rainbow Jackpot Pick 6 — $11,378; Super High 5 — None; Late Pick 5 — None
Notable: RIP John Lennon, killed this day in 1980.
ANALYSIS
RACE 1
3-6-8-9
Trainer Mike Trombetta is 8-for-47 with juveniles making their career debuts in maiden claiming company, which is the case with top choice #3 Keeper in Spite (9-2), a daughter of Despite the Odds out of the productive Two Punch mare Keeper Kell; Trevor McCarthy has the mount… Favorite #6 Hoss Kitten (5-2) has run a couple of decent ones against better, but both were on muddy tracks, and her lone fast-track try wasn't much… #8 Queen of Cause (12-1) perhaps ran a bit better than a quick glance at her figs shows on debut; she was up in contention for five-eighths despite being four-wide on the turn; look for an improved effort today…
RACE 2 
1-7-3-5
After three tries against better, #1 Promsing Pistol (5-2) lands in the right spot in this $16,000 event for leading trainer Gonzalez and also will catch a fast track for the first time in three starts.. Favored #7 Boat Over the Hill (2-1) made a bit of a middle move last time before tiring late against better and wheels back on shortish rest for trainer Ness… After getting kinda left at the gate in his debut, #3 Golden Spun Lad (15-1) ran 'em all down to win easily by three-and-change; he may have more talent than his connex imagined when they introduced him at the bottom…
RACE 3 
7-5-2-1
It'll be first time in the Gonzalez barn for #7 Buddy's Run (5-2) who rallied a bit last out at GPW in a race from which three of four to run back finished in the exacta next time, including two winners… #5 Marylander (4-1) drops a step in his second start in the Lacey Gaudet barn; she's about 15% second off the claim with a positive ROI, and this one has better efforts to run back to… The Sam Cronk-trained #2 Code Name Brody (8-1) makes his first start since August and has competed against similar…
ANALYSIS
RACE 4
7-6-2-1
Could be a big day for Claudio Gonzalez, who sends out #7 Mamma Dee (3-1) here; the Tapizar filly ought to be involved from the first jump under Cintron and lands in a much better spot than her last… An easier spot and the added ground on offer today should yield an improved effort from #6 I Love You (6-1), who has a win at this one-mile trip… Three-year-old #2 Sharpin (5-2) slips into this spot by virtue of her age, as she's already surpassed the "never won three" condition and won an allowance at MVR last time… Not sure what went awry last time for #1 Stakes On a Plane (10-1) but we'll give her another crack at generous odds; she certainly has demonstrated the talent to compete with these…
RACE 5
5-11-6-4
Decent rally on debut for #5 Carousel Marge (5-2) who was along for second, and the Wicked Strong filly should appreciate the added ground today… #11 Biddaddysglory (5-2) draws in off the AE and may go favored in here on the two-level drop… 
RACE 6 
11-1A-6-4
First time in the Kieron Magee barn for #11 Dedicated (2-1), who made a middle move before tiring last out and finds an easier spot today than the open company he saw last time… #1A Iwishiwasspecial (10-1) stretches back out to a mile, finds an easier group, and might be the lone speed in this spot; trainer Corrales and rider Peltroche have a good record together (22% with a $3.08 ROI)… #4 King of All Media (9-2) makes his first start in over a year and plummets from the $20,000 level to this nickel event; he's one of two here making the "long layoff-big drop" move, #1 Savvy Street (8-1) being the other…
ANALYSIS
RACE 7
6-2-3-1
Top choice #6 Lion Lord (7-2) ran a good one last out in his first start after a two-month break and first for trainer Mark Reid; he was involved from the get-go and won the speed duel but could not contain the late runners; he can step forward today in a slightly easier spot and at a distance at which he's won before… We'll give a shot here to #2 Earned It (8-1) in his first try in the Farrior barn; the trainer has a positive ROI first off the claim when jumping up in class, and he adds leading rider Cintron today… Can't hate on the uber-consistent #3 Miners Quest (3-1), who always runs well…
RACE 8 
5-6-1-4
Favored #1 Cheese On (5-2) has run some pretty good races against better and probably should be on the ticket on the drop, but we'll take #5 Kingston Pike (3-1) on top; the Carlos Mancilla trainee dominated at this level last time, and while a bounce isn't at all out of the question off that career effort, we're hoping for better value than his main rival… New Farrior trainee #6 Divine Interventio (5-1) has better efforts to run back to…
RACE 9
2-10-4-3
That was a pretty useful effort last out by #2 Margie's Band (8-5), who ran third in her first try in nine months; the runner-up returned to graduate next out… Second start off a bit of a break for #10 Country Miss (15-1), whose best efforts would likely suffice here… #4 Oya (2-1) was claimed last out by Dale Capuano for $25,000 but shows up here for just $10,000; that's not a great sign, but then again, she won't have to be great in this group and gets blinks on today…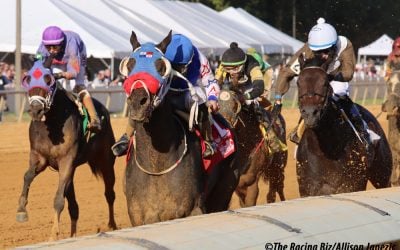 We provide full-card picks and analysis for this afternoon's races at Laurel Park.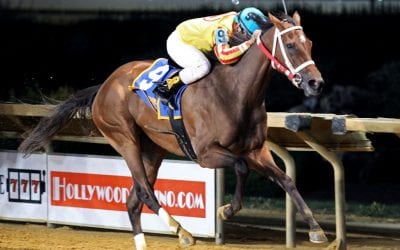 We provide picks and analysis for this evening's card at Charles Town Races.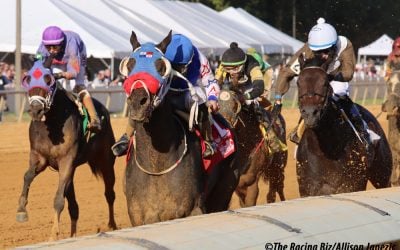 We provide full-card picks and analysis for this afternoon's races at Laurel Park.