That's a wrap: Timonium 2019 roundup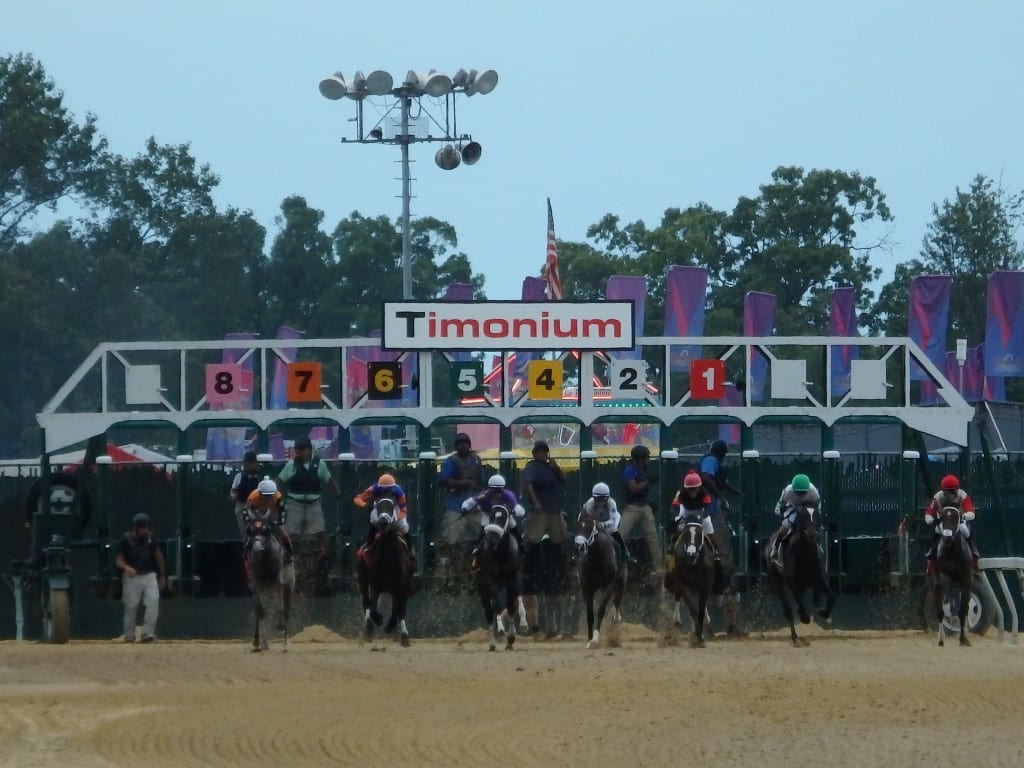 BETTER LATE THAN NEVER, PT. 1
Trainer Jerry Robb was 0-for-10 during the meet's opening weekend, but he finished with a flourish. With Anna's Bandit leading the way with a win in the Timonium Distaff Stakes, Robb went 4-for-10 during the second weekend to take the earnings crown with total purse earnings of more than $146,000 during the meet.
BETTER LATE THAN NEVER, PT. 2
The riding title went right down – literally – to the final race. When Shackforlove scored in Monday's nightcap, the win gave jockey Kevin Gomez his seventh of the meet, snapping a tie with Xavier Perez and Ashley Castrenze. Gomez won five times during the meet's second weekend, including three on Monday, to leapfrog his rivals.
LUCKY SEVEN
Trainer Anthony Farrior was second in earnings and led all trainers with seven victories – one more than Hugh McMahon, and he led the meet's point system, which awards trainers points for starting and for good finishes. Farrior had 105 points to McMahon's 85. As the leading money earner, Robb was ineligible for the points crown.
Points standings:
Farrior – 105
Hugh McMahon – 85
Jose Corrales – 68
Cal Lynch – 57
Wayne Potts/Claudio Gonzalez – 52
DOUBLE TIME
Three horses – more than in either of the two prior years – won twice during the short meet. Farrior's He's Meant to Be, Lori Testerman's Dat Dares Gold, and Cal Lynch's Giggling all went two-for-two.
Both Giggling and He's Meant to Be entered the meet as maidens and left with maiden and allowance wins under their belts.
NO GUTS, NO GLORY
The leading owner at the meet was the partnership of No Guts No Glory Farm and Marisa Gino, which made five starts and saw all five finish in the money. That number included Always Talking, who won a maiden claiming race on September 1, and Dreaming of Love, who finished second twice.
Remarkably enough, the earnings runner-up among owners was No Guts No Glory Farm all by itself, which sent out three runners, including Timonium Distaff winner Anna's Bandit.
TWO STAKES, WELL DONE
For the second straight year, the Big T hosted two stakes during the meet. On August 24, racing fans saw Clubman dominate his rivals en route to a nine-length win in the $75,000 Maryland Coalition Stakes at 9-10 odds.
One week later, it was Anna's Bandit rallying late to win the Timonium Distaff by a length for her 12th win in 28 career starts.
SOME NOTABLE PERFORMANCES
Phonemyposseagain – The Kevin Patterson trainee, who's pretty much a rocket out of the gate, cleared the field in about two jumps en route to a four-length win in a starter allowance August 24. It was his fourth win in a row. It was also by far the fastest four-furlong race of the 20 contested at the meet. Phonemyposseagain got the distance in 45.86 seconds; no other runner went the distance faster than 46.55 seconds.
Ackeret – Seven-year-old Ackeret had not made a start since October 7, 2017 – some 23 months previously. But the Jonathan Maldonado trainee, owned by Sabrina Morris Massage LLC, made his return a winning one, clearing the field early and going on to a two-length victory under Carlos Carrasco in a $4,000 claiming race. Amazingly enough, Ackeret was claimed out of the race, by trainer Jerry Robb for owner Herman Braude.
My Eminence – A six-year-old gelding trained by Hugh McMahon, My Eminence was a game winner of a $12,500 claiming event on August 31, getting the 6 ½ furlongs in 1:17.33. That was easily the fastest time of the day at the distance, faster even than the Timonium Distaff, in which Anna's Bandit got the two-turn trip in 1:17.69.
Xavier Perez — The journeyman jock, aboard Anna's Bandit, waved goodbye to beaten rivals Past Perfect in the Timonium Distaff as he passed them in the shadow of the wire, a response to a roughly run opening part of the race. "I just waved at him goodbye because he doesn't need to ride like that," Perez said.
Brooks Robinson — The Hall of Famer, a longtime member of the hometown Baltimore Orioles, was in the house September 1 and sat for a brief interview with Gary Quill. A large crowd gathered around as the interview progressed, and as it ended, a big cheer went up. Robinson graciously paused to sign autographs and take pictures with fans.