Anna's Bandit, Perez wave goodbye to Timonium Distaff rivals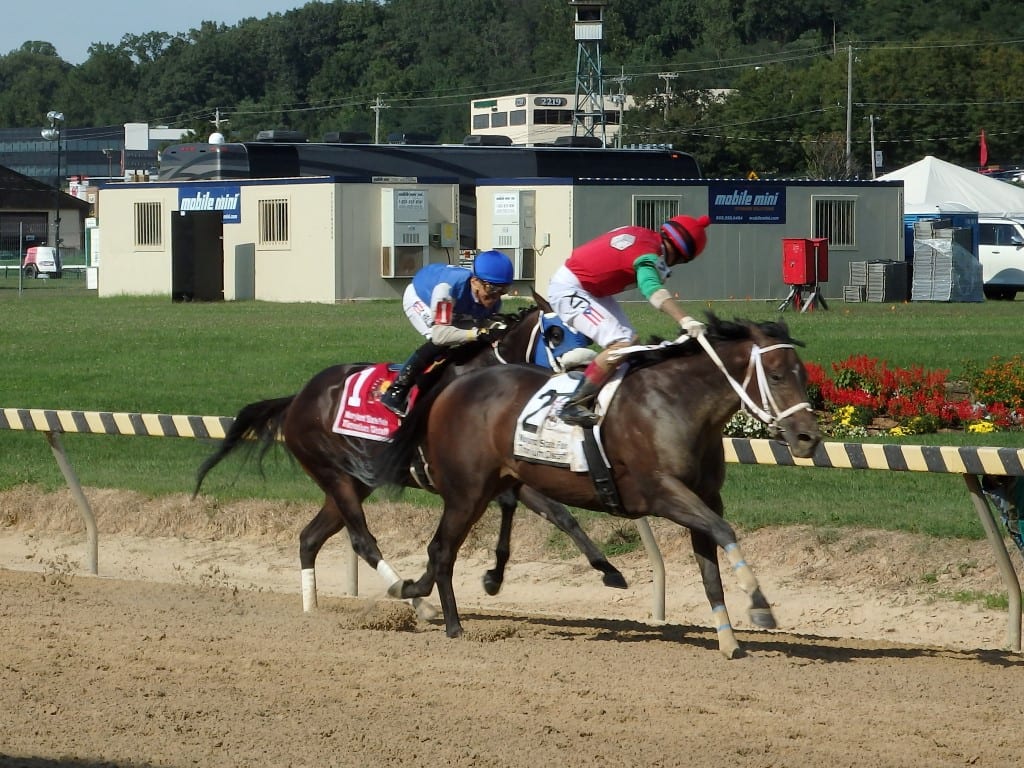 Xavier Perez waves goodbye as Anna's Bandit takes the Timonium Distaff. Photo by The Racing Biz.
Saturday's $75,000 Timonium Distaff was supposed to be little more than a cakewalk for the hard-hitting Anna's Bandit.
She had more than twice as many wins as any of her five Maryland-bred or -sired rivals and nearly twice as much in earnings, and the bettors sent her off at 3-10 odds.
But once the gates opened, nothing went the way trainer Jerry Robb and rider Xavier Perez expected — nothing, that is, but the final result. Anna's Bandit ran down leader Past Perfect in the final strides to win by a length for her third stakes win of the season and 12th career win overall.
Was Robb nervous?
"From start to finish," he said with a laugh.
That's because running a horse down in the late stages was never part of the plan.
"I thought I would be on the lead the whole way," Robb said. "So I was holding my breath the whole way."
Instead, it was Truly Hot who broke fastest under a hustling Arnaldo Bocachica ride to seize the early advantage.
And Anna's Bandit found herself in a dicey position early. With Past Perfect and Christian Hiraldo looking to come off the fence to find running room, the two horses bumped repeatedly the first time by the stands in the 6 1/2-furlong affair.
"The 1-horse (Past Perfect) was bumping him off the fence, so he had to take back and go around," Robb said.
Eventually clear, Past Perfect cruised to press Truly Hot's early pace and then to take control after four furlongs in 47.47 seconds.
At that point Anna's Bandit was lingering more than three lengths in arrears of the leader, and time was running out.
But Perez has ridden Anna's Bandit plenty of times; he knew what kind of engine he had under the hood.
"When I asked her to go, she responded like she always does," Perez said.
Under brisk urging, she chopped into Past Perfect's lead, finally caught her nearing the wire, and inched clear to win by a length in 1:17.69. Past Perfect was second, and longshot Phantom Shot was along for third.
Anna's Bandit returned a paltry $2.60 to win, and the exacta paid $3.10 for a buck wager. A five-year-old homebred Great Notion mare, Anna's Bandit now has over $491,000 in earnings and likely is headed to the Maryland Million in mid-October.
And as she inched away from Past Perfect, Perez took the opportunity to wave goodbye to Hiraldo, "payback," he said, for that runner's roughing Anna's Bandit up in the early stages of the race.
"I just waved at him goodbye because he doesn't need to ride like that," Perez said.
BIG T NOTES With the win, Perez grabbed the lead among jockeys by purse earnings; his mounts have banked $124,160 at the meet, well clear of any rivals… Arnaldo Bocachica remains the meet leader by wins with five… Jockey Katie Davis and trainer Hugh McMahon teamed up to take the late double with My Eminence ($6.20) and favored Notionality… Anna's Bandit also propelled Robb, who was winless last weekend at the Big T but has two wins this weekend, to the dollars lead among trainers, with purse earnings of $97,501… Anthony Farrior has five wins to lead all trainers, one ahead of McMahon…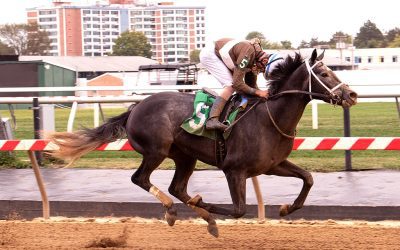 Last year's champion 2-year-old Maryland-bred made his first sophomore start in impressive fashion, winning the PImlico allowance feature.