Laurel Park picks and ponderings July 5, 2019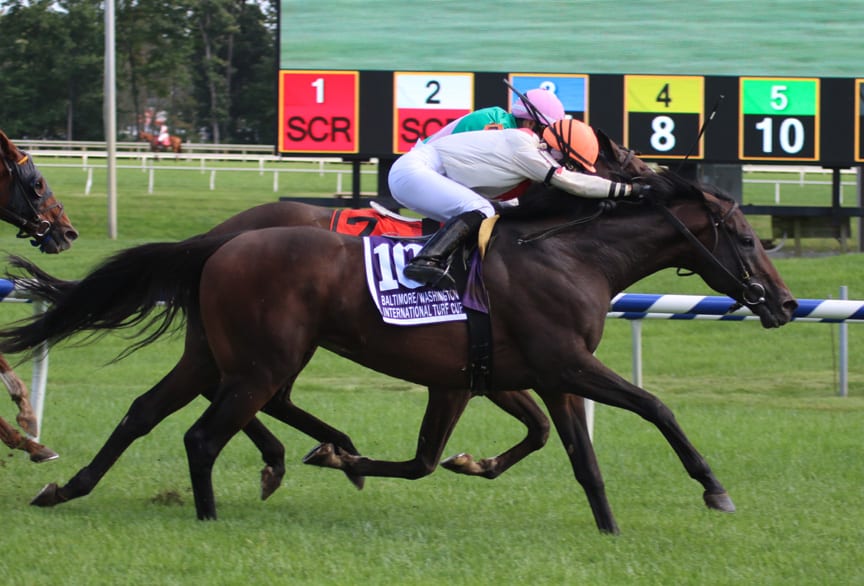 Doctor Mounty held off Projected narrowly to upset the 2018 G3 BWI Turf Cup at Laurel Park. Photo by Laurie Asseo.
by Frank Vespe
In which we pick the races from Laurel Park each day…
Post time: 1:10 p.m.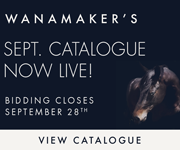 Carryovers: Rainbow Jackpot Pick 6 — $35,217; Super High 5 — $3,369; Late Pick 5 — None
Stat of the day: The 10 two-year-old races contested at the current meet have been won by 10 different trainers. That would change in race three today if either Cal Lynch or Jerry O'Dwyer wins.
ANALYSIS
RACE 1
The favorite in this nickel claiming event is #1 Emma'sdiamonddiva (9-5), and it's fair to say trainer Phil Schoenthal's patience with this one has expired; after claiming her for $16,000 last October, he ran her four straight times in allowance company and now drops her all the way to the bottom. We'll keep her on the ticket but try to beat her with another horse tumbling out of much better company. #6 Postino's Secret (10-1) has made eight consecutive starts in which she was at least 10-1 and four straight where she was 36-1 or higher. Last out she ran way up the track in a NJ-bred stake at Monmouth behind the 1-20 favorite Horologist. The last time the Beth Worton trainee ran at the bottom — way back in March 2018 — she finished second, so she fits with these, and the price (at least) is right.
RACE 2
Interesting to see jockey Trevor McCarthy get off the second favorite in this claiming event, #3 Incorporate (5-2), and pick instead #7 Etruscan (6-1). The latter, our top choice in here, beat $16,000 claimers two straight at Delaware before finishing well back at that level here at Laurel, but it may have been a better effort than it looked. He was wide throughout and was still slugging it out until running out of steam in mid-stretch and fading in the final furlong. A better trip could make a difference here.
RACE 3
We'll give the nod in this baby race to the Cal Lynch-trained first-time starter #8 Miss J McKay (5-2), a daughter of Hangover Kid who's been working well enough towards this contest. Lynch wins about 15% of the time with first-start two-year-olds, he'll leg up his go-to rider, and he's scratched the other horse he had entered, suggesting the latter was entered to make this race go for his remaining entrant. Another runner worth a look here is #4 Landing Zone (7-2). We generally avoid maidens moving up in class off a defeat, but this one ran a good one on debut after hopping at the start and spotting the field an immediate four lengths. Despite running widest of all on the turn, she rallied smartly for the place and can move forward today.
ANALYSIS
RACE 4
What do you do with a problem like #8 Ghost Hunter (2-1)? The nine-year-old is still a runner on his good days, including his last start. But he's also failed his last two tries as the favorite while winning at 9-1 and 9-2; he's the morning line favorite today. We'll keep him on the ticket but look to stir things up on top with #7 Deposit (8-1). It's pretty hard to get a gauge on the quality of runners this one's seen — both of his starts came at Great Meadown on soft turf going 12 furlongs against a lot of jump horses — but he's won both races with ease, and today he'll carry 29 pounds less than in his previous start. 
RACE 5
Let's see if we have this right: the favorite in this turf mile claimer is #1 Princess Palomar (9-5), who's made just two turf starts in her 23-race career and none since 2017. The second choice is #6 Shifra Magician (3-1), who has four wins from 51 (!) career starts, though her record looks slightly less unsightly when you toss the 16 dirt tries. Either could win in this modest group, as could our top choice, #7 Detail (6-1), making her first start in the Wayne Potts barn after racing with limited success in Northern California. Potts wins 16% of the time with horses making their first start in his barn.
RACE 6
It's a pretty solid group that will line up in this starter/optional claiming event, and the favorite, #1 Monaco Princess (8-5), certainly figures tough in here. She cruised to victory two back at the never-won-two level — a race from which four runners have returned run one-two-three — and her last-out effort on the lawn was fine, too. She seems to be moving in the right direction and should have a good trip here. We have her on top, but we're not inclined to get too excited about her; she did lose to #5 Wicked Awesome (3-1) three back, and that runner also looks to be in good form, as does last-out winner #6 Mortal Storm (7-2).
ANALYSIS
RACE 7
We'll eat the chalk in this one, as well, with a horse that really looks to be a handful. #2 Call Me Jelly Roll (9-5) just won at this exact level last out, and did so at 6-1 odds despite a bad trip; she had her head turned at the break and came away last of all, moved up between horses before encountering traffic, and finally got free in the lane to run down the even-money favorite. If she can avoid pratfalls today, she should win right back for trainer Jerry Robb. Another who figures to be a player in here is #6 Starting Tour (5-2), who won like an even-money favorite should last out when drawing off to score by seven with a career-best Beyer fig.
RACE 8
Several of these are dropping in class, and we'll give the nod to one of those, #3 Seville Barber (9-2). This one competed nicely against better two back, and while his last was much less impressive, it appears that he bled in the late stages. He gets Lasix on for the first time here and lands in the right spot for trainer Tim Woolley. Two others taking big drops are #6 Gunslinger (4-1), who finished up the track last out at the $40,000 level at Monmouth, and #8 Ten Eyck (7-2), who's been throttled several times against $30,000 and $40,000 runners at Belmont.
RACE 9
It seems likely that one of these runners — who all look more or less the same on paper — will emerge with a win in this nickel claimer going six furlongs. The key horse here seems to be #3 Majorie Mugs (6-1), who has finished ahead of several of these at one time or another — but who is 1-for-39, including 0-for-15 at the trip. Hard to endorse her on top, or those she's beaten. Let's take a swing here to close the card: #1 Fancy Outflanker (12-1) returned a week ago from a 32-month layoff against slightly better. After breaking alertly, she was rated back off the pace and then ran pretty evenly. It was not a terrible effort, given the lengthy break, and she'll get blinkers on today. Bug boy Avery Whisman will ride.