Jaywalk looks to get back on track in Delaware Oaks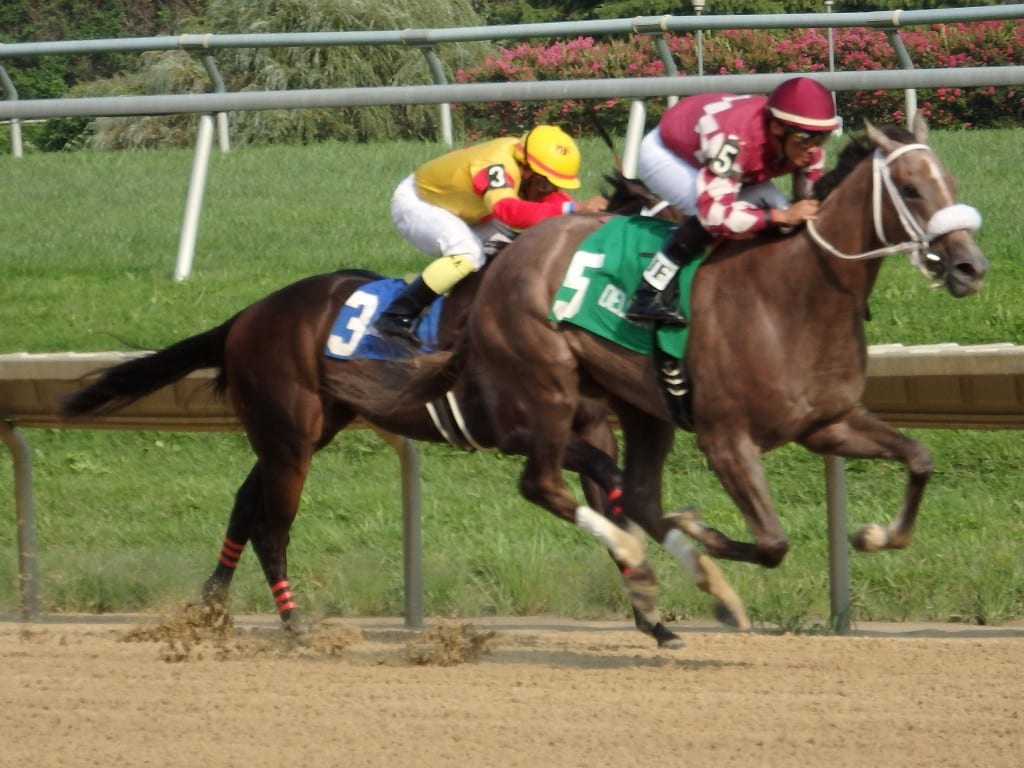 Jaywalk won the White Clay Creek last August at Delaware Park. Photo by The Racing Biz.
It was just 11 months ago, in the $50,000 White Clay Creek Stakes that a 2-year old filly named Jaywalk first displayed the talent and brilliance that would culminate in a dazzling victory in the $2,000,000 Breeders' Cup Juvenile Fillies and earn her Eclipse Award honors as top 2-year-old filly.
Fast forward to Saturday's Grade 3, $300,000 Delaware Oaks. Jaywalk, now a three-year-old, comes into Saturday's feature winless in three races this season. Her speed numbers have dropped from her juvenile "figs," and she has had a change of riders, different racing tactics, and a bit of trouble in some of her outings.
For all that, trainer John Servis feels confident Jaywalk, who is owned by D J Stable LLC and Cash Is King LLC, can get her career back on track with a strong effort over a surface she has shown an affinity for in the past.
"I know we hear a lot of comments about 'Jaywalk's done, she was just one of those 60-day wonders who got real good for short period of time,' but trust me, she's not some flash in the pan," Servis said this week.
Jaywalk has certainly kept the right kind of company this year. She was fourth in the Grade 2 Davona Dale, third in the Grade 1 Ashland, and then disqualified to 13th after coming over on a rival in a sixth-place finish in the Grade 1 Kentucky Oaks.
"She was a bit short in the Davona Dale," Servis explained. "Then I thought she ran a really good race in the Ashland where she had to be sent early, got caught down inside and still dug in and kept trying right to the finish. Then in the Oaks she broke bad and never got untracked after that.
"So while she hasn't won a race this year she's still run good, she's trained good, and she's continued to fill out and grow."
The gray daughter of Cross Traffic has only worked twice since the Oaks on May 2, but Servis says the light work schedule is by design – and recalls what he did with her a year ago.
"Last season we concentrated on good, solid gallops and just a few works between her races, and she seemed to like that," Servis said. "You know, she's not a real big horse, and she's not the kind who needs to work hard. She's fit, she puts enough into her gallops to maintain her foundation, and the works are just more to keep her mentally sharp than anything else."
Servis admits the Delaware Oaks is an important race for Jaywalk, perhaps more to his filly's psyche than anything else.
"We're looking for a little confidence booster for her," he admitted. "Horses are just like humans: winning is a boost for them and losing's a bummer. I know she's the same filly who beat the best last year, and now we're looking to get her to remember that, too. I'm looking for the Jaywalk I know to show up Saturday. If she does she'll take some beating."
The most likely runner to do that is the Arnaud Delacour-trained Fashion Faux Pas. She won the Light Hearted Stakes by 14 lengths over the strip last month and is 5-2 on the morning line. Jaywalk is the 6-5 favorite.
Jaywalk will have a new pilot on Saturday when veteran Joe Bravo takes over the riding assignment.
"Joe's a cool, calm veteran and he's got those nice soft hands," the horseman pointed out. "You don't need to do a lot of wrangling or rating with this filly, she's got natural speed and knows what she's doing. Now we're just looking for a clean trip. We know she likes the surface there (at Delaware Park) and she's ready to roll. We're hoping the Oaks will be the race that gets us back on track."