Wrapping up the 2019 Pimlico meet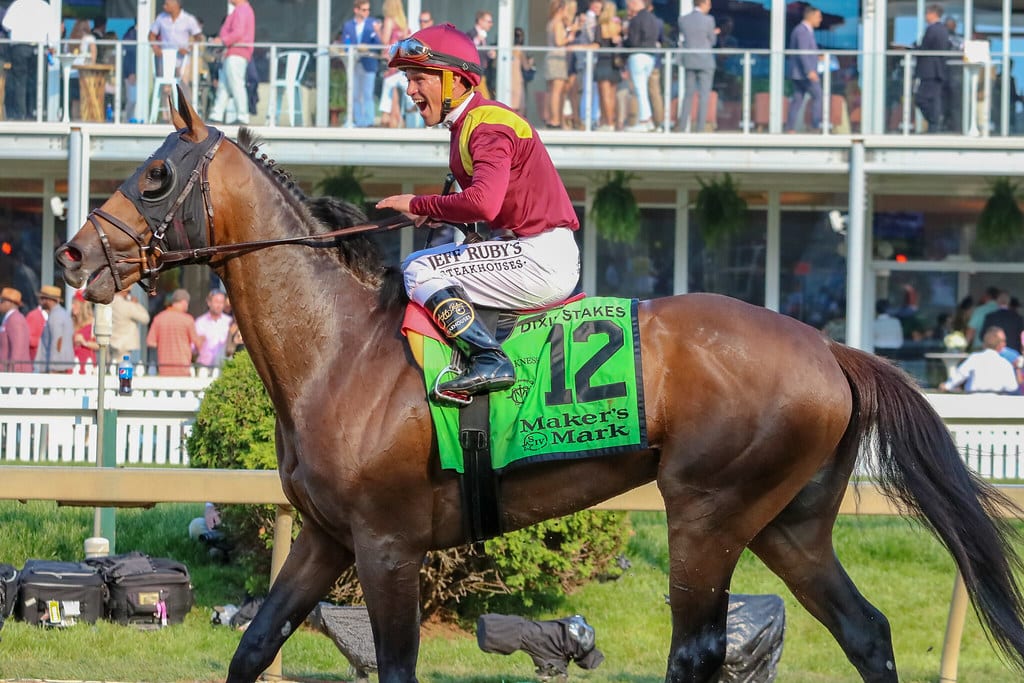 The thrill of victory for jockey Javier Castellano after winning the Dixie Stakes aboard Catholic Boy. Photo by Dottie Miller.
The 2019 Pimlico Preakness meeting wrapped up Monday with a nine-race card and a $14,231 payout in the Rainbow Pick 6, which had lots of Preakness weekend money in it and carried over until the mandatory payouts of closing day.
Of course, it's the Preakness meet, so it will be remembered for, well, the Preakness, and War of Will's victory. Here's what else we take away from the 12-day stand:
We don't need no stinkin' Derby winner(s).
For all the pre-Preakness chatter about who wasn't coming — namely, Kentucky Derby winner (official) Country House and Kentucky Derby winner (unofficial) Maximum Security — those two truants were pretty much forgotten by race time, as an evenly-matched field of 13 faced the starter and bettors poured money into the pools.
War of Will won the big race, and players wagered just shy of $100 million on the 14-race card.
Covfefe? Covfefe!
As good as War of Will was — and he was really good in the Preakness — the performance of Covfefe had to be the meet's greatest revelation.
The three-year-old Into Mischief filly, trained by Brad Cox, won the Grade 3 Miss Preakness Stakes on Black-Eyed Susan day by more than eight lengths (!) in a stunning time of 1:07.70 for six furlongs. That was some 1.3 seconds faster than the previous record, set by the very good older sprinter Northern Wolf in 1990.
It's true that the track played fast over the weekend. The good, older distaff sprinter Chalon came within about two-fifths of the track record in the Skipat the race prior to the Miss Preakness, and the following day, New York Central won the Grade 3 Maryland Sprint in what would have been a record time of 1:08.74. But those efforts only serve to emphasize how good Covfefe was in setting a record that — whatever happens to Pimlico — figures to stand for quite some time.
Going the distance
Sprints have become increasingly dominant in American racing in recent years, and Maryland's been no exception. But it was refreshing to see:
the addition of a 1 1/2-mile turf stake, the Searching, for distaff runners on the Preakness undercard, even if three scratches left a short field of just six to contest the $100,000 event, which went to Ickymasho;
a 1 1/2-mile turf allowance on closing day, which went to the bred-to-do-this Niall Saville trainee Lemon Zip. Running time was 2:30.75.
While we're at it: we were somewhat skeptical about the increase in distance of the Pimlico Special from 1 3/16 miles to 1 1/4, it seeming to be a minor cosmetic alteration to a great, historic race, every prior edition of which had been run at the shorter trip. But in the first instance, at least, it looks to have been a positive step; the Special, which had suffered from modest fields and overwhelming favorites in recent years, drew an almost-full gate of 13 (and that after one scratch), had a tepid 2.90-1 favorite in You're to Blame, and went instead to Pimlico-lover Tenfold, who returned $12.20 to win.
The more things change…
Leading rider and trainer titles for the meet went to two names that have been familiar to Midlantic racing fans over the last several years.
Jockey Trevor McCarthy led all riders by wins, scoring 13 times from 58 starts, which left him five clear of any other rider. McCarthy was fourth by money earned behind a trio of just-in-for-Preakness-weekend jocks in Preakness winner Tyler Gaffalione (one win but over $1 million in purse earnings); Javier Castellano, who won six times and logged $676,140 in purse earnings; and Joel Rosario (three wins, $627,000 in purse earnings).
Jamie Ness led all trainers, posting nine wins from 26 starters, four more than runner-up Claudio Gonzalez (5-for-23). Ness's runners earned $177,970, good for fifth overall. The meet leader in earnings was Mark Casse, whose Preakness victory with War of Will propelled him to $1,005,000 in purses.
… sometimes they really do change.
While McCarthy was the clear leader by wins among jockeys, a pair of apprentices made favorable impressions while finishing second and third in the standings.
Nineteen-year-old Avery Whisman finished with eight wins in 31 starts, a gaudy 26% strike rate, and finished second in the standings. The seven-pound apprentice steered his mounts to nearly $183,000 in earnings.
Meanwhile, five-pound bug Julio Correa won four races in the last two days of the meet to end up in a tie for third with seven wins. Journeyman Jorge Vargas, Jr. also logged seven. Correa's mounts earned over $174,000.
On rainbows
A lot of bettors bemoan the "rainbow" jackpot wagers, which only pay out in full when there is a single winner. The problem, from a bettor's perspective, is twofold: 1) that you can't reasonably know when you might be the only winner, which unfairly penalizes you for actions not your own; and 2) the result is that the takeout, which is nominally 20%, rises to an astronomical 52% on days when there is no winner or when there are multiple winners, since on those days 40% of the net pool is carried over.
So why do tracks do it? For days like yesterday, which, as closing day, had a mandatory payout of the Rainbow Pick 6. Entering the day, $261,774 was already in the pool via carryover; the mandatory payout and hefty carryover generated another $1.1 million or so in new wagering, helping turn an otherwise moderate betting day into a solid $3.2 million-plus. Those who hit the Pick 6 received $14,231 for their efforts.
And finally, Pimlico…
It's become something of an annual plea of ours: the Pimlico situation needs to get figured out and figured out soon — like yesterday.
The paramaters are well known; the Stronach Group, for a variety of perfectly sensible reasons wants to leave Pimlico and centralize operations at Laurel Park. The city of Baltimore, for perfectly sensible reasons, wants to keep the Preakness in Baltimore. And so, never the twain shall meet, and all that.
The state legislature kicked the can down the road at its most recent legislative session. But the can's been kicked about as far as it can go; those looking for cheap symbolism about the state of things — the couple dozen cars huddled forlornly in the massive clubhouse parking lot, the giant black baggie that became partially unmoored from the condemned section of grandstand it was hiding from the TV cameras, the vendors waiting mostly in vain for customers to materialize — had plenty of options to choose from on closing weekend.
But it's not about symbols. Pimlico is the answer to the question of what happens to a facility through decades — and multiple ownership iterations — of disinvestment. Customers are left with a wildly substandard experience. Horsemen are in limbo. The neighborhood waits, and worries.
So to the politicians and the executives, the regualtors and regulated: please get this figured out. Please?