Covfefe blazes to track record in Miss Preakness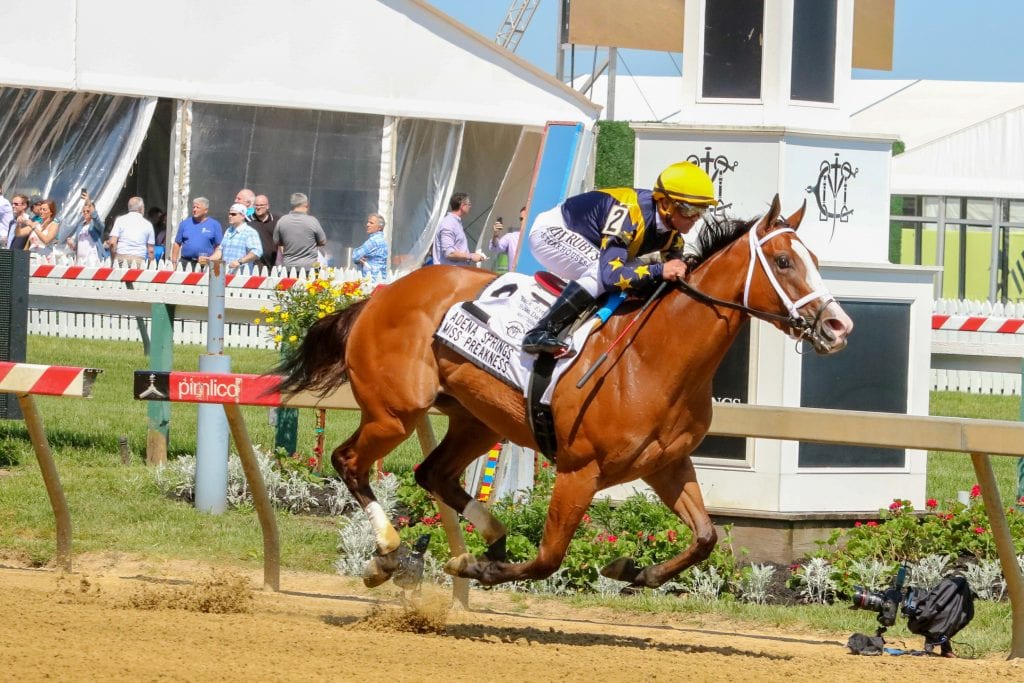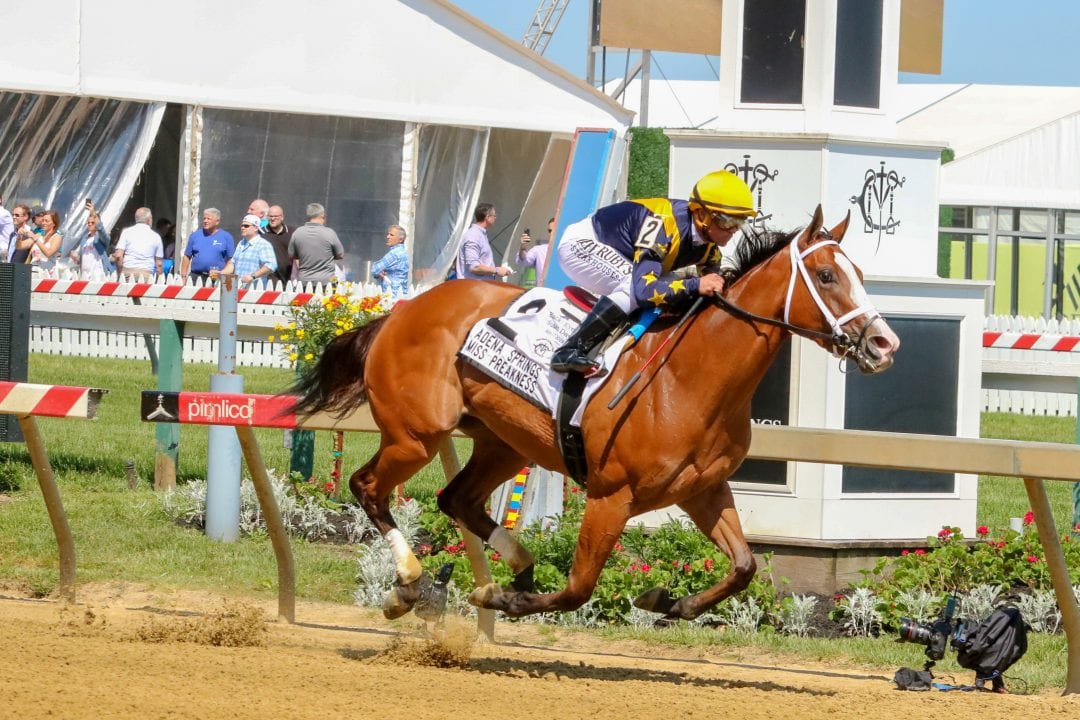 HOW IT HAPPENED
On paper what appeared to be a wide open Grade 3 Adena Springs Miss Preakness Stakes, turned out to be a rout as 8-5 Post Time favorite Covfefe ran away from her competition in the stretch to win by 8 1/2 lengths while obliterating the Pimlico track record. Covering the 6 furlongs in 1:07 3/5, the 3-year-old daughter of Into Mischief sliced more than one second off the previous record of 1:09 held by Northern Wolf, set on August 18, 1990.
Away from the gate in good order, Covfefe quickly established command setting a rated pace in the two path while handling some outside pressure by Congrats Gal. On the turn the LNJ Foxwoods filly burst away after being shaken up near the three-sixteenths pole then overwhelmed her rivals under a mild hand ride by Javier Castellano who registered his third win on the card. Local runner Please Flatter Me (5-1) who is stabled at Pimlico and conditioned by Mark J. Reid,  proved to be much the second best finishing 3 1/2 lengths better than Tomlin (9-1) who was followed by Midnight Fantasy (8-1) another 1 1/2 lengths back to complete the 2-4-8-12 $1 Superfecta which returned $604.80.
Other local hopefuls Never Enough Time (11-1) ran evenly to finish sixth, and Congrats Gal, who was the closest threat to the winner until the far turn, faltered in upper stretch, was being eased through the final sixteenth then collasped post race and died.
Photo of Covfefe by Dottie Miller.
QUOTABLE
"She did it very easy. I didn't expect her to be on the lead. She has speed but the way I handicapped the race, in the back of my mind I didn't want to take the pace because I knew it was going to be really fast and I was looking to save something for the end. But it didn't work out that way. She broke out of the gate and I had the best horse in the race. Let's put in a great performance today and that's exactly what she did today.
"I know she's a good filly and she's just a super-fast horse. It didn't surprise me the way she performed today. I felt we were going fast but didn't go through my mind once (that it would be a track record)."    
— Jockey Javier Castellano
 "She's fast! We weren't hell-bent on getting the lead today. We were going to let the speed go if there was a lot of it. I'm super pleased with her. This filly, we've thought she was a superstar from the start. Three weeks after she broke her maiden we put her in a Grade 1 (Frizette at Belmont) and she's 2-5 (odds). She has a big following. She's a super work horse and obviously a super racehorse. She put it together today."
When asked about her future and whether she'll continue to sprint, Cox added, "I would think so. I wouldn't be scared to try seven-eighths. I wouldn't be scared to try one-mile with her. We'll see how she comes out of this and go from there."    
— Trainer Brad Cox
FACTS AND FIGURES
Winner paid: $5.60 – $3.60 – $2.80
Winning time: 1:07.70 (new track record)
Margins: Eight-and-one-half lengths from Covfefe to Please Flatter Me, another three-and-one-half lengths back to Tomlin and one-and-one-half to Midnight Fantasy
Winner's record: 4-3-0-0, purse earnings of $196,200
CONNECTIONS
Owner: LNJ Foxwoods
Breeder: Alexander Groves Thoroughbreds
Pedigree: Into MIschief-Antics, by Unbridled
Jockey: Javier Castellano
Trainer: Brad Cox
HOW WE 'CAPPED IT
 #6 – Never Enough Time (6-1): With just two races/wins under her belt, she's still a bit green but when you run away from your competition as she has done, you tend to lollygag; hoping trainer M. Trombetta has given her a few lessons in the A.M. and she'll be more focused as she won't be alone entering the stretch today
 #5 – Congrats Gal (8-1): Turned back early challengers in last two impressive winning efforts to end 2-year-old campaign; this race has been the plan for her 3-year-old coming out party
#11 – Fighting Mad (4-1): Appropriately named filly for Gary West owner of Maximum Security who was DQ'd from KY Derby (as if you hadn't heard); strangely this undefeated gal has same sire (New Year's Day); let's hope the result of this race doesn't end up in federal court
IN YOUR STABLE MAIL
Runner-up Please Flatter Me was not going to beat the winner but gave a good account of herself to be second best. After leaving the starting gate she bumped with Brunette Princess, which compromised the more forwardly placed position she has enjoyed in her four previous races. Once corrected, she moved up along the rail to take a stalking position past the half mile pole, eased out to give chase in upper stretch, and kept on willingly.