Newly focused jock Jeremy Rose winning in bunches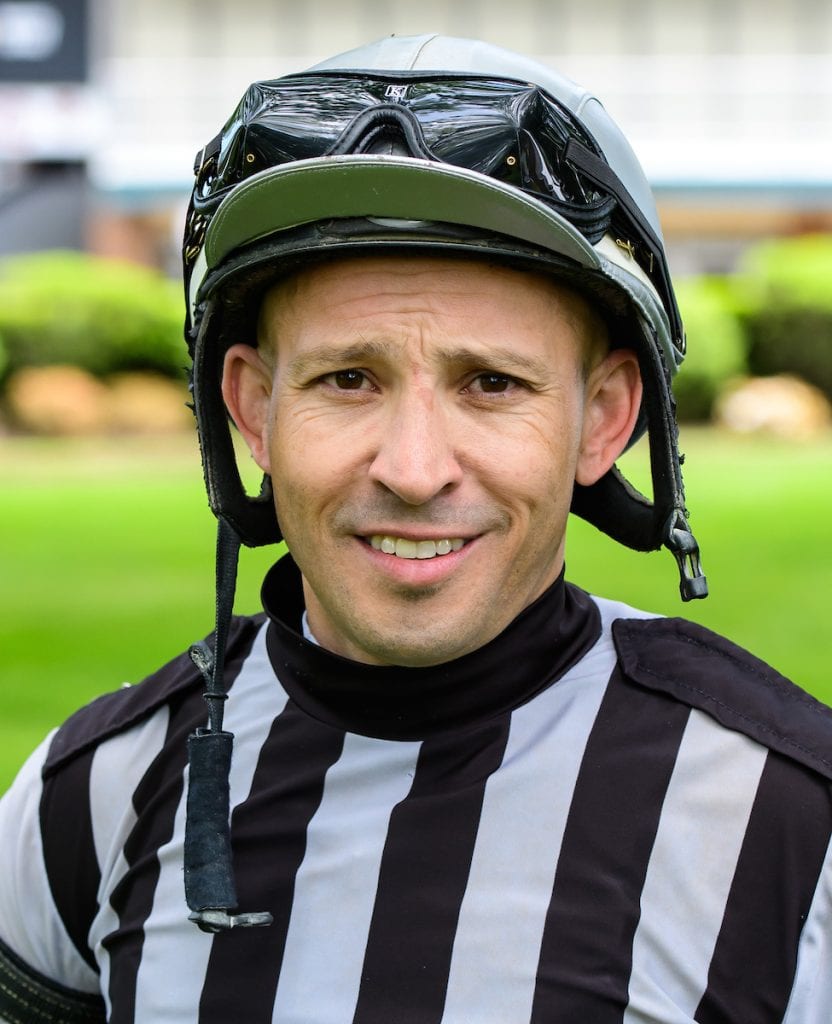 Jeremy Rose at Delaware Park on May 22. Photo by HoofprintsInc.com.
It's been 19 years since a brash young jockey with tons of talent and a boatload of confidence burst on the scene at Delaware Park.
That rider's name was Jeremy Rose, and those who were on hand for Rose's coming out party knew early on they were witnessing something very special. Rose won 312 races in 2001, his first full season of riding, and won the Eclipse Award  as the nation's top apprentice jockey that year. By the end of 2005, he'd added nearly 800 more wins to his ledger, and he had won two jewels of the Triple Crown with victories in the 2005 Preakness and Belmont aboard Afleet Alex.
For a time it was like a Hollywood movie; Rose was one of the most sought-after riders in the business, popular and well-known.
But life isn't a movie and the rider's career took some dark and unexpected turns. In 2008, in a fit of pique over his mount's failure to respond to his urging in a race at Delaware Park, he struck the animal in the face with his whip and that incident went viral in news and television outlets. He was vilified in the press and by animal rights groups and subsequently given a six-month suspension, which was later reduced to 90 days.
Then the rider developed a dependency on prescription medication, and he went from a hot commodity to a fading star whose future in racing looked bleak, indeed. In 2015 he won just 17 races and was, as the saying goes, basically "dead in the water"
Rose's 2019 began quietly enough, but the opening of Delaware Park seems to have breathed new life into the rider. He won with seven of his first nine mounts in Stanton and overall has eight wins – and four seconds – from 15 Delaware Park starts.
For the first time in a long, long time, he looks and rides an awful lot like the Jeremy Rose that set the racing world on fire almost a generation ago. Overall, Rose has 12 wins from 26 mounts this year.
Rose's life began to turn around three years back when he met his now wife Brittney. With her help he was able to finally put his demons behind him, and the pair married last summer. Rose says that having others — Brittney and his stepdaughter Harper St. Clair – to focus on has helped him get his head on straight personally.
"Before it was all me worried about me, but after Brittney and Harper came along, I realized there are a lot more important things in life, good things, and I finally began commit to the people who had been committed to me," Rose explained.
This winter Rose felt like he had his affairs in order and was ready to fully focus on his first love, riding horses and winning races. That's when he got a call from trainer Anthony Pecoraro.
"Tony and I have known each other for like 20 years and have had a lot of success together," Rose said. "He called me earlier this year and told me he felt like he had a really nice group of young horses and said he'd like to me to work with them and ride them. But he also told me he needed a total commitment from me, he needed me at the barn every morning. Last season, with the marriage coming up, I was riding and winning some races but I really wasn't working as hard as I should have been. I was working horses a few days a week, but I didn't have my head fully focused."
Rose knows what it takes to succeed in racing, even if he hasn't always been able to follow through on the knowledge. And connecting with Pecoraro – a trainer who has won at least 19 percent of his races every year since 2014 and this year is 10-for-35 – provided him a huge opportunity.
"This is one business where if you don't work, you don't succeed. I told Pec I was ready and eager to go to work," Rose said. "We started on April 1, and it's been great to see the young horses progress and develop. I think this may be the best group Anthony's ever had and I'm tickled to death to get a chance to ride them."
Rose recently teamed up with another friend from the past when he piloted a first-time starter to victory last week for trainer Tim Ritchey. Rose and Ritchey combined to win two legs of the Triple Crown – and very nearly all three – with Afleet Alex back in 2005.
"We were talking and figured it had been [nearly] 15 years since I'd ridden one for Tim," Rose recalled. "His colt Proud Ruler has impressed me since I've been getting on him, and he might be a nice one. And it's nice to be in the winner's circle with Tim again."
The old Jeremy Rose had a fierce competitive spirit that came out when he was riding. This spring, it looks like that hunger and drive are back.
"Oh yeah, the fire in the belly is back" Rose said with a chuckle, "and it's a great feeling."