Pimlico closer is first win for trainer Stettinius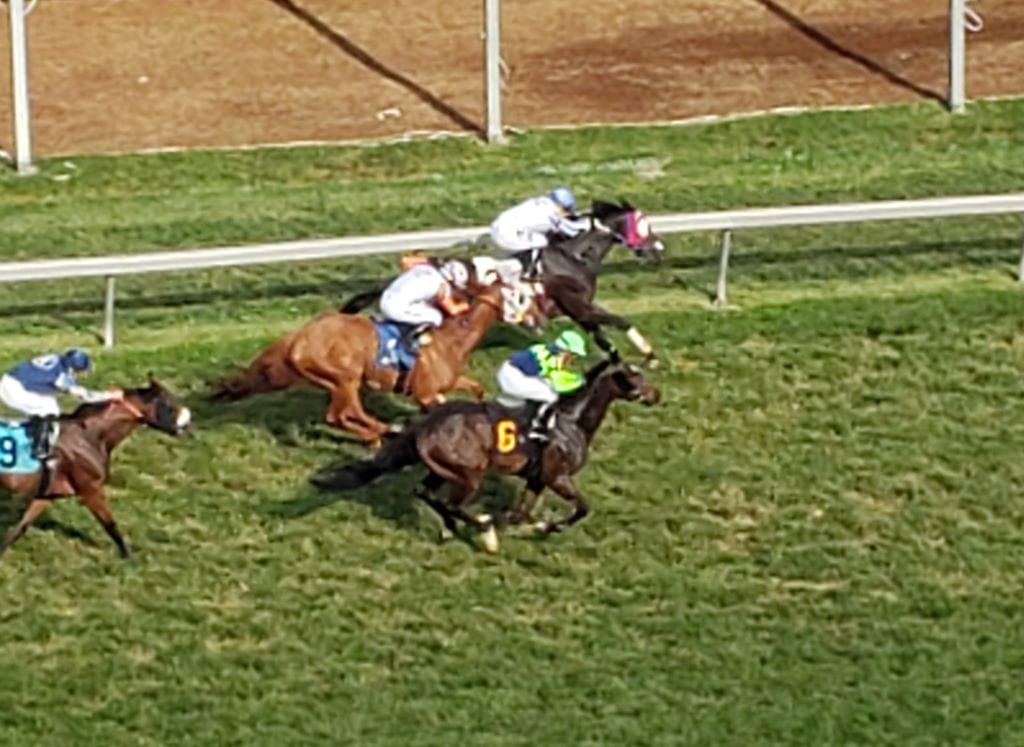 Mokheef (#6) rallied outside to win the Pimlico finale. Photo by The Racing Biz.
Mint Meadows Farm's Mokheef, racing second time off the claim, came with a steady run down the center of the track to catch Electro and win Monday's ninth-race finale, giving trainer Suzanne Stettinius her first career victory.
It was the second starter of the year for Stettinius, the cousin of Maryland-based trainer Ann Merryman who had run 21 previous horses dating back to her first in 2009. Stettinius claimed Mokheef for $5,000 last December at Laurel Park, and ran first him in an off-the-turf claiming event May 5 at Laurel.

"If you look at his record, he's won once on the turf and he's been on the board both times so that's where he wants to be. I ran him off turf a couple weeks ago and the jockey came back and said, 'Don't ever do that again,'" Stettinius said. "We're listening, and we found his race."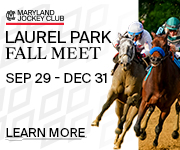 Mokheef ($17) ran one mile in 1:36.98 over a firm turf course to win the $16,000 claiming event for 3-year-olds and up by a half-length, his third career victory from 17 races.
"I don't even know how I feel, it was so exciting," Stettinius said. "I was a little worried about him on the backside. It looked like he was dropping back and all of a sudden he made a big move around the turn, and he got him at the end."
Stettinius, 31, is a native of Parkton, Md. who represented the United States at the 2012 Summer Olympics in London, competing in modern pentathlon. She is also a former steeplechase jockey who twice raced in the Maryland Hunt Cup, and has been riding for Merryman since age 16.
"She's just taught me everything. She's kind of the one that pushed me to get into the game myself," Stettinius said. "I can tell you what was more fun [than the Olympics], and it was winning my first horse race."