Preakness weekend cheers and jeers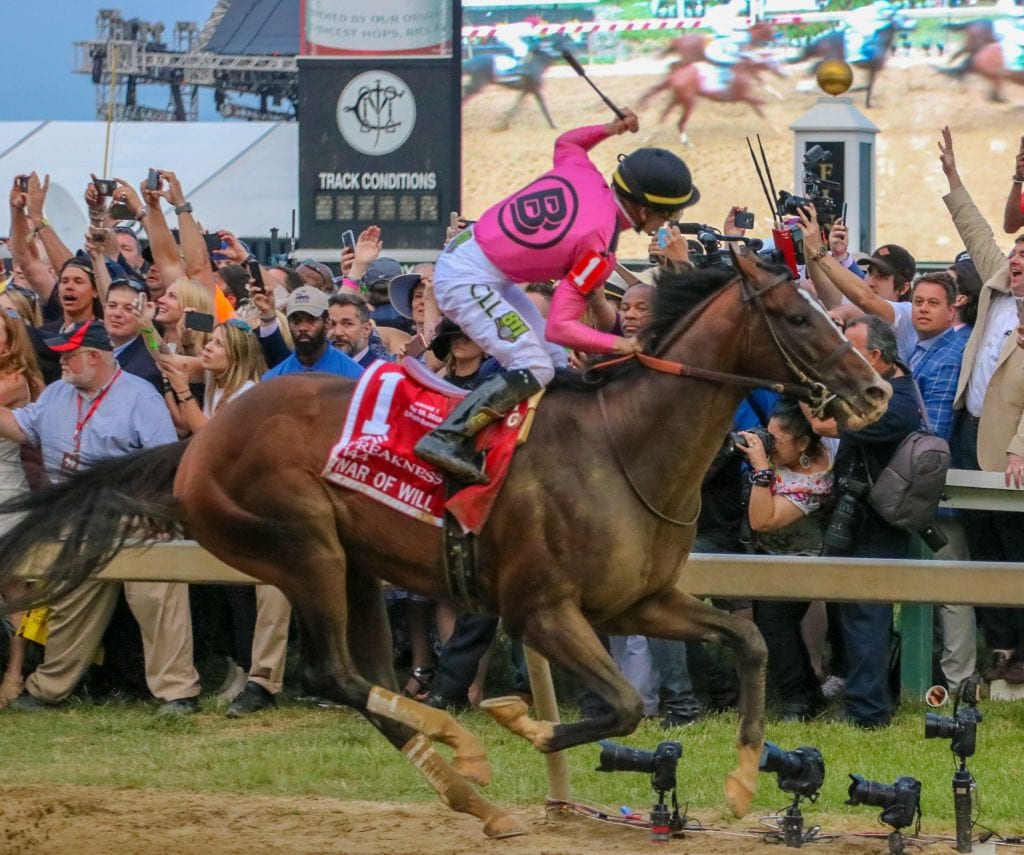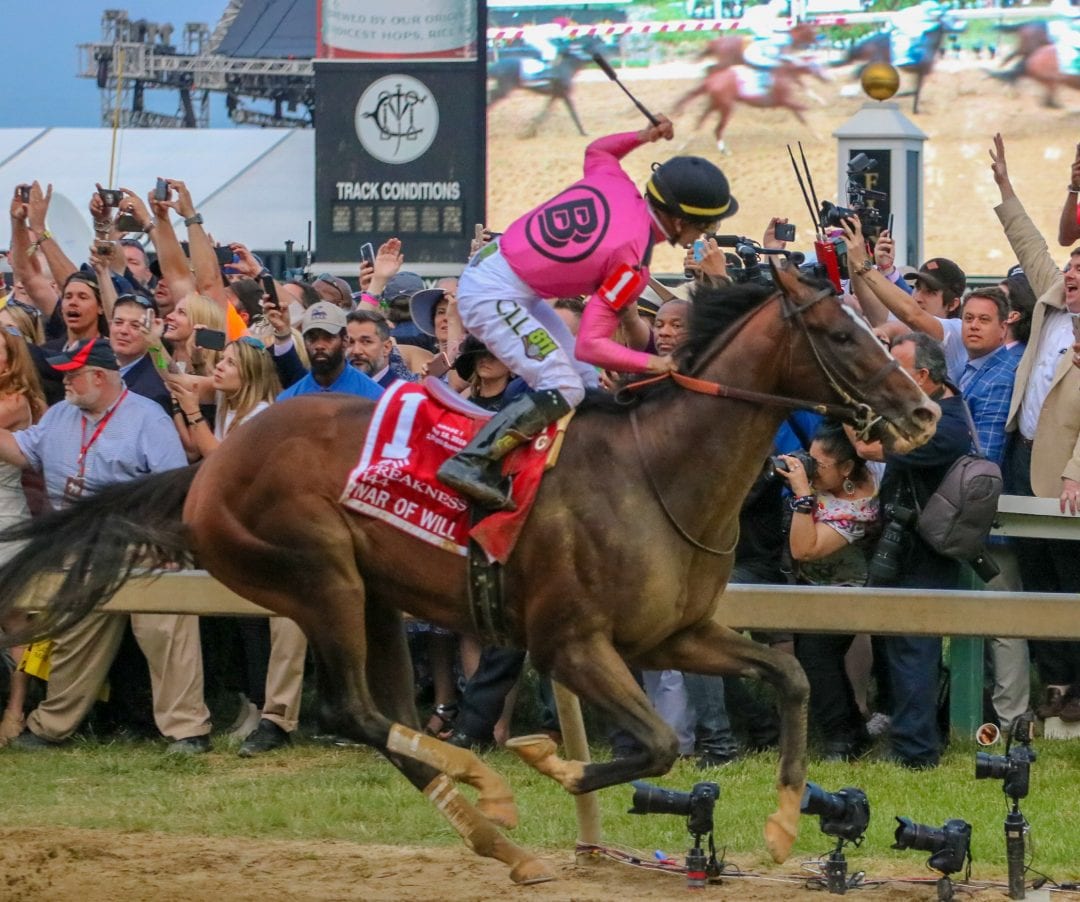 War of Will. Photo by Dottie Miller.
With Preakness weekend in the books, here are some things we cheered, and a few we jeered on a weekend that, one way or another, we'll remember.

CHEERS: The Preakness
For the two weeks between the Kentucky Derby and the Preakness, we heard an awful lot about how terrible it was that the Derby winner(s) wasn't coming to Baltimore, how awful this was for the Preakness, and on and on and on. And then the race came, and that entire story line evaporated.
In fact, handle on the day was up, to a record $99.8 million, and handle in the win-place-show pools of the Preakness also rose, by more than $1 million, to over $21.7 million.
The fact of the matter is that the Preakness is on the very short list of America's greatest and most important races, and while it's always nice to have the possibility of a Triple Crown when Preakness time rolls around, the race stands on its own.
Or, as Mark Casse put it after his War of Will won the race, "This is the Preakness. We just won the Preakness. I really don't care who was in it."
CHEERS: War of Will and his team
Well, duh. Of course. Nice way to bounce back after a rough Derby run. Consider the doubters answered.
JEERS: Gary West
Look, we all get it: you're upset that your horse, Maximum Security, was DQed from the Kentucky Derby. You've got a right to be; literally no one in American racing history had ever previously had their horse disqualified from first in our most important race for an in-the-running infraction.
But this latest move – to propose, on Black-Eyed Susan day, what amounts to a $5 million wager with the owners of Country House, War of Will, Bodexpress, and Long Range Toddy, for the next time they meet – could fairly be described as a stunt.
In a sport that made sense, the significant owners – like Gary West – would realize that, during the Triple Crown, everyone in the game should be pulling in the same direction, to promote and celebrate the series and the horses in it. After the Crown series is over, hey, have at it: you can be the circus and all the clowns in it if you like.
In the meantime, for the love of Pete, wouldya shuddup already?
CHEERS: Brad Cox
This trainer had a pretty good weekend. On Friday, he sent out track-record-setter Covfefe (G3 Miss Preakness) and Grade 3 Allaire DuPont Distaff winner Mylady Curlin, as well as Ulele, who made a good run to be second in the G2 Black-Eyed Susan. And on Saturday, his two Preakness starters, Owendale and Warrior's Charge, finished third and fourth, respectively. Oh, and for good measure, he also had a winner at Indiana Grand. Cox earned a $50,000 bonus for his work at PImlico.
CHEERS: Covfefe
Sure, the main track played fast over Preakness weekend – but not that fast. This sophomore Into Mischief filly, sent off as the 9-5 favorite in the G3 Miss Preakness Stakes on Friday, zipped six furlongs in 1:07.70 to set an Old HIlltop track record. That was 1.3 seconds faster than Northern Wolf's 1990 track record mark of 1:09 flat. And, for comparison purposes, it was over 1.7 seconds faster than the 1:09.46 that Chalon, a good older distaff sprinter, managed the trip in the prior race. Covfefe earned a 107 Beyer for her effort and looks poised to make some noise in the distaff sprint division.
JEERS: Plumbing
Who needs working toilets? Evidently not the unwashed masses who attended the weekend's racing (or who work in the pressbox). A water main break a couple of days prior to the big event presumably was the culprit. But still…
CHEERS: Javier Castellano
Wow. This guy won five times on Friday at Pimlico and added a sixth on Saturday. Castellano won four stakes on Friday's card, including the featured Grade 2 Black-Eyed Susan, aboard Point of Honor, and the G3 Miss Preakness, with Covfefe. And on Saturday, he added a win in the Grade 2 Dixie, aboard Catholic Boy.
CHEERS: Black-Eyed Susan day gallery from Allison Janezic and Dottie Miller
[FAG id=51992]
CHEERS: Tenfold
His connections feel like this four-year-old Curlin colt has the talent to make some noise in the handicap division, and perhaps he took a step in that direction when he surged under Ricardo Santana, Jr. to win the Grade 3 Pimlico Special Friday, scoring a neck win over the late-running favorite, You're to Blame. Tenfold, a near-miss third in last year's Preakness, earned the second graded win of his career.
CHEERS: Catholic Boy
The Jonathan Thomas trainee made his first start of 2019 in the historic, Grade 2 Dixie on Saturday against a solid field that included several graded winners, as well as the improving Admission Office. Under top jock Javier Castellano (six weekend winners at Old Hilltop), Catholic Boy stalked the pace, went clear in mid-stretch, and held off a late charge to win by a half-length. It was his seventh win from 11 starts and pushed his earnings to more than $1.9 million. It was his fourth graded win on the grass — one in Grade 1 company — to go with two graded wins on the main track, one of those also coming in graded company.
JEERS: My Preakness exacta
I endorsed War of Will on top in various media prior to the Preakness and also included Owendale among the others I liked. Those two ran one-three. But Everfast? I still think he was wildly overbet at 22-1, but I sure didn't see that run in him. Ugh.
CHEERS: Cordmaker
He was pretty overbet at 7-2 in the Grade 3 Pimlico Special off a 12-1 morning line. But the Rodney Jenkins trainee proved he belonged with a big late run under Victor Carrasco to get show dough, just a half-length from the winner. He still has plenty of upside.
CHEERS: Point of Honor
Trainer George Weaver looks to have a good one on his hands, as this daughter of Curlin took the overland route to victory in the G2 Black-Eyed Susan, rallying to win by a half-length under (yup) Javier Castellano. She now has three wins from four career starts.
JEERS: Hunch plays
Speaking of Gary West, he sent out what looked to be the hunch play of the century in the Miss Preakness on Friday: a New Year's Day filly (same sire as Maximum Security) with, given the circumstances, the unlikely name of Fighting Mad. She may have been that, but she wasn't especially good, finishing seventh of nine while beaten two dozen lengths.
CHEERS: Cooperation (or at least, the need for it)
If Preakness 2019 made one thing clear, it's that it's long past time for the standoff on Pimlico to get resolved. There's no solution that will make everyone happy, but there ought to be one that allows this great event to take place in a venue suitable for it. So here's a plea that the Stronach Group and Baltimore City find a way to reach some kind of deal, whatever its parameters, sooner than later.
CHEERS: Preakness day gallery from Allison Janezic and Dottie Miller
[FAG id=51995]