Delaware Park Handicappers' Notebook 2019 Vol. 2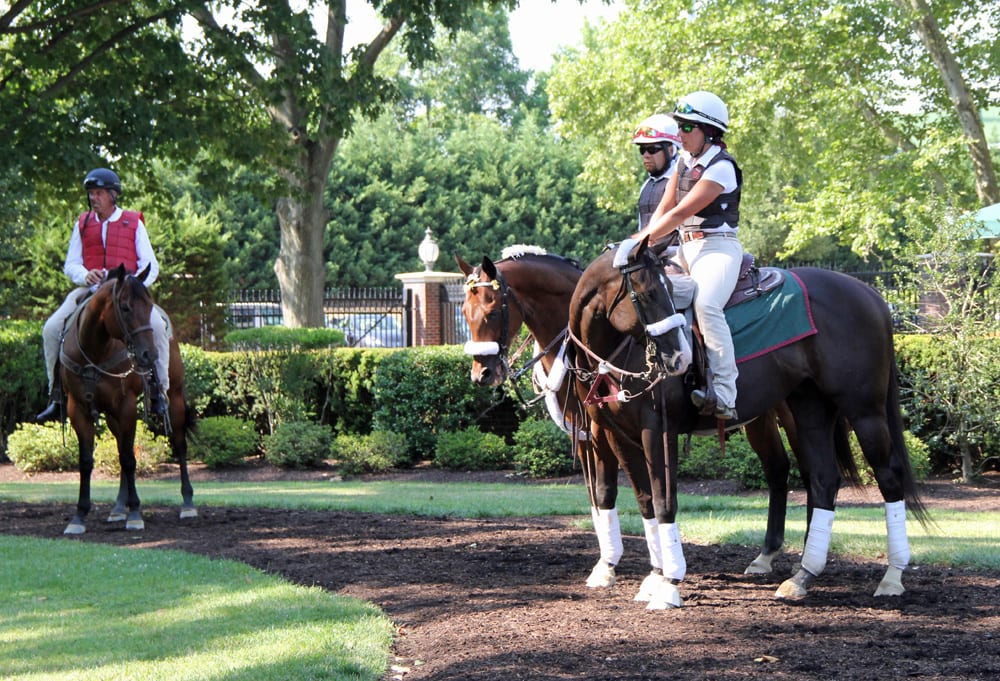 In the paddock on Delaware Handicap day. Photo by Allison Janezic.
Correspondent Doug McCoy returns with his weekly Delaware Park Handicappers' Notebook, featuring horses to watch, bet-backs, and more.
Five horses to watch
SMALL HOPE – Five furlongs was obviously not suited to first this first-time starter May 18, but he made up ground steadily through the late stages, galloped out well and with some strong turf bloodlines, it wouldn't surprise of if he were to handle a rise in class if moved to the grass and run around two turns for a stable that seems to do well with turf runners.
HIGH FIVE COTTON – Speed type from the Bennett barn completely missed the break and then was hung wide making a middle move before giving way in the stretch to a runaway winner in the formful Zitman, another worth watching, in a May 18 starter. This one is certainly subject to improve next out if he breaks well.
PROUD RULER – Trainer Tim Ritchey is frugal when it comes to spending money for young horses at the sales, so when he paid $50,000 for a Flatter colt, that should have been a sign. Proud Ruler was that colt, and his debut that saw him stalk the pace then roll to the lead into the stretch and go on to post a decisive victory in 1:10.84 makes one think this is a youngster with a future.
MY BOY LENNY – This Bennett runner had gone eight races without a win since capturing an optional allowance sprint here last spring, and obviously he likes the Delaware surface. Last Wednesday he cut out fractions of :21.93 and :44.57 en route to a front running victory in 1:09.63. The six horses in that sprint came into the race with a total of 35 career win combined, so this was a salty group. As long as My Boy Lenny's sprinting, at DP he's worth watching.
Three races that may prove productive
FIRST RACE, MAY 15, ALLOWANCE/OPTIONAL CLAIMING, SIX FURLONGS – This group of sprinters was full of tough, hard-knocking types, and several in the field, including Doodle Hopper and Trusting Friend, rarely turn in poor efforts. They are also at a level where they could show up in claiming, starter, or allowance or optional allowance categories and fit well. Don't be surprised see this race produce one of more winners in the near future.
FIRST RACE, MAY 18, STARTER ALLOWANCE, MILE AND 70 YARDS – This route had only four starters but there were several solid types in the group and as two of those, winner Zitman and High Five Cotton, both made our horses to watch list. A sneaky good race.
FIFTH RACE, MAY 18,  CLAIMING $25,000 NON WINNERS OF TWO LIFETIME, SIX FURLONGS – This race came up very tough and was won by Horse to Watch Hardcore Folklore in a very spirited, hotly contested sprint. We'd watch just about anyone who exits this race next start.
One note on track biases
The racing surface is playing about as fair and consistent as we've seen in recent years. Both speed types and closers seem to have honest chances, depending on the way the race plays out, and there doesn't seem to be any great advantage to being on one portion of track versus another. We have noticed that wide closers seem to be able to make up ground and be more effective than last season but with a limited number of races to judge it's probably best to keep observing races until more are run over the strip to decide if this is part of any trend or bias.
And one handicapping tip
TAMPA TOUGH – The deep and sandy racing surface at Tampa has, for years, been the perfect place for horses to gain fitness during the winter months. traditionally runners coming north after spending the winter there often have a fitness and conditioning edge over their competition in the spring. Our rule of thumb regarding Tampa runners is for the first 30 days they are on the grounds after wintering at Tampa, for the first two races horses run here, we give them a 3-5 length fitness edge over other runners who have spent the winter up north, training over surfaces in the area. After those two races or 30 days training locally, the edge fades, but during these early weeks of the new meeting it is certainly an important factor to consider in your handicapping.