Va. Racing Commission told of progress at Colonial Downs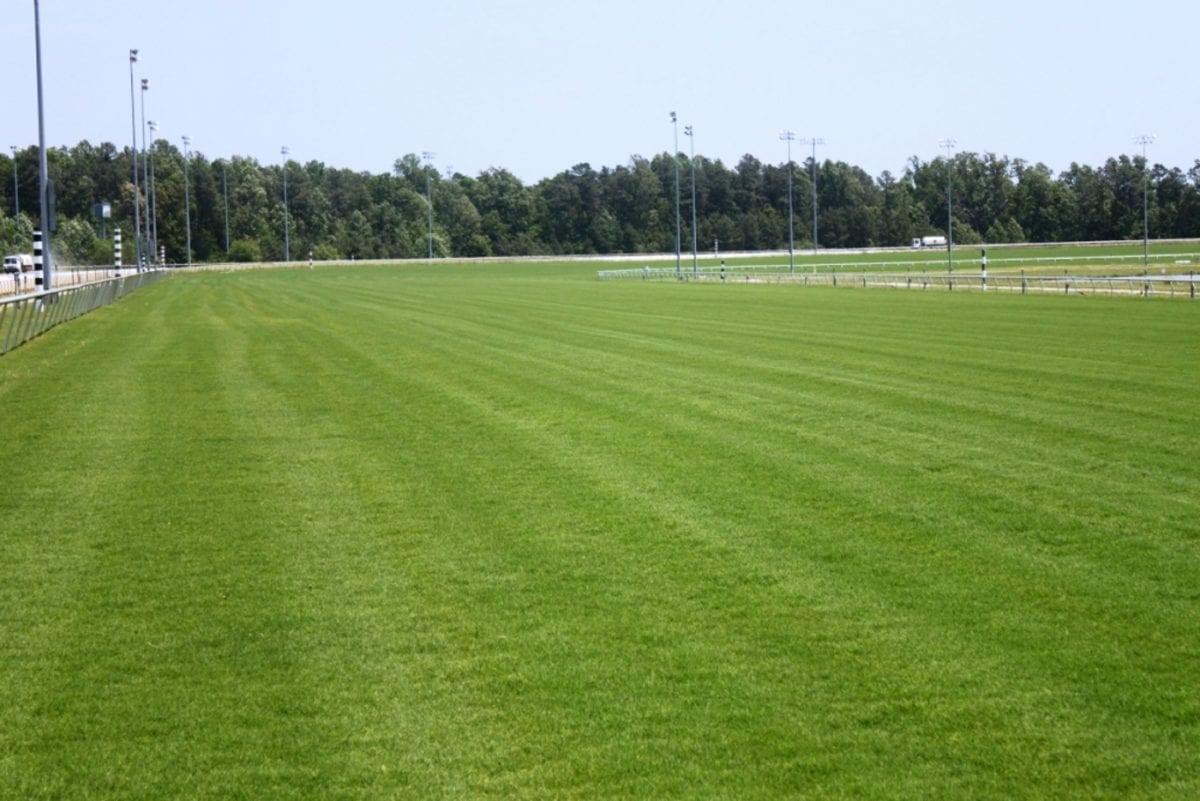 The turf at Colonial Downs. Photo by Nick Hahn.
The turf course has germinated back to green. Stone dust has been drawn from the dirt track. The new infield toteboard is set to arrive next week. Backstretch dorms are being refurbished.
The summer meet is being put back together at Colonial Downs, Colonial Downs officials told the Virginia Racing Commission May 22. And in August, the company will bring pari-mutuel thoroughbred racing back to Virginia.
Aaron Gomes, Colonial's Chief Operating Officer, said that he anticipates that Colonial will employ 745 by June, a number he expects to grow to 900 employees when the gates reopen for live racing. 
John Marshall, the Senior Vice-President of Colonial Downs, updated the Virginia Racing Commission on the improvements and timeline towards the site's first "re-opening' day on August 8th.
Colonial Downs 2.0 will broacast in high definition and employ GPS timing chips for its races. Removed stone dust from the former harness course has been positioned to renovate 500 stalls in Colonial's first seven backstretch barns.
The condition book, currently at the printers, is expected to be released this week. It will feature around $500,000 in average daily purses over its five-week, fifteen-day meet. The stakes schedule, featuring the return of the Virginia Derby to Colonial Downs from its Maryland residency at Laurel Park, is August 31st. Two steeplechase races are among the stakes races slated for Saturdays throughout the meet.
One-third of its rebuilt dirt course will be of sifted material of a local quarry, with two-thirds sifted from a Maryland location that also serves Laurel. But of course, Colonial's Bermuda turf course will be its key feature.
Jill Byrne, Colonial's Vice-President of Racing Operations, leads a team including Racing Secertary Allison DeLuca, who fills that same role at Tampa Bay Downs, and Racing Operations Manager Jeff Wingrove, who was part of Colonial's original cast. Tony Ranno leads a 12-man gate crew that largely worked Tampa Bay Downs meets.
The voice of new track announcer Jason Beem is joined on-screen by Merv Huber, Colonial's analyst and handicapper, formerly of Churchill Downs TwinSpires and Bet America.
Among others of the 16 team members announced was Ken Brown who takes over the care of Colonial's turf with input of J.D. Thomas, the previous superintendent now with Middleburg Training Center.
Several marketing initiatives were announced, and Colonial has developed pre-launch date partnerships with the Thoroughbred Aftercare Alliance, Dream Catchers and the Secretariat Heritage Foundation.
Earlier in the meeting, Colonial received its license to open Rosie's Gaming, its first center south of the James River in Richmond, VA. Colonial Downs operates two gaming centers in Richmond, along with one each in Collinsville, near Martinsville, Vinton, near Roanoke and Chesapeake Virginia. Rosies in the Colonial Downs grandstand opened in late April. HHR Terminals are available at the Off-Track wagering centers.