Historical racing machines approved by Virginia legislature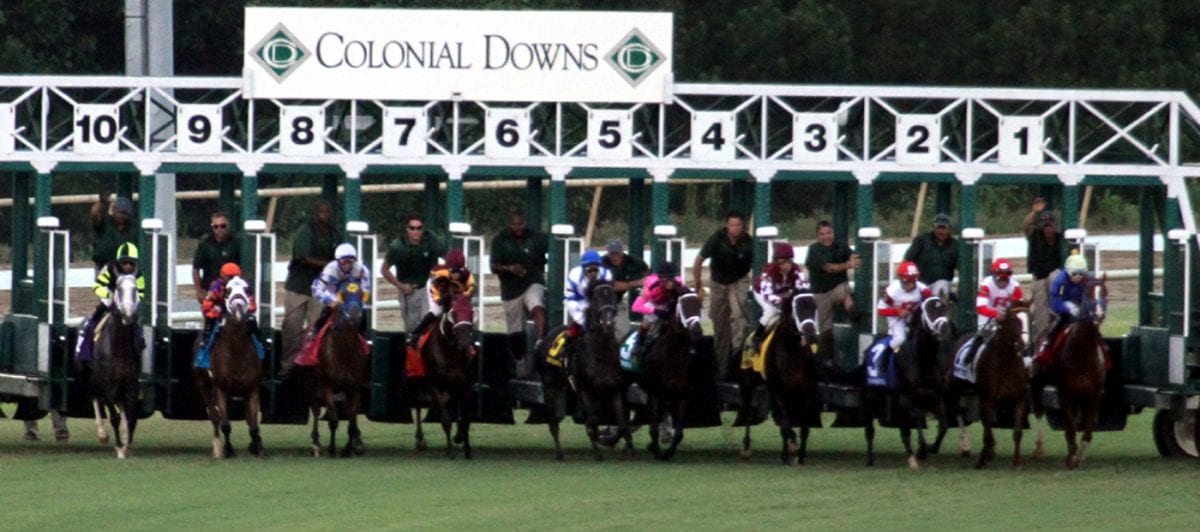 Colonial starting gate. Photo by Laurie Asseo.
by Frank Vespe
Legislation that would permit "historical racing" machines in Virginia – and could lead to the rebirth of Colonial Downs – passed the state Senate Wednesday afternoon, two weeks after having passed the House of Delegates.
Now it's on to Gov. Ralph Northam (D), who is expected to sign the bill, HB 1609.
"It was awesome," said Debbie Easter, executive director of the Virginia Thoroughbred Association, which represents the state's horse breeders. She is also president of the umbrella Virginia Equine Alliance. "It's really exciting, the possibilities."
The final tally was 31-9, but the outcome did not occur without some anxious moments. The bill, which had passed the House by a whopping 79-21 margin, cruised through the Senate General Laws and Technology Committee without incident
But the Senate Finance Committee added a so-called "reenactment amendment," which would have required the legislation to be passed again in 2019 before taking effect. That amendment was stripped out – on a 23-17 vote – by the full Senate.
The bill would allow historical racing machines – which to the user feel like slot machines but which set the odds via pari-mutuel wagering and use the results of actual races to generate the winning numbers – at Colonial Downs and at off-track wagering facilities. One study estimated that by 2022, the machines could generate over $160 million in revenue, and Easter projected that it could mean an additional $6 to $10 million to the Thoroughbred industry for purses and incentive programs.
"It's really positive for the whole industry, and for New Kent County," Easter said.
New Kent, located between Richmond and Williamsburg, is the home of Colonial Downs. Its economic development prospects have dimmed in recent years with the demise of racing at Colonial, which last conducted live Thoroughbred racing in 2013.
Colonial fell victim to an acrimonious dispute between Jeff Jacobs, whose Jacobs Entertainment owns the facility, and the state's horsemen over how many live racing days the track should host and the configuration of purses.
Jacobs reportedly has an agreement to sell Colonial to a Chicago-based group known as Revolutionary Racing. That deal, reportedly contingent on the passage of historical racing legislation, now can move forward, assuming Northam signs the bill into law.
And if the deal is completed, racing advocates have said that live racing could return to Colonial as soon as 2019.
"The preliminary plan is next year," Easter said. "There's a lot of wheels turning – a whole lot of stuff that has to be figured out."
Among the major questions, Virginia's racing interests will have to determine where on the calendar Colonial can fit. During most of its run from 1997 to 2013, Colonial held its meet during the summer, and Maryland racing went on hiatus during that period. Most of the trainers and jocks – to say nothing of support staff – who populated Colonial were Maryland-based.
Maryland, however, has added almost 30 days to its racing calendar since Colonial was shuttered. The Free State now races on what amounts to a year-round calendar. Whether and how the two states can cooperate on days will have a major impact on Colonial's ability to succeed going forward.
Beyond allowing for the reopening of Colonial Downs, the historical racing legislation should have significant positive impacts for the industry as a whole. In the last couple of years, Virginia racing interests have introduced an owner bonus program offering 25 percent bonuses to Virginia-bred or -sired horses that win races in six mid-Atlantic states and a Virginia-certified program that offers similar bonuses to horses bred elsewhere that spend at least six months in the Commonwealth prior to the end of their two-year-old year.
Both bonus programs stand to benefit from the expected infusion of funds.
"We've got some positive things going on," Easter said. "The revenue stream isn't going to happen overnight. We still have to build it. Now we've got to get to work."