Pro-racing legislation advances in West Virginia Senate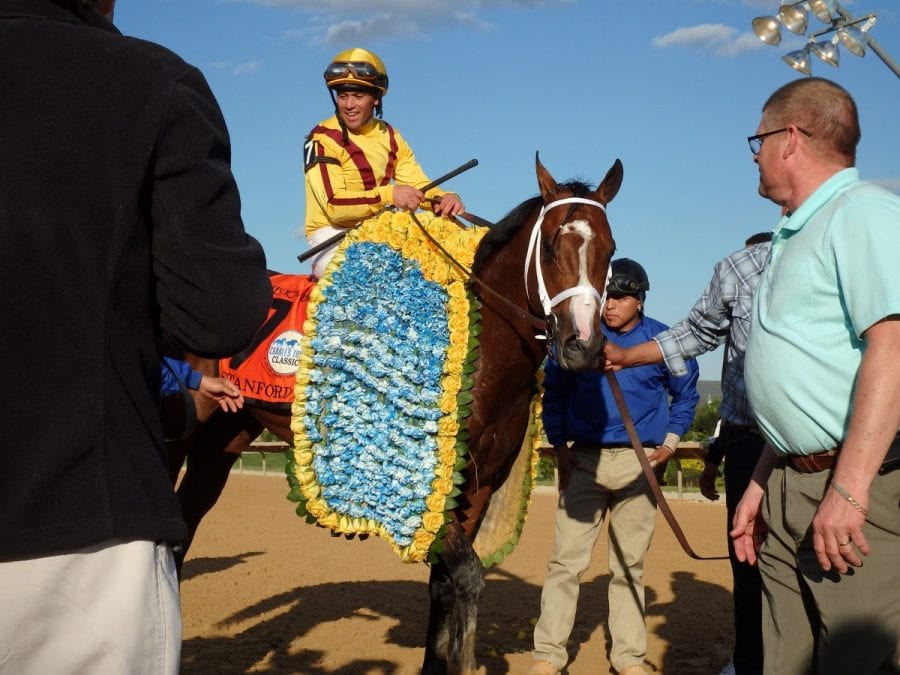 2016 Charles Town Classic winner Stanford. Photo by The Racing Biz.
by Frank Vespe
Horse racing-friendly legislation that advocates call "the right thing to do for the state" breezed through the West Virginia Senate February 28 and now is headed to the House for its consideration.
In its so-called "crossover day" – the day by which legislation must have passed either the House or the Senate so that it can "cross over" and be considered by the other house – the state Senate approved a pair of racing-related bills, SB 630 by a 34-0 tally and SB 403 29-5.
SB 403, sponsored by Sen. Patricia Rucker (R-Jefferson, 16) along with eight cosponsors, would impose a six percent "source market fee" on wagers placed by West Virginia residents via advance deposit wagering companies. It would also charge an additional one percent "regulatory fee."
The regulatory fee would go to the state Racing Commission to fund its operations, particularly oversight of the source market fee program.
The fiscal note accompanying the bill estimated that the source market fee would generate about $600,000 annually. Those funds would be divided among the state's two Thoroughbred and two greyhound racetracks, with Thoroughbred moneys being further divided to provide 10 percent to the state-bred fund, 45 percent to purses, and 45 percent to track management.
SB 630 would have more impact.
The bill, sponsored by Finance Committee Chairman Craig Blair (R-Berkeley, 15) and 15 cosponsors would undo 2014 legislation that treats racing differently from other state industries – and costs it millions of dollars annually.
It's a complicated story involving the rescue of the state's "Workers' Compensation Old Fund," which by 2005 had run up $3 billion in debt. A law passed to rescue the Fund took money from virtually everywhere it could be found; that included reducing the share of slots revenue dedicated to racing purses from 14 percent of net terminal revenue to seven percent, with the remainder going to shoring up the Old Fund.
Once the Fund was paid off, the original legislation said, those industries contributing to it would recapture the moneys that had gone towards the Old Fund. But a law enacted in 2014 changed those terms as they applied to racing purses; instead of recapturing the money, racing would lose that money in perpetuity.
"Horsemen didn't cause the state's unfunded liability," said Joe Funkhouser, who lobbies for the West Virginia Racing United association which represents Thoroughbred racing interests and whose family owns and operates O'Sullivan Farms in Charles Town. "We did our part to help solve the problem, but it wouldn't be fair if we were the only partner not to see an end to those payments."
Partially as a result of the 2005 changes, Thoroughbred purses in West Virginia have fallen from almost $82 million in 2006 to less than $37 million last year, according to The Jockey Club.
SB 630 is expected to restore $11 million to the two Thoroughbred and two greyhound tracks, with Charles Town's purse fund expected to receive about half of the total.
It would also provide some certainty in an industry that has taken body blows in recent years. West Virginia-bred foal crops have plummeted – from 671 in 2007 to 369 in 2016, according to The Jockey Club – and the number of occupational permits issued for the Thoroughbred industry has fallen nearly in half, from over 11,000 in 2014 to fewer than 6,000 in 2016.
"The stability effects are just as important," Funkhouser said.
Funkhouser said that, were SB 630 to pass, it would take between several months and two years before its effects were felt. That's because the industry wouldn't begin to see its funds until the Old Fund is paid off; the latest financial report indicates that only about $29 million in debt remaining.
Both bills now head to the House of Representatives, and, following such lopsided votes in the Senate, they do so with momentum.
Funkhouser said that the Jefferson County delegation in the House – which is where Charles Town is located – are "all very supportive."
He added, "I would hope the House would agree with the Senate that this is the right thing to do, for the state to keep its promise" to restore the industry's statutorily mandated funding.
As for Governor Jim Justice (R), he has been an outspoken proponent of the industry, but his position on SB 630 is unknown.