Carmouche, Corrales — and sons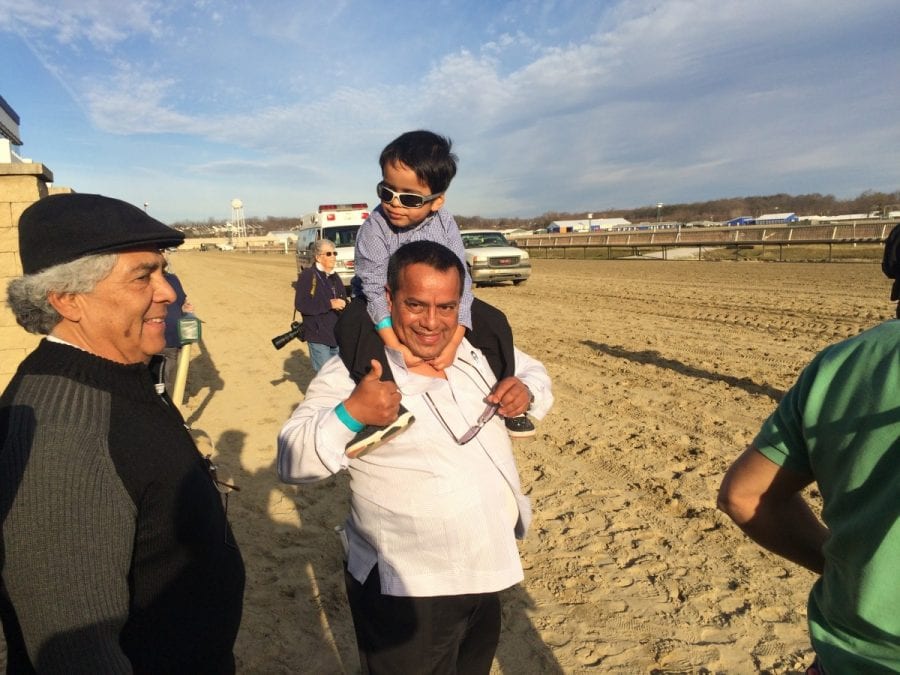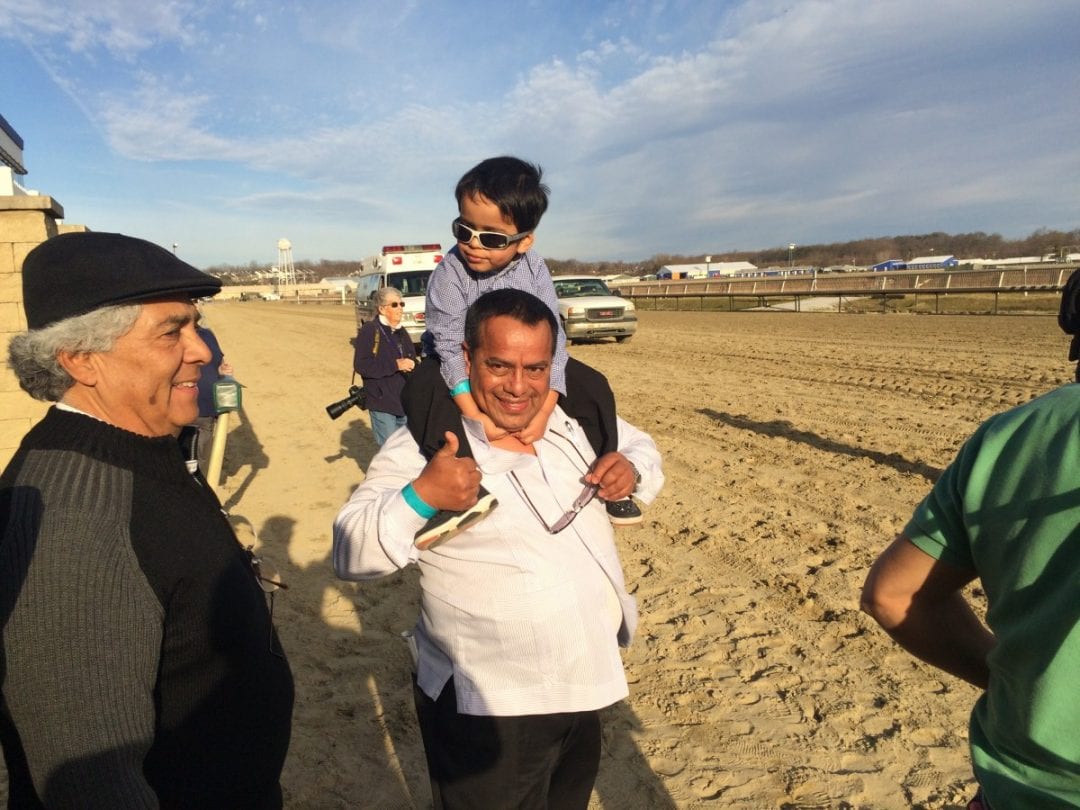 Jose Corrales and son Pachi after the John B. Campbell Stakes. Photo by The Racing Biz.

by Frank Vespe
Kendrick Carmouche was all smiles. So was Kendrick Carmouche, II. Not Junior, the younger Carmouche assures me — Two.

The seven-year-old son of the rider was holding the jock's helmet as his father faced the interviewers.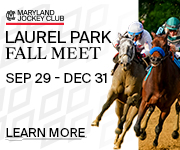 Then he and his father shared a high five, dad shouting, "That's how we do it."
And do it they did.
Carmouche and China Grove rallied to a 1 1/4 length victory in this afternoon's $75,000 Wide Country Stakes for three-year-old fillies at Laurel Park, prompting the impromptu father-son winner's circle celebration.
"Oh man, that's dad and son, you all would want the same thing out of life," Carmouche said. "That's what we live for, that's what we ride for, we want to be successful for our kids to have the same name that we have to pass it on."
Jose Corrales would agree.
Two races after the Wide Country, the veteran conditioner sent out Bodhisattva to a 22-1 upset by nearly four widening lengths over favored Page McKenney in the $75,000 John B. Campbell Stakes for older horses, and then he gave his boy, three-year-old Pachi, a ride on his shoulders.
"Oh, that is the coolest thing, you know what I mean," Corrales said of having Pachi with him. "To see him to watch something, it's nice to have a little kid around."
Pachi gave Bodhisattva a pat on the nose, then tried to tug his dad out of the winner's circle. There was, apparently, urgent celebrating to do.
Not surprisingly.
Bodhisattva was, by far, the day's longest shot winner, and he hadn't found the wire first since winning the Hanford Memorial Stakes at Delaware Park in July. But under a patient ride by Carlos Quinones — Bodhisattva was 10 lengths behind any other horse after the opening quarter mile and 14 behind the lead duo of Cosmic Destiny and Warrioroftheroses — the five-year-old Student Council horse unleashed a strong rally while wide on the far turn to win going away.
Corrales gave credit to Quinones — sort of. The horse's problem, Corrales said, had been his jockeys, who tried to put him too close to the pace.
"He's as good as any horse if you ride him the right way," Corrales said. "I just wait for somebody to listen, and finally this jockey comes who's new, I tell him, you know, if you listen you ride this horse, and he rode a very good race."
The popular Page McKenney, who led briefly at the head of the lane, was second, nearly nine lengths ahead of Charitable Annuity in third. Running time for the nine furlongs was 1:50.78.
Bodhisattva paid $47.80 to win and topped, with the 3-5 favorite, a $132.80 exacta. Bodhisattva's last three wins have come at odds of 11.80-1, 11.90-1, and today's 22.90-1.  He now has won six of 28 starts, with earnings of $323,633.
China Grove was nowhere near the lengthy odds of Bodhisattva. The Ben Colebrook trainee paid $10 to win after an astute trip under Carmouche enabled her to overhaul favored Crabcakes.
"We had pretty much a perfect trip," Carmouche said. China Grove was able to save ground around the turn, tip out to the three-path, and make her winning run. Running time for the seven furlongs was 1:23.86.
Favored Crabcakes, previously undefeated, led leaving the furlong grounds but could not contain the late run of China Grove and settled for second. Forever Liesl was third.
Crabcakes "was the only horse I was considering the last quarter of a mile that can run with me," Carmouche said. "My horse had been running against better horses. It was nice and smooth, like taking off from the airport."
China Grove, a daughter of versatile sire City Zip, earned her second win in nine career starts with a bankroll of $153,646. The win was her first in stakes company after a pair of earlier placings. She had run up the track in her final start of 2016, the Grade 2 Golden Rod.
"God, man, God is great," said Carmouche, as his son watched, smiling. "God is great."
Corrales said he's started naming virtually all of his horses after Pachi: Pachi Cruze, for example, and Cruzin with Pachi. And, speaking of great, there's one other horse he's high on.
"I have another one that's coming," he said as his son tugged at him. "Pachi the Great."