Late-arriving Follow the Notion making a belated mark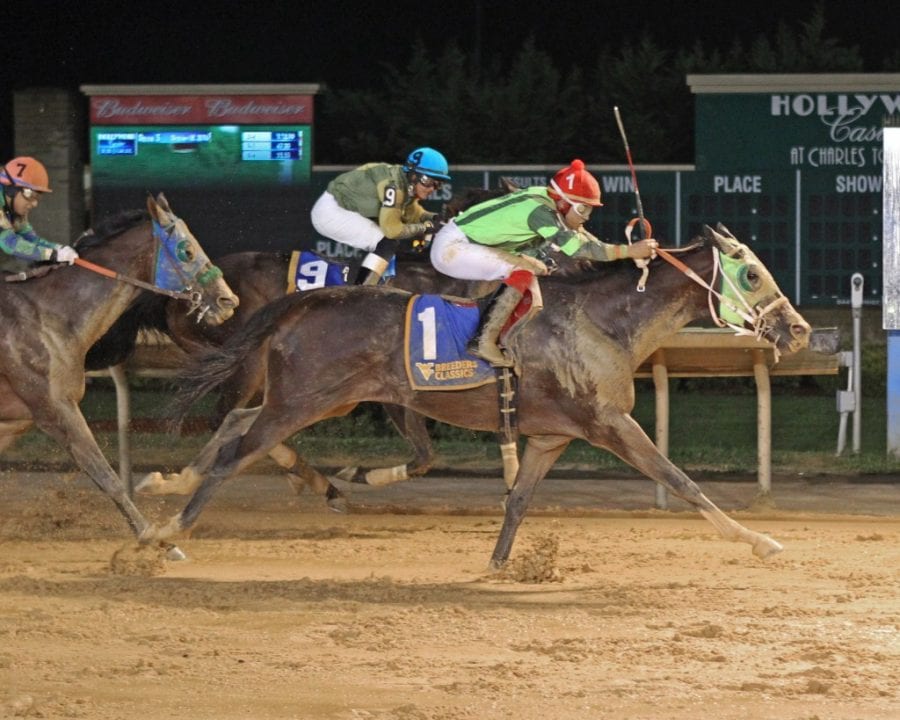 Follow the Notion and jockey Jose Montano reached for the win in the West Virginia Thoroughbred Association Onion Juice Breeders Classic. Photo by Coady Photography.

by Ted Black
From the outset of his career, Follow the Notion has always displayed a tremendous late kick and an uncanny ability to win following a layoff. Earlier this month the five-year-old son of Great Notion owned, bred and trained by Gary Williams, Jr., did it again, making his presence known belatedly while capturing a two-turn allowance in his seasonal debut.
Sent out as the solid 6-5 favorite in a seven-furlong allowance for older runners on February 11, Follow the Notion bided his time in his customary fashion down the backside, then uncorked his late bid midway on the far turn and surged past Royal Blue in the final yards to score by a neck in 1:26.67. It was the sixth win in 16 starts for Follow the Notion, pushing his career earnings to $131,652, just shy of eclipsing the mark of Williams' top trainee, Wonder Lite, who won five of 26 starts.
"I thought he ran a really big race off the layoff," Williams said of Follow the Notion. "He had not raced since November and you never know how well they'll race being off. I thought he had trained well leading up to the race. I've always trained him on a deeper track, so I know he's going to be fit when he gets there. He always liked to relax early in his workouts and make one big run at the end and that's how he runs."
Williams, who has saddled 228 winners from 2,400 starters in his career with earnings of $2.87 million, has already recorded three wins from just five starters at the current Charles Town meet.
Among those was Dr. Tucker, whom Williams saddled to a 10-length romp in a two-turn maiden special weight event February 4. Dr. Tucker is a full-brother to Follow the Notion, although their running styles differ considerably. The younger Williams homebred prefers to dictate the tempo right from the outset. Like big brother, Dr. Tucker took a couple of shots to break his maiden; Follow the Notion became a winner in his third try, while Dr. Tucker's win came in his fourth.
Both are out of the Not for Love mare Follow the Queen, whom Williams bought for $22,000 at the Fasig-Tipton Midlantic Two-Year-Olds in Training sale in 2002. She won once in just three starts for Williams before heading to the breeding shed.
Follow The Notion's late kick was never more evident than three races last fall, all victories – at least that night – at the two-turn distance of seven furlongs over the Charles Town strip. He rallied from eight lengths back with three furlongs to run to capture a two-turn allowance by a nose under Antonio Lopez on September 24, then followed that with an equally impressive late surge to capture the $80,000 Onion Juice Breeders Classic on October 8.
It was the first Breeders Classic tally for Williams. It was also, at age five, the first stakes win for Follow the Notion.
"I thought he was coming up to the race in really good form," Williams said. "I thought he really trained well leading up to the Onion Juice. That was a special night. That was the first time that I had ever won one of those West Virginia Breeders Classics races. I was glad to win the Onion Juice, because I saw him win some of those races early on for [owner-breeder] Buck [Woodson]. It's too early to tell, but I would like to point him for that race again later this fall."
Following a third-place finish in the $50,000 A Huevo Stakes at nine furlongs behind Charitable Annuity and Slip the Cable, who had been the two most recent champions of the $500,000 West Virginia Breeders Classic, Follow The Notion returned to win another two-turn allowance by three lengths on November 19.
But instead of ending the year on a high note for Williams, Follow the Notion was later disqualified from purse money for a post race positive for the non-steroidal anti-inflammatory medication naproxen. Williams says that Follow the Notion had never been treated, intentionally, with the medication but ingested in by accident.
"In the weeks leading up to that race he was in a stall next to one of my other horses that had been sick," Williams recalled. "That other horse was getting some medications in his feed and one day the groom switched stalls and Follow The Notion got in there and ate up everything. I was hoping nothing would show, but after he won his test came up bad."
Williams has had three other medication violations in his career but says that this one in particular hurt. "I was really disappointed that he got one," Williams said. "He was racing really well last fall and he didn't need any help beating that field."
Follow the Notion's penchant for arriving late extends to his entire career. Unraced at age two, he finished fifth in his lone outing as a sophomore on December 17, 2014 then was second in his next outing in his four-year-old debut on January 15, 2015. Four months later he garnered his diploma in a June 5 maiden special weight event and only two weeks later he was back in the winner's circle after capturing a two-turn allowance for state-bred runners. But they proved to be his only two wins of the campaign.
Last year, Follow The Notion got off to a solid start when he again emerged from a lengthy layoff to prevail in a May 18 allowance in his seasonal debut. But after finishing second, fourth and fifth, respectively, in his three next outings, Follow The Notion returned to form when he ran down Morning Muse on the money to win a September allowance by a nose. That turned out to be the ideal prep for the Onion Juice, highlighting the career of his owner-trainer and breeder at that point.
"He's always done well off a layoff," Williams said. "I really like to take my time with all my horses and make sure they're fit before I take him over to the track. He's always been good fresh and he likes to just sit back and make one big run. The seven furlongs at Charles Town is perfect for him. He raced okay in the A Huevo, but that was his first time going that far and going three turns. Plus, we ran into two really good horses that night."
Follow the Notion did not have an easy field to tackle in his recent six-year-old debut, but he closed willingly late to overhaul Royal Blue, who was riding a two-race win streak for trainer Mike Butts, and the Jeff Runco-trained entry of Morning Muse and Weekend Liberty. Both Royal Blue and Weekend Liberty had already opened the season with allowance victories and Morning Muse had been a solid second in his '17 debut for Runco. But Williams now might have to ship out of town to find another allowance race for his talented homebred, something he has already considered.
"I don't know if he will have another race come up anytime soon at Charles Town," Williams said. "I might have to take him to Maryland and find a seven-furlong race or one-turn mile race for him. It depends on the condition of the race. I would like to find a spot where I know he'll be competitive. I know there are some stakes races here in April that he could try, but that's still a couple of months off. I would like to have him ready again for the fall stakes and come back for the Onion Juice. That's still a ways off, so we'll have to take them as they come for now."