by Nick Hahn
Colonial Downs has now put its latest "like it or lose it" ultimatum in print, again via press release, this time on a Saturday, and served it to the Virginia Racing Commission.
The press release follows a letter to the Commission written by Jeffrey Jacobs, chairman and CEO of Jacobs Entertainment, which owns Colonial Downs.  The latest media blitz also includes an open letter to Virginia horsemen by the newly formed Old Dominion Thoroughbred Horsemen's Association (ODTHA), published in Sunday's Richmond Times-Dispatch.
The ODTHA, a new group which claims that it "represents the interests of all thoroughbred owners and trainers racing in the Commonwealth of Virginia," was incorporated on September 24, according to Virginia Corporation Commission records.  The organization's registered agent is James Weinberg, who also, according to his law firm's website, represents Colonial Downs in areas including "negotiation of innovative, long-term contracts with Virginia thoroughbred and standardbred horsemen."
In its letter, the ODTHA announced it has signed a 10-year contract with Colonial Downs.  "In Virginia, there is only one racetrack," the letter says.  "So if you don't have a good relationship with the management of that track, you're not going to get many things accomplished."

That's not exactly the sort of revolutionary rhetoric that moved the original colonial spirit; Thomas Paine and Patrick Henry, it's not.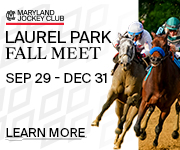 Yet what is revolutionary about the Colonial-ODTHA proposal is what it's hoping to accomplish.
For one thing, the approval of the proposed arrangement would require the Commission to shunt aside the Virginia Horsemen's Benevolent and Protective Association (VHBPA).  The VHPBA has represented Virginia horsemen since the late 1990s.
Under the federal law that allows simulcasting, wagering on out-of-state races is only permissible if the host — that is, Colonial Downs — has a "written agreement with the horsemen's group" representing the majority of owners and trainers.  Unable to obtain such an agreement on the terms it seeks, Colonial now hopes simply to convince the Commission to let it name the group with which it negotiates.
Another radical change would be the track's goal of holding what amounts to an all ship-in meet.
One of the biggest economic sticking points in negotiations has been the issue of stabling.  Racetracks typically provide stabling free of charge, but Colonial maintains that that is economically infeasible, and that it would prefer to close the stabling area altogether, except for those barns necessary to house horses in today.
"Our race day schedule and associated horsemen's contract provide a stable expense structure for Colonial Downs," Jacobs wrote in his letter to the Commission.  Indeed; the expense of their stables is zero, as Colonial would have it.
The VHBPA has offered as much as $300,000 to defray stabling expenses but contends — logically — that an all ship-in meet won't work.
The weekend press release and letter come after what appears to be the last "to and fro" between Colonial Downs and the VHBPA.  The VHBPA replied to a Colonial proposal in a letter September 25th with plenty of "acceptables" on the proposal, saying that it did "not think the differences between us are great," and offering to go to mediation to bridge the gap.  Colonial's response was to eliminate mediation as an option.
Colonial's counter went to the Virginia Racing Commission instead via a three-page ultimatum on September 29th seeking ODTHA recognition and approval of its contract with that organization.
It must have that approval by the Commission's October 15 meeting, the company said, or it will cease operations by November 1.
"Unfortunately, if you do not support our vision and associated contract with the ODTHA, then I am out of ideas and I will be surrendering my license to you," wrote Jacobs.
"Colonial has proposed three days of national caliber, high end racing with an additional 17 days of summer racing for Virginia horsemen," the press release states.  "We aspire to be the Saratoga of the South."
And in his letter, Jacobs reiterates that his proposal is for "three days of high-end racing spread out over the summer."
Yet three big days of racing scattered throughout the summer without stabling isn't Saratoga, even in Virginia.  It's not even Finger Lakes.
What's more, how big those days would be needs consideration.  The Jacobs proposal includes the revitalization of the "Grand Slam of Grass," the track's old promotion that offered a $5 million bonus to a horse that could sweep the Colonial Turf Cup, Virginia Derby, Arlington's Secretariat Stakes, and the Breeders' Cup Turf.
No horse ever accomplished that, and, more to the point, the racing landscape has changed dramatically since then.
Colonial's signature race, the $500,000 Virginia Derby as it was last run, typically took place in mid-July — a spot on the calendar now occupied by the $1.25 million Belmont Derby.  The Colonial Turf Cup would presumably have to be reclassified (it's now open to older horses) and another yet-to-be named race would reconstitute the Jacobs Grand Slam of Grass.
Moreover, if the Grand Slam of Grass was such as great event, why did it go away?  The old format involved keeping a three-year-old running at the top of his game from June to November and often spanned the entire country.  It's still really hard to believe that English Channel almost accomplished the far-fetched feat in its first year.  Under the new format, English Channel would have had to ship to New Kent at least three times.
"We are disappointed that we are where we are, but we are where we are," Jacobs wrote to the Commission. However, does Colonial know who they are?
Colonial was a quaint, rural track with a supernatural turf course that for nearly a decade, enabled it to own the three-year old turf division in racing with its high end stakes, the Virginia Derby and Colonial Turf Cup.  Yet somehow it has now slipped away.
The charming venue provided a unique opportunity for moderate horses like Miss Oil, All That Glitters, Class Bopper and Action Andy to shine versus full fields. La Reine's Terms, Class Yankee and Nuit De Chance prospered on the Colonial lawn while becoming fan favorites.  Da Hoss and John's Call slugged it out in a Colonial allowance that served as the former's prep for the 1998 Breeders' Cup Mile, which he won.
Ask any racing secretary what the first component is desired in forming races, and you'll hear field size.  Bettors agree.  More horses make for better racing and better betting, and Colonial's average field size reached the top five more than Alabama in college football.
"Over the last 17 years racing at Colonial Downs has often been inconsistent," Jacobs wrote to the Commission.
In fact, though, Colonial's meet was well defined as it is limited seasonally with weather that forces either a summer or fall meet.  Since 2002, it has been in the summer from the end of school year to a few weeks prior to beginning of the next one.  Many of Colonial's successful turf horses found Saratoga's starting gate later in the summer.  It wasn't the timing or scope of the meet that gave horsemen fits.  It was constant tinkering of the schedule to night racing and shortening of the meet.  Horsemen knew what Colonial was.
But this isn't about racing.
In his letter to the Virginia Racing Commission, Jacob says that without the Commission's approval, he will be "considering other options for my New Kent County real estate."  As was the case with the in-house horsemen groups, it seems unlikely that process isn't well underway.
Colonial's solution appears to be "my way or the highway."  Written edicts and surprise Saturday teleconferences put the Commission in a tough spot, and were it to accept Jacobs' ultimatum, the Commission would surely end up in court with the VHBPA.  Jacobs himself is rumored to make a rare appearance at the October 15th commission meeting.
"'If it ain't broke, don't fix it.' Well, thoroughbred racing in Virginia is clearly broken and needs to be fixed," reads the ODTHA open letter in the Richmond Times-Dispatch.  The ODTHA certainly looks like the fix Colonial Downs has prepared.
Yet in this case, you have to wonder if what Virginia horsemen have known for decades, even centuries, applies today.  Fixed is another name for gelded.