from a Colonial Downs press release
Colonial Downs will usher in its 17thannual season of thoroughbred racing this Saturday June 8th in conjunction with the simulcast of the Belmont Stakes.
Opening night will feature nine races, highlighted by the $50,000 David L. "Zeke" Ferguson Memorial Steeplechase Stakes (Grade III–NSA). The Belmont Stakes simulcast will also be shown on the infield jumbotron after Colonial's second race.
Sunday is the first of five $18 "Family 'n Friends" 4-Pack afternoons this summer. Fans can download a 4-Pack voucher at colonialdowns.com and present with $18 any Sunday to receive 4 admissions, 2 programs, 2 coloring books, tip sheets, 4 hot dogs, 4 soft drinks & exclusive entry into prize drawings that day.

The track will continue racing on Wednesday thru Saturday evenings at 6 PM thru July 13th, and Sunday afternoons at 12:55 PM. Friday racing will begin June 21st.
Close to 800 hundred horses are expected on the grounds to compete over the five week season. Over 300 were already in the backstretch as of Tuesday morning.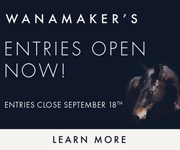 Highlights of the Colonial season include the 16th running of the $500,000 Virginia Derby (Gr. II) on closing day, July 13th, and the 9th running of the $300,000 Colonial Turf Cup (Gr. II) on June 22nd.  The popular ostrich and camel races will also return for a second straight year as part of the Fathers' Day program Sunday June 16th.
General admission to the track is $3; kids 12 and under are free. For more