For McCarthy, Carmouche, big Colonial wins feel like home
Frank Vespe

September 13, 2023
For two veteran, New York-based riders, Saturday's stakes-laden card at Colonial Downs felt like coming home. Trevor McCarthy and Kendrick Carmouche won the day's biggest events and had plenty to celebrate after.
It had been, as they say, a long time between drinks for Kendrick Carmouche at Colonial. The 39-year-old jockey won the 2007 John D. Marsh Stakes at Colonial aboard Kona Blend but didn't win another stake in New Kent until this past Saturday. That's in large measure because he only infrequently has visited the track over the years. In fact, he hadn't made a single start there since winning with five of 18 Colonial mounts in 2011. But he said it still felt like a happy homecoming after he piloted Integration to a rallying win in the Grade 3 Virginia Derby.
"I've been here lots. I used to come here for David Ross," Carmouche recounted. "And Mike Stidham, Mike Pino, all these guys. I've been here lots of years."
Integration is a runner who bears watching. The Shug McGaughey trainee, a son of the Virginia-bred Quality Road, won the Derby in just his second career start and overwhelmed Grade 1 winner Program Trading to do it.
Integration was one of Carmouche's two wins on the day. He also piloted Ohana Honor, another McGaughey-conditioned runner, to an allowance win earlier on the card. That runner took seven tries to break his maiden but now has won two straight.
"How are you gonna beat it, baby?" Carmouche, a Louisiana native, exulted. "Louisiana in the house!"
It was perhaps an equally satisfying homecoming for another rider with deeper Colonial roots, Trevor McCarthy. McCarthy won two of the day's stakes, taking the Virginia Oaks aboard Thirty Thou Kelvin and the Colonial Cup on Starting Over.
McCarthy was the leading rider at Colonial Downs in the track's renaissance season of 2019. In 2020 he was winning everything in sight – a meet-leading 14 wins from just 33 starters – before the pandemic called an early halt to the meet. "I'd never won the Oaks or the Derby. I've placed in them many times but never got to win one," McCarthy said following the Oaks. "To get one in the Oaks is super-cool."
CHECK OUT THE LATEST OFF TO THE RACES RADIO!
McCarthy certainly got the most out of his winning mounts. Thirty Thou Kelvin, last-out winner of the Christiana Stakes at Delaware Park, was the 11-1 fifth choice in the Oaks, while Starting Over was also the fifth choice, though he was 6-1.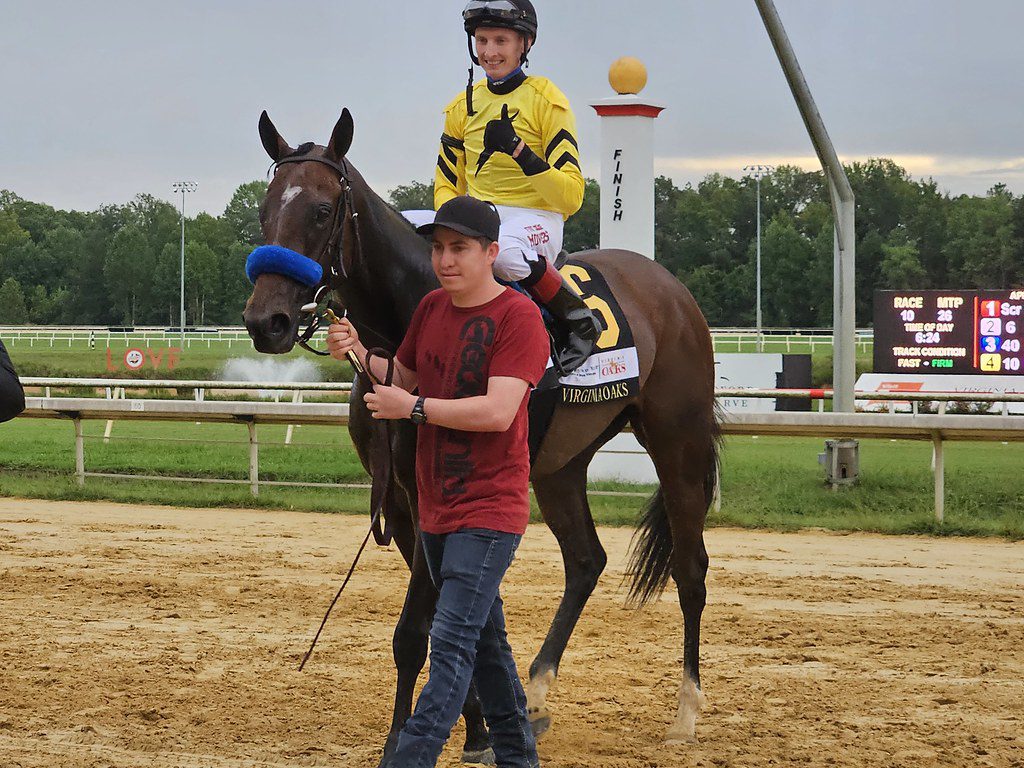 McCarthy put Thirty Thou Kelvin on the lead early in the Oaks, and the Bolt d'Oro filly, trained by John Terranova, was resolute, fighting off racelong pursuer Alpha Bella, who put a head in front leaving the furlong grounds, and withstanding the late charge of Root Cause.
"Once kind of Todd's horse on the outside [Alpha Bella] come up and gave her some fight, she really dug back in," McCarthy said. "Just super proud of the filly."
One stakes-winning rider for whom it was definitely not a homecoming was Jorge Ruiz. Ruiz made Colonial his home this year, finishing third in the standings with 26 wins. He guided Tok Tok to a win in the Kitten's Joy Stakes for two-year-olds. Despite the strong season, the Kitten's Joy was his only stakes win of the meet.
Another horse who's worth a stable-mail entry from the Kitten's Joy is Triple Espresso. Trainer Todd Pletcher sent the Omaha Beach colt, a $350,000 yearling last September, to New Kent for his first career outing. Away slowly and seeming almost disinterested for much of the race, he was last entering the stretch before flying home on the outside to grab second.
At the end of the day, Carmouche could have been speaking for both himself and McCarthy as he headed towards the jockeys room.
"I'm just, I'm a proud guy, man," he said. "I got to win a big one in Virginia, man. It's about time."
VIRGINIA DERBY DAY PHOTOS
LATEST NEWS