Integration puts it all together in Virginia Derby win
Frank Vespe

September 9, 2023
It began during the day, Saturday's Virginia Derby day card, but a lengthy midcard rain delay pushed the last couple of races into the early evening. Either way, there were some stars out on the final day of the 2023 Colonial Downs meet.
The most eyecatching of those was the Grade 3 Virginia Derby winner himself, Integration, who came flying on the outside to run down heavy favorite Program Trading and win by 1 ¼ lengths. The winning time of 1:46.41 established a new course record for 1 ⅛ miles on the track's outer turf, edging Flippant's 2021 mark by six-hundredths of a second. It also occasioned a raucous winner's circle celebration that involved shouting, dancing, and jumping up and down while holding the winning trophy.
"[Trainer Shug McGaughey] got this horse here, two-for-two, and no telling where he can go," winning rider Kendrick Carmouche said afterwards. "I just hope I get to follow the horse."
The three-year-old son of Quality Road, owned by West Point Thoroughbreds and Woodford Racing LLC, didn't debut until August 12 – less than a month ago – when he was an easy six-length winner in a Colonial Downs maiden event that proved a perfect prep for the Derby. Tyler Gaffalione was in the irons that day, but he had mounts in five consecutive million-dollar stakes at Kentucky Downs today, giving Carmouche the chance.

"Louisiana in the house," Carmouche exulted afterwards. "I'm just proud, man. I got to win a big one in Virginia. It's about time."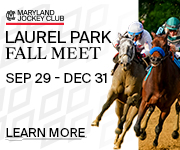 When the gates opened, a race that on paper had plenty of early speed turned into a sprint. Xxx tore off to lead the field through an opening quarter-mile in 22.80 seconds, with the half gone in 46.80.
"Shug wanted me to warm the horse up good and get a good break," Carmouche said. "You know they will go fast in front of me."
Integration was unhurried early and raced two wide while a half-dozen or so lengths off the early tempo, with the first three quarters gone in 1:10 flat. Carmouche allowed his colt to run rounding the turn, and Integration began to make up ground while circling five wide on the turn. At the head of the lane, it seemed Program Trading might slip away. But Integration gobbled up the ground, and the frontrunner, with ease.
"Once my horse felt a little touch from his horse, he just wanted to run all out," Carmouche said. "Man, I just had to guide him there."
Two races earlier, No Nay Mets lived up to his advance billing with a dominant win in the $250,000 Rosie's Stakes for two-year-olds sprinting on the turf, winning by 3 ¼ lengths in 1:02.03 for 5 ½ furlongs.
A two-year-old No Nay Never colt trained by George Weaver for Bregman Family Racing LLC and WWBD LLC, No Nay Mets won the Royal Palm Juvenile at first asking to earn a spot at Royal Ascot. While that didn't go especially well – he finished ninth of 14 – he bounced back nicely to win the Tyro at Monmouth Park prior to his trip to New Kent.
"I wasn't disappointed over there," said assistant trainer Blair Golan. "The turf was extremely soft, but other than that, he came back in good shape."
In the Rosie's, No Nay Mets sped to the front early while taking pressure from flashy first-out winner King Kontie. Those two sped through an opening quarter in 21.45 seconds. No Nay Mets shook clear of his speed rival inside the quarter pole and was never under threat in the lane.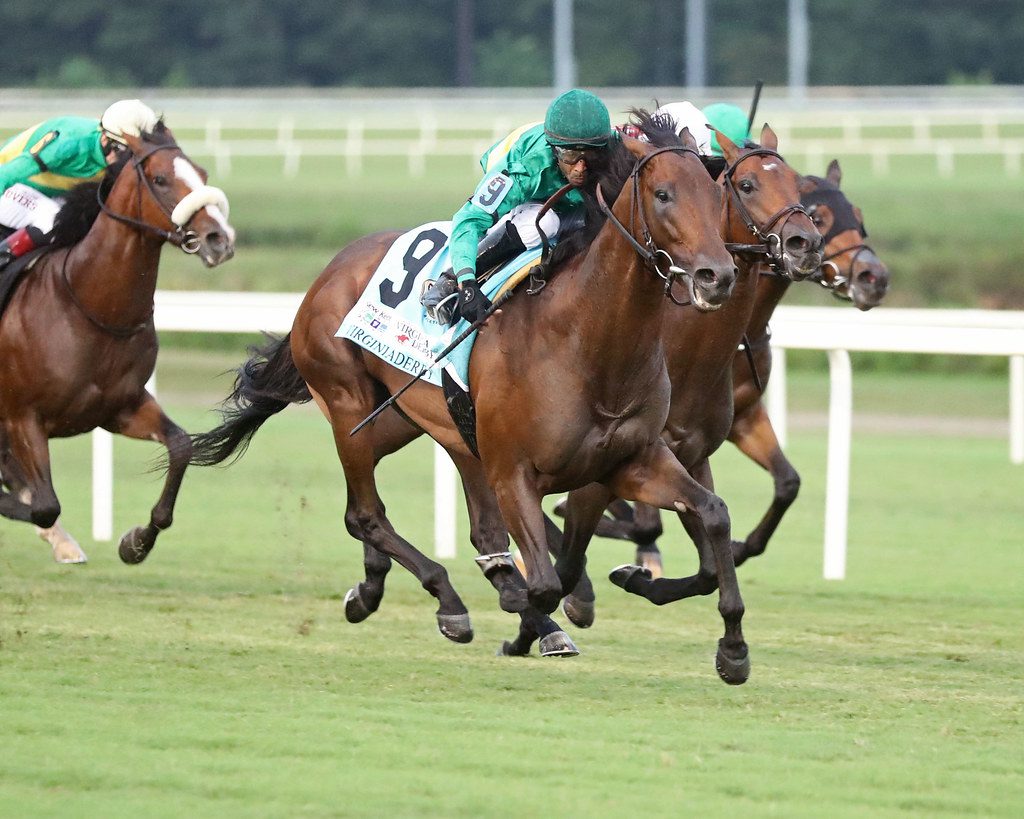 The first running of the Rosie's Stakes, in 2019, went to Four Wheel Drive, who, two races later, won the Breeders' Cup Juvenile Turf. Golan said that Mets's connections have a similar destination in mind.
"It was just nice to see that he could keep those fractions with pressure on his hip and just keep going," Golan said. "So that makes me feel real confident moving forward. And he does like the ground hard. So we all know Santa Anita [where the Breeders' Cup will be held] is like a highway."
NOTES A clever ride by Trevor McCarthy, who won two stakes, enabled Thirty Thou Kelvin to scoot to the front, ration her speed, and hold on to win the Virginia Oaks. The John Terranova trainee won her second straight stake after a win in July in the Christiana at Delaware Park… Tok Tok won the day's other two-year-old race, holding off a notable late rally from first-time starter Triple Espresso, who didn't get running until too late but caught attention with a strong late move. Tok Tok is trained by Graham Motion for Wertheimer et Frere and was ridden by Jorge Ruiz..
CHECK OUT THE LATEST OFF TO THE RACES RADIO!
LATEST NEWS