Remembering Anthony Manganaro
The Biz

September 12, 2023
With the passing of Anthony Manganaro August 20, the world of Thoroughbred racing lost a great friend and advocate. Manganaro was 79.
The contours of his life — the fortunes he made in business, the top-quality horses (including Kentucky Derby winner Always Dreaming) he campaigned under his Siena Farm banner and in partnerships with others — are well known. Manganaro, who also served on the Breeders' Cup board, was known for forward-thinking and innovative leadership.
AUDIO: CONVERSATION WITH MICHAEL ALGEO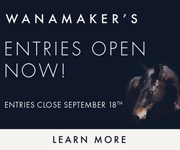 Less well-known was his role in Maryland racing. Though Manganaro's racing interests centered primarily on Kentucky and the national scene, he played a critical behind-the-scenes role in helping to craft the deal blessed by Maryland's government in 2020 that sought to revitalize both Pimlico — as a worthy home for the Preakness — and Laurel Park, as the everyday home of Maryland racing. That deal, lauded by industry insiders at the time as "our Triple Crown," seemed to break a logjam that has frustrated Maryland racing for several decades.
That project was based on Manganaro's vision, but he was content for others — primarily, Alan Foreman, Alan Rifkin, and Bill Cole — to get the kudos and to give credit not just to the people involved but to luck itself..
"If you think about it," Manganaro said later, "you do need skill. You do need luck. And you need courage, right?
Along the way, Manganaro became good friends with then-Maryland Racing Commission chairman Michael Algeo. We sat down with Algeo to discuss his friend and his impact on Maryland racing.
CHECK OUT THE LATEST OFF TO THE RACES RADIO!
LATEST NEWS