"Class act" Thirty Thou Kelvin too hot in Christiana
Frank Vespe

July 15, 2023
Thirty Thou Kelvin and Really Good lived up to their names Saturday at Delaware Park, and both emerged with enhanced resumes after the first stakes wins of their respective careers.
Gray clouds threatened the Stanton, DE track all afternoon, but rain didn't arrive until after the nightcap, contested on a turf course that has been rated soft all week, had gone official.
Thirty Thou Kelvin, a three-year-old Bolt d'Oro filly, arrived for the $150,000, 1 ⅛-mile Christiana, with an unusual resume for a turf stake. She had made five winless starts on the lawn, posting her maiden score on the Aqueduct main track in an off-the-turf contest last October and winning a February allowance on the synthetic at Gulfstream in another off-the-turf event.
That's not to say, however, that her turf form was bad.

"I think that last three starts since we've had her, she showed up every time," said winning trainer John Terranova. "She's a class act. She's really, really good-minded."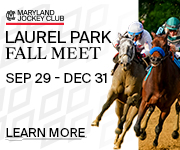 Since coming to Terranova, Thirty Thou Kelvin had made three starts. In her two most recent, both on the turf, she was a credible fifth in the Hilltop Stakes on the Black-Eyed Susan undercard at Pimlico and then sixth, but beaten less than four lengths, in the Grade 2 Wonder Again at Belmont.
CHECK OUT THE LATEST OFF TO THE RACES RADIO!
"It's all pace-dependent," Terranova observed. "These races set up differently every time, and they're quality horses that we've been up against. She's run well against some of the better three-year-old fillies."
The race seemed on paper to have some early speed. Both Miss Riddler, the second choice in the wagering and morning line favorite, and longshot Gatita Suave, a sprinter stretching out, figured to heat things up, at least a tad.
But while those two did vie for early supremacy, they seemed more intent on determining who could go the slowest. The opening quarter-mile took just shy of 26 seconds to complete, and the second quarter was slower still. The field took 52.57 seconds to travel the opening half-mile.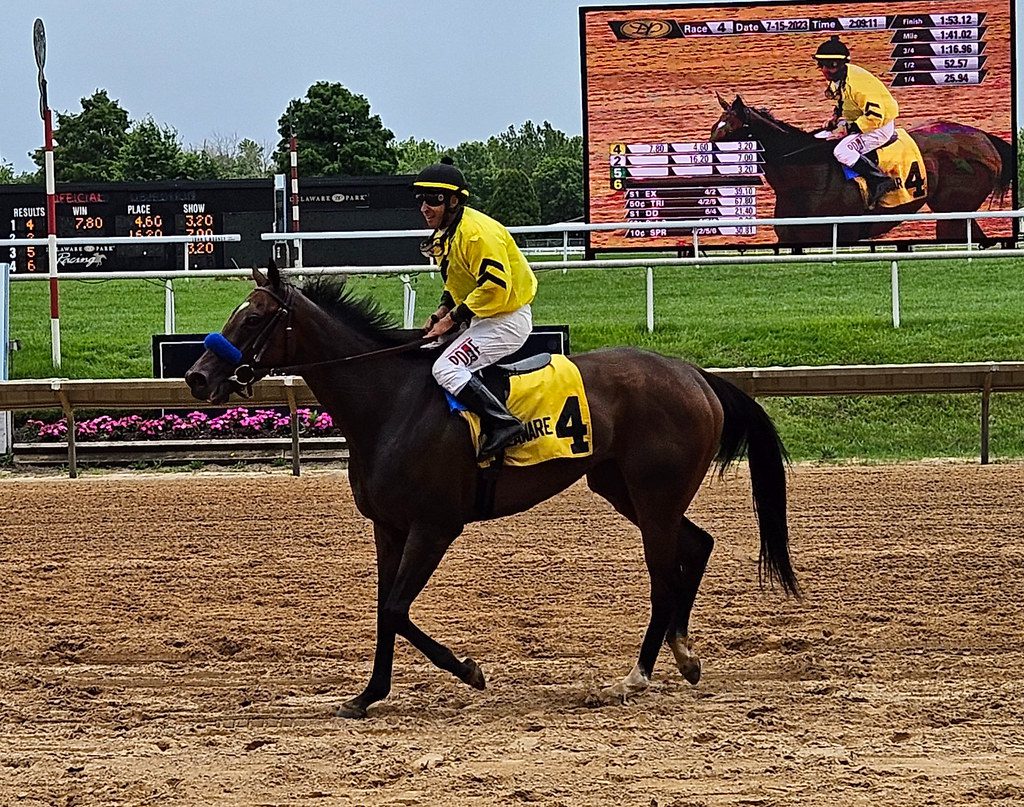 "It was slower than I expected down the backside, and her ears were pricking," admitted winning jockey Jeremy Rose. "She was telling me at that point, 'Just let me out a notch,' she said. Okay. We opened up, her ears went straight up."
Rose had his filly parked outside the leaders rounding the first turn, let her out a notch moving up the backside, and Thirty Thou Kelvin quickly moved to the front. Gatita Suave backed up readily, while Miss Riddler tried to fight back, but to no avail.
"Either I make the right move or I get beaten, and I've got to take it on the chin," Rose said of his early move to the front.
It proved the right move. Thirty Thou Kelvin found enough in the tank to bring the field home through a closing three-eighths in 36.16 seconds. Faccia Bella, at 18-1 the second longest shot on the board, was a hard-trying second, 2 ¼ lengths behind the winner and a half-length ahead of Sabalenka.
Running time for the nine furlongs was 1:53.12, and Thirty Thou Kelvin paid $7.80 to win. The exacta returned $39.10 on a one-dollar wager.
Thirty Thou Kelvin, owned by SJB Stable, now has three wins from 10 career outings, to go with purse earnings of 237,640.
She will return to Terranova's New York base, first to Belmont Park, where his larger string is stabled, and possibly subsequently to Saratoga.
"She's a very beautiful, strong filly, and hopefully the best is yet to come," Terranova said. "These turf fillies and mares sometimes get a little better with age, so we're hoping that's the case."
Four races later, Terranova sent out Freedom Trail, the 3-2 favorite, in the $150,000 Kent Stakes for three-year-olds. This time, though, his luck wouldn't hold. Longshot Tee At One went clear in the lane and seemed home and dry, but Really Good rallied up the inside to win by three parts of a length.
Freedom Trail had seen some of the nation's better turf sophomores thus far in his career, with names like Far Bridge, Nagirroc, and Webslinger dotting his past performances. The class relief in the Kent figured as a plus in his column, but as Terranova admitted prior to the race, his horse and the others were for the most part facing two daunting questions: how they would handle a soft course with plenty of give in the ground, and how they would hold up for 1 ⅜ miles.
The answer for Tee At One, trained locally by Diane Morici for Mastic Beach Racing, was pretty good, indeed. The answer for Really Good: really, really well.
Really Good and patient jockey Ruben Silvera bided their time in sixth (of seven) early, content to let the others battle for supremacy. Tee At One got the jump on his rivals rounding the turn, surging to a clear lead. But when unleashed, Really Good's rally was too strong, and he won in 2:17.89 for 11 furlongs.
"It's a long race, so I try to save ground every time," Silvera said.
Really Good earned his second win from eight career outings, and he has $253,373 in earnings. He paid $9.60 to win as the third choice. The exacta, with the longshot in second, paid $85.90 for a one-dollar wager.
Really Good is trained by Mike Maker for Paradise Farms Corp. and David Staudacher.
LATEST NEWS