Gigante carries on Backer breeding legacy
Nick Hahn

August 15, 2023
Somewhere the late Virginia breeder Bill Backer is trying to keep a chuckle from turning into a belly laugh. Or maybe not.
"He would have been laughing probably," said Hunter Lee Marek, the equine manager at Backer's Smitten Farm. "He would have been so happy, shocked, but very confident because he was always so confident in his horses. That's what he was trying to accomplish all along."
The Backer-bred colt was the longest shot on the board at 22-1, but all the same, he gave the winningest trainer in North American history, Steve Asmussen, his first Colonial Downs win after 21 consecutive defeats to start the meet.
That would have at least started a smirk.
The colt's name is Gigante, Spanish for giant, the race was the Grade 2 Secretariat, and it took place at Colonial Downs on, yes, the Secretariat turf course. In Secretariat's home state. With the large Secretariat statue on the grounds. And Penny Chenery's daughter Kate Tweedy in the house.
Now for the moment, Gigante seems as big as Secretariat's monument itself. Backer passed away in 2016, and his widow Ann, left at a racing crossroads, decided to scale back but continue breeding. Gigante's breeders, officially, are Ann Mudge Backer and Smitten Farm.
With the Secretariat added to the schedule, Colonial now hosts two major three-year-old races, it and the Virginia Derby. No Virginia-bred has won the Virginia Derby, the closest being Bay Eagle, who finished second in 2001. But Virginia-breds are now one-for-one in the relocated Secretariat. Maybe the Virginia Derby just needed a little more Secretariat aura.
That would have garnered a giggle.
By grade, by handle, by time and by the naked eye, the August 12 racing card at Colonial Downs goes down as the greatest day of live racing since the track was founded. The first ever Grade 1 races saw Fev Rover win the Beverly D. and an automatic berth in the Breeders' Cup Filly and Mare Turf, and Set Piece run a mile-and-a-quarter in track- and stakes-record time in the Arlington Million.
But for many on track, it was Gigante that ignited the day. After the race, Virginia's Governor Glenn Youngkin was stumping so hard for the Virginia-bred that if you squinted just right, you might be able to see Gigante as a potential running mate.
"I think we were just kind of shocked," admitted Marek. "It was a big upset. We were not expecting it going into the race. It's just so exciting for Smitten Farm and Mrs. Backer. We have such a small operation here in Virgina, so to be able to breed something of that quality is very exciting for us."
The win will be remembered as a celebration for an industry in Virginia whose future a decade ago was uncertain when Colonial Downs was shut down in 2013.
"It's so nice after all the years of up-and-down, not knowing whether the breeders' fund has any money or not, to suddenly everything is really going well," said Gillian Gordon-Moore, also a Virginia breeder, who touted Gigante to the First Lady of Virginia prior to the race. (No word if the Governor or First Lady took that advice to the window.) "Right now, it looks very positive and hopefully lucrative to have a Virginia-bred. Virginia is a really good place to raise a horse and that's the reason people should be coming here."
Gordon-Moore speculated on what Bill Backer might have thought.
CHECK OUT THE LATEST OFF TO THE RACES RADIO!
"He would have been thrilled," continued Moore. "It's a wonderful farm and they do a fine job. Everything is as well as it can be done. A lot of thought goes into it. He was old school and we're losing so much of that. It's really great to get that success even after you're gone. It's a nice legacy. After he died, Ann has just continued on and has done fantastically in what she's putting with these horses and it's exciting to see her do that. The Backers raise a good horse, they raise a good athlete, and they've been successful. If you put them in the right spot on the right day and get really lucky, sometimes the stars fall into place."
An advertising executive by trade, Backer most famously created the iconic Coke ad of the 1970s, centered on the tune, "I'd like to teach the world to sing." That jingle, one of the most famous television ads ever, was about more than just drinking a soda, Backer said. "It was a simple observation of the product performing one of the functions it does so well: It's a social catalyst," he told Slate in 2014.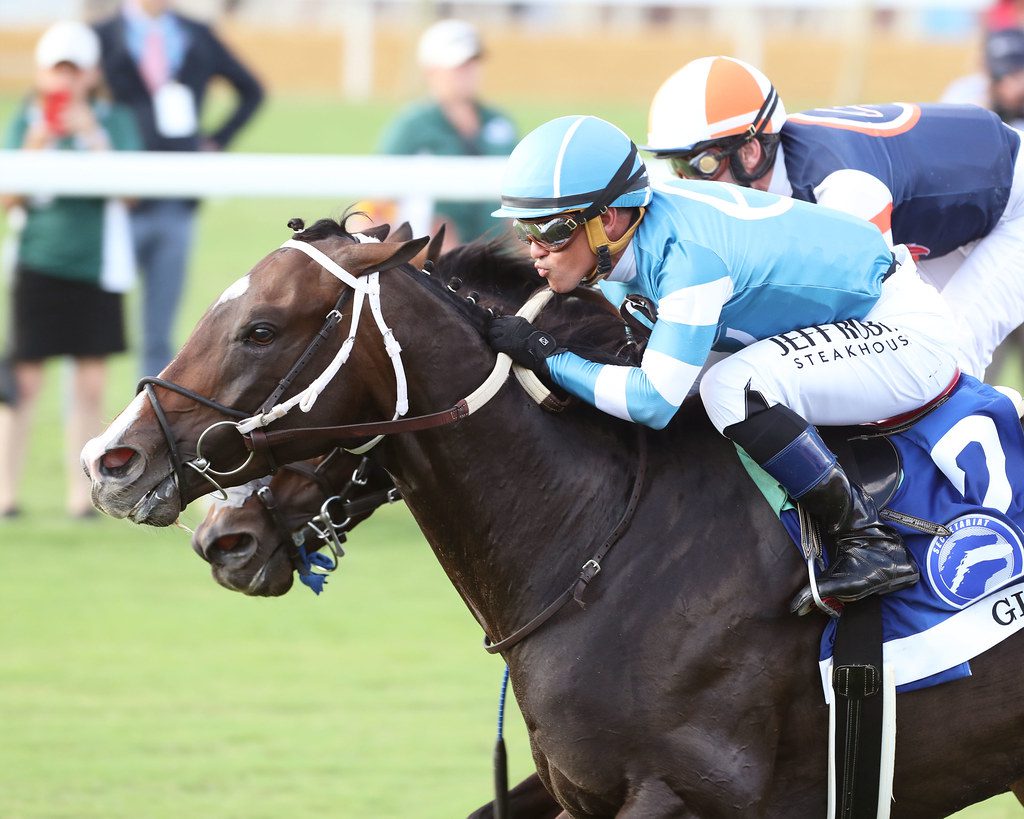 Gordon-Moore said that Backer himself might have been enjoying a Coke – or something stronger – on Gigante's big day.
"He would have been there in person if there was any way possible. He would have sat and told some good tales with friends and had a great day and loved every minute of it," she said. "When you're breeding horses and you see yours down there, whether you own it or not, that you put in a lot of years of your life just to create one horse. From when you start planning the breeding and the foals to a three-year-old, it's a long, long time, so it's very satisfying when you actually see that. He was just a true believer in the whole game."
Gigante is by Not This Time out of the Empire Maker mare Summertime Green and was a $120,000 purchase at the September Keeneland Yearling Sale. He is owned by Iapetus Racing and Diamond T Racing.
Gigante broke his maiden on the Colonial dirt at second asking. In his next start, Gigante won the $150,000 Kitten's Joy stakes on the turf by over sixth lengths during the last week of Colonial's 2022 meet.
His only subsequent win prior to the Secretariat came in the Caesars Handicap win at Indiana Grand in May. After a disappointing third in the Virginia-restricted Edward P. Evans Stakes on opening weekend in New Kent, the stock was down on the Gigante. When wagering closed, he was a chilly 22-1. When he was last up the backstretch, it might have looked like he fit the part.
Then Gigante went four wide around the turn and held off favored Nagirroc by neck in the stretch to score. Racegoers looked into their programs to see who had pulled off the upset. It was the Virginia-bred.
That would have launched the laughter.
"I was very confident because when I asked him, he responded well," said winning jockey Javier Castellano. "But at the same time, I've seen the finish line a little far away. I'm saying, 'I gotta get there. Gotta get it.'"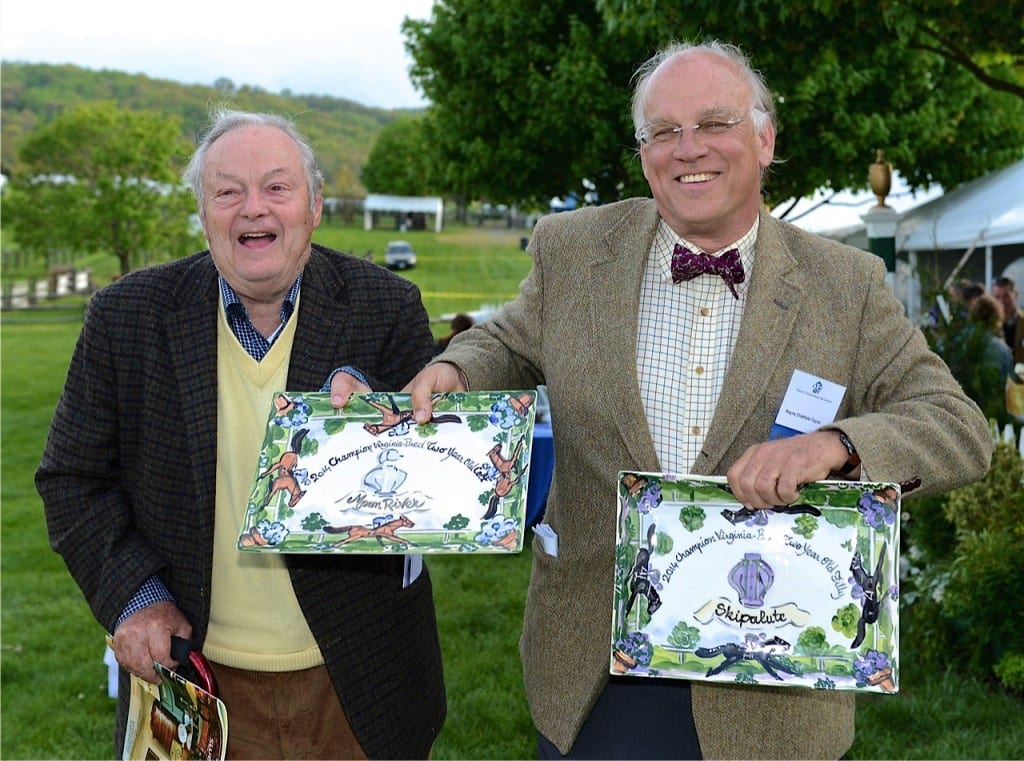 The Gigante story goes back three generations to 1992, when Backer purchased the Raise a Native mare Deep Enough. A $300,000 yearling, Deep Enough never won in three career starts, and Backer, the lapsed lyricist, picked her up for a song: $35,000. Deep Enough was the dam of Crabgrass, one of Backer's favorite mares. She in turn gave birth to Gigante's dam, Summertime Green.
"This mare, Summertime Green, is one of our two remaining homebred mares," said Marek. "We own the dam. She comes from Mr. Backer's foundation. It took her a long time to produce something of this quality. It's a cool family and Mr. Backer's legacy is living on."
"We've downsized in quantity but really tried to up our quality, and this was after she dove headfirst into all of this, so it was definitely a learning curve for her but she's really enjoyed it," Marek said of Ann Backer.
Quality versus quantity is a repeated theme when talking about Virginia thoroughbreds.
For Castellano the day could have ended early after getting tossed, having his mount break loose while loading into the starting gate prior to the fourth race.
"He reared up and jumped all the way to the top and threw me out to the floor. I bounce and I'm here," reflected Castellano, all smiles after Gigante's win.
Instead, this year's Kentucky Derby- and Belmont Stakes-winning jockey added two more big wins to his resume, the Secretariat and then the Beverly D. with Fev Rover for trainer Mark Casse, who had three wins on the card.
Smitten Farm had the last win by a Virginia-bred in a big Colonial Downs race at the old Colonial. Now it has the first of the new era.
The Backers' homebred Art Fan won in the 2004 Virginia Oaks with jockey Ryan Fogelsonger aboard. The win was such a surprise — even to Backer — that he offered a nearby breeder $200 for his bow tie on his way down to the track for the winner's circle photo.
Wayne Chatfield-Taylor of Morgan's Ford Farm lent him his tie free of charge.
"He would have been very pleased," said Chatfield-Taylor of his old friend. "In many ways he died while he was at the top of his game. Even his song ['I'd like to teach the world to sing'] was making a comeback. It's wonderful to see his presence being felt. He nurtured that track. His vision and his efforts had a lot to do with what happened on Saturday." 
LATEST NEWS