"Full circle" on Arlington Million day at Colonial Downs
Frank Vespe

August 12, 2023
The Secretariat statue was in New Kent. A Tweedy was on the grounds. A Virginia-bred won the Grade 2 Secretariat Stakes. Maybe the racing gods were smiling on Colonial Downs Saturday.
"Oh my goodness, right? Named for him in the state where he was born and raised, it couldn't be a better fit," said the Virginia Equine Alliance's Jill Byrne a couple days ahead of the races in a segment that aired on Off to the Races Radio. "So to have kind of full circle and have that race here is just fantastic. Secretariat Stakes on the Secretariat turf course on the 50th anniversary of Secretariat's Triple Crown in his home state, does it get any better? There's a trifecta for you."
"It does feel sort of full circle. I'm really glad it's here," agreed Kate Tweedy, daughter of Secretariat's owner Penny Chenery, who called "riders up" prior to the running of the Secretariat.."And certainly you know, Mom had worked out the deal with [the Secretariat Stakes] being in Chicago, at Arlington, with Mr. Duchossois. But since they're both gone, I think this is the best place."

It couldn't help but confirm the feeling when Gigante, the obvious hunch that no one had, rallied from last to win the Secretariat by a neck. Bred by Ann Mudge Backer and Smitten Farm, the Not This Time colt was also the only Virginia-bred entered in the day's three graded stakes. He also was the longest shot on the board, off at 22-1.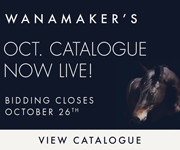 "I was very confident because when I asked him, he responded well," said winning pilot Javier Castellano, who also won the Beverly D. aboard heavy favorite Fev Rover. "But at the same time, I've seen the finish line a little far away. I'm saying, 'I gotta get there. Gotta get it.'"
He got it, which warmed the hearts of Virginia racing fans and breeders. And also of Gov. Glenn Youngkin, who gave a short speech in the paddock prior to the Grade 1 Arlington Million, touting the "soaring" Virginia equine industry.
It certainly did soar at the betting windows. The biggest day in Virginia racing history – the first time Grade 1 flat races had ever been contested in Virginia – also shattered Colonial's prior handle mark. Last year's Virginia Derby logged a then-record handle of over $6.5 million. Today's Million day card missed $10 million by approximately an eyelash.
Arlington Million winner Set Piece also soared – to a decisive win, a stakes record, and track record at 1 ¼ miles. Set Piece, trained by Brad Cox for Juddmonte, followed Gigante's lead by rallying from last to win by two lengths.
His winning time of 1:58.19 shattered the prior track record of 1:59.62, set in the 2007 Virginia Derby by Red Giant. It also comfortably bettered the Million record of 1:58.69, set by Awad in 1995. The only thing faster was his jockey Florent Geroux, who sped off afterwards to catch his flight home.
CHECK OUT THE LATEST OFF TO THE RACES RADIO!
"It feels really awesome. He's such a hard knocker, and he always tries, he always runs well," said Cox's assistant Katie Tolbert. "Sometimes it doesn't set up well for him. And so it's really great to have this. We all love him, and he has been around for forever."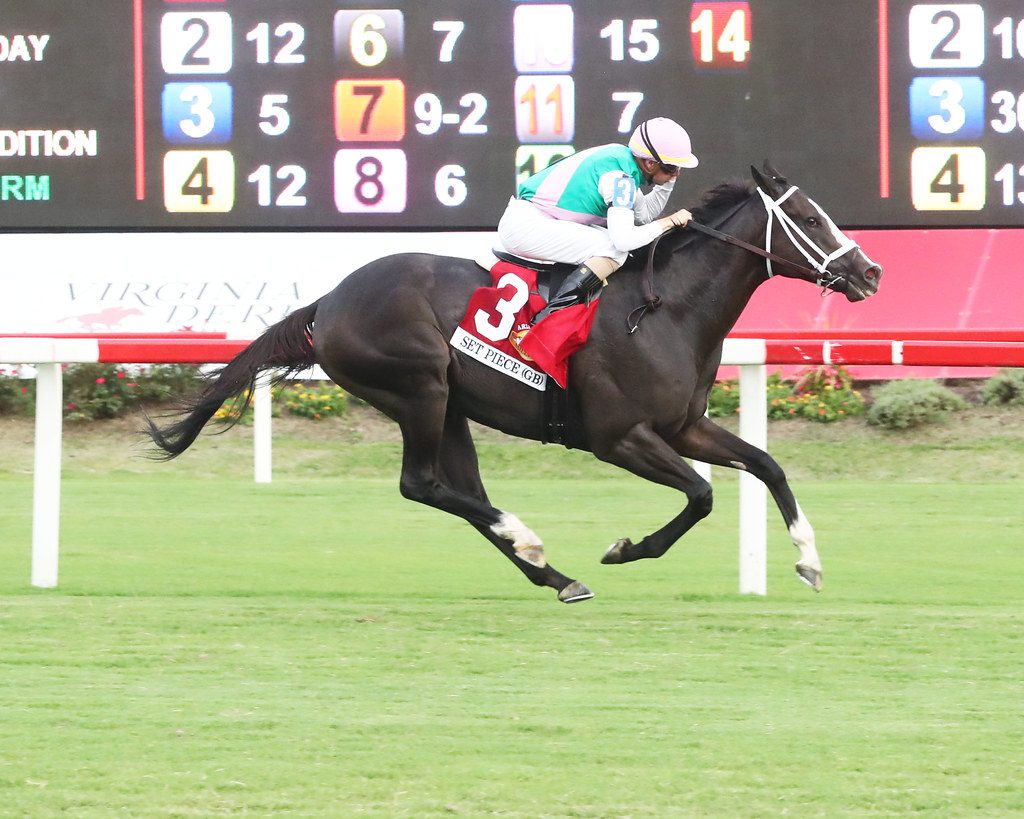 In a bit of a racing oddity, the first and last of the three graded events went to horses rallying from last. The one in the middle, the Grade 1 Beverly D., went to a horse who led every step of the way.
That was heavy favorite Fev Rover, who was off at 3-5. Also ridden by Castellano, Fev Rover sped to the front, set very slow fractions, fended off a bid from Gina Romantica, and powered home three-plus lengths clear for her second win in four seasonal outings.
"I told my wife this morning, I said, 'We're gonna win the Beverly D. We're gonna win,'" said winning trainer Mark Casse with a chuckle. "I was pretty confident and I'm not one to be real confident. I just have a lot of faith in her."
The Beverly D. is a "win and you're in" contest for the Breeders' Cup Filly and Mare Turf, and while Casse said his horse's next start – the one before the Breeders' Cup – is up in the air, Santa Anita and the Breeders' Cup is definitely the plan.
"She's a beautiful horse, and that's what good horses do. You know, actually, she could be pushing a really good horse," Casse said, adding of the Breeders' Cup, "It's a free ride."
The Secretariat statue has been getting free rides all over the country in recent months. When the dust settles, it will reside permanently in Ashland, near Richmond. Prior to the Secretariat, the track showed a short video replete with Big Red's race highlights and shots of Penny Chenery.
"Especially both the Preakness move and the Belmont race, both of those, every time I see them I still get goosebumps," Kate Tweedy said. "And I love seeing Mom, I love seeing the joy that she had and sharing it with the fans and you know, just the the great excitement of racing."
LATEST NEWS