Digital horse retirement now available
Press Release

August 15, 2023
The Transferred as Retired from Racing process can now be completed digitally through the Interactive Registration (IR) website at registry.jockeyclub.com.
Previously, the retired from racing process required notarized signatures on a hardcopy form. With the assistance of digital signature verification, The Jockey Club can confidently collect the signatures required to complete the retired from racing process through IR.
"Being able to ensure a horse can still be used for breeding but cannot race is important for many owners, and we wanted to make the retired from racing process as easy as possible yet still ensure the integrity of the process," said Rick Bailey, registrar of The Jockey Club.
The Jockey Club amended Rule 18 of the Principal Rules and Requirements of The American Stud Book from Sold Without Pedigree to Transferred as Retired from Racing in 2013 so that an owner can retire a Thoroughbred from racing without affecting its breeding privileges. To date, more than 5,400 Thoroughbreds have been recorded as retired from racing. A list of these horses can be viewed through IR.
CHECK OUT THE LATEST OFF TO THE RACES RADIO!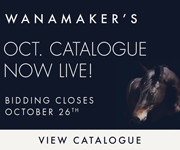 LATEST NEWS