Kingsbarns scores in Louisiana Derby
Against a field lacking early speed, Kingsbarns set tepid fractions of 24.71 and 49.60. Breaking through the gates prior to the race in post No. 11, Jace's Road had the most interest to go with the leader and he maintained the second position for the majority of the trip. When Jace's Road began to pressure the leader in the first turn, Kingsbarns pulled away. After the first call, no foe got closer than 1 length to Kingsbarns.
"It appeared on paper that there was not a lot of pace, so we drew up a plan with Flavien (jockey Prat) that if we came away in good order to be placed forward and hopefully dictate the race on our terms," Pletcher said.
Piloted by Flavien Prat, Kingsbarns completed the 1 3/16 miles in 1:57.33. Earlier in the day, Prat won the New Orleans Classic (G2) presented by Relyne GI by Hagyard with West Will Power.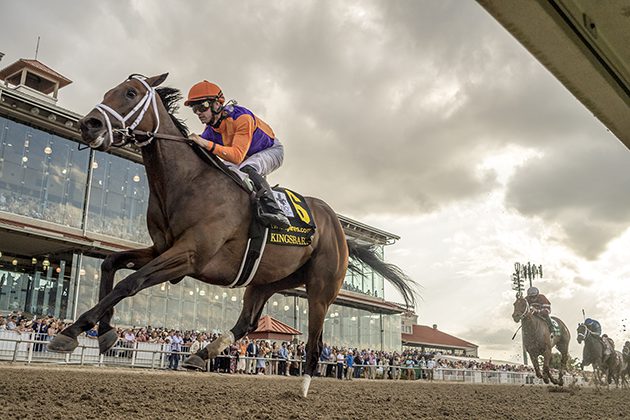 "I talked with Mr. (Todd) Pletcher and we thought there was not a lot of speed in the race," Prat said. "He told me that the horse was pretty straight forward and if I ended up on the lead he was fine with that. He jumped well, I was able to get myself in a comfortable spot and from there he did the job. Hopefully he moves forward. I thought it was already a great performance and if he moves forward, that's even better."
Sent off at 4.50 to 1, Kingsbarns rewarded all those allegiant to his chances to the tune of $11.00, $6.40, and $5.00. The son of Uncle Mo out of the Tapit dam Lady Tapit, Kingsbarns was bred in Kentucky by Parks Investment Group, LLC. A perfect 3-for-3, all as a 3-year-old, the Pletcher trainee has now amassed $657,300 in lifetime earnings.
Kingsbarns awarded trainer Todd Pletcher with his fifthLouisiana Derby win. He had scored previously with Noble Indy in 2015, Revolutionary in 2013, Mission Impazible in 2010 and Circular Quay in 2007.
"It was a lot to ask to go to a graded stakes going 1 3/16 for the 1st time in his third career start," Pletcher admitted. "We gave up a lot of seasoning and he responded in a big way. We'll get him back to Palm Beach Downs and assess but we're planning for him to be one of our ones in the Kentucky Derby."
With Winchell Thoroughbreds' Disarm running second and earning 40 points and rocketing to 14th place on the leaderboard, trainer Steve Asmussen likely has secured another spot in the Kentucky Derby for his son of Gun Runner to go along with Red Route One from the same owners and sire. The connections brought their 3-year-old Eclipse Champion Epicenter through Fair Grounds on the way to his second-place finish in Kentucky Derby 148.
"He seems like he could be a special horse," jockey Joel Rosario said of Disarm. "We got a good trip. I was inside, in behind. That horse (Kingsbarns) went on with it. He (Disarm) has to keep improving but he did everything right today."
[
Check out the latest Derby standings plus video of all prep races here
]
Asmussen's other entry in the Louisiana Derby, Shopper's Revenge, earned 20 points for finishing third, which puts him in 27th place, possibly a touch shy of being in the top 20 when all is said and done.
"He broke really good," Ricardo Santana, Jr., jockey of Shopper's Revenge said. "He didn't break good at all the last race at Oaklawn and Steve (trainer Asmussen) worked with him. I'm happy with the race. He's growing up. He's more sure of himself."
With Jace's Road earning 30 points for third place, the son of Quality Road now has 45 total Derby points and is now in eighth place for trainer Brad Cox, who also trains the sixth-place finisher Instant Coffee (32 Derby points), the winner of the Lecomte (G3) earlier in the meet, and Tapit's Conquest who finished seventh.
"I'm a little frustrated," Cox said. "Lack of pace in the race. It's not going to happen like that in the Kentucky Derby. I wasn't very happy with the way Instant Coffee ran."
With 32 points, Instant Coffee is right on the cusp of where he needs to be to take his shot at the Run for the Roses.
"He broke good, but it took him awhile to get going," Saez said. "The pace was so slow and I had to pass a lot of horses. I started riding at the 5/8ths, he made his move, but we couldn't get there. At the top of the stretch, the winner was already gone. When he won the Lecomte, there were only five other horses, and he was close and finished well. In a big field, you have to have a perfect trip with a horse like this."
Jace's Road, however, all but assured his spot in the 20-horse Kentucky Derby starting gate.
"We got the points (to get in the Kentucky Derby)," Geroux said of Jace's Road. "He ran great actually. I wished we could have pressed the winner more but he never really took me. I took a shot at him right before the first turn, but Flavien (jockey Prat) just opened his hands and his horse was in front of me again. I felt like he just wasn't there for me. I thought I could maybe make the lead, but if I sent him really hard, I don't know that he would have had any finish. I was very content with my position. He ran great down the lane. It doesn't look like distance is going to be a problem."
With Sun Thunder finishing fifth and earning 10 points, the Ken McPeek trainee now has 34 total Derby points and is in tenth place.
LATEST NEWS