King Leatherbury feted on 90th birthday
Named in Leatherbury's honor, the seven-furlong optional claimer for older fillies and mares was won by Old Coach Farm & Larry Metz's 5-year-old mare Awesome View ($4.20), the even-money favorite in a field of seven ridden by winter meet leader Jaime Rodriguez, his third win of the afternoon.
Following the ceremony, Leatherbury was serenaded with a version of 'Happy Birthday' from in and around the winner's circle.
"[The fans] have been very nice to me," Leatherbury said. "I think the world of them."
A Maryland native, Leatherbury won his first race in 1959 at Sunland Park, now Tampa Bay Downs. He won six races in a day one and five races in a day four times, registering 300 or more wins from 1975-78 and leading the country in wins in 1977-78.
Leatherbury led all Maryland trainers in wins four straight years from 1993-96, and owns or shares 26 training titles at both Laurel Park and historic Pimlico Race Course. He became just the third trainer to reach 6,000 career wins in 2003 at Timonium, and currently ranks fifth overall with 6,508 victories.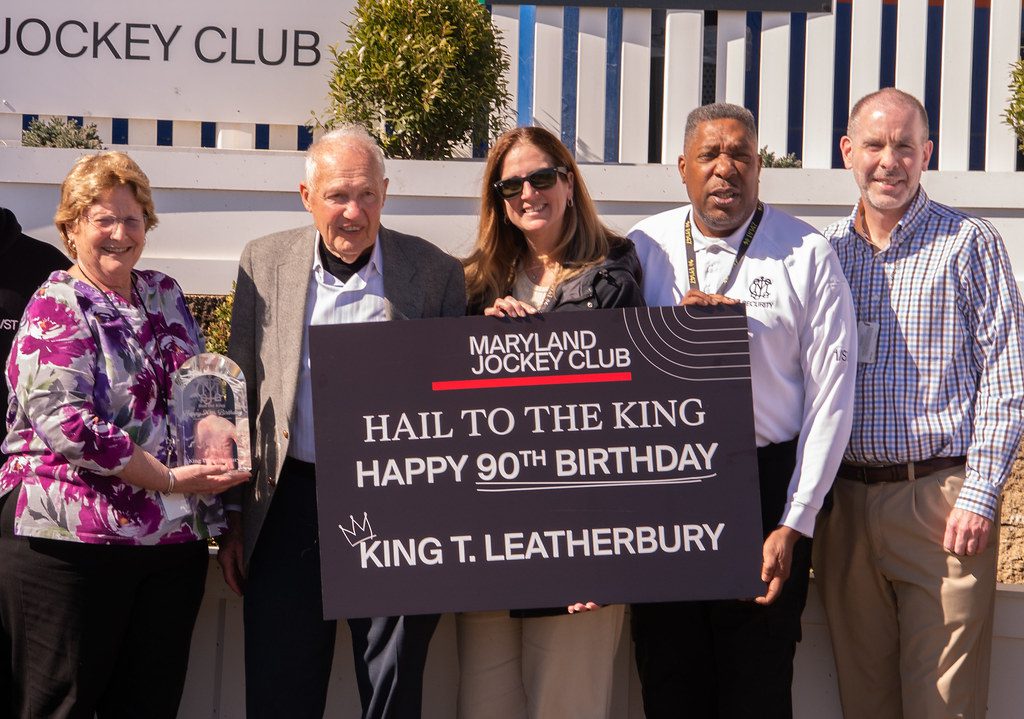 The best horse of Leatherbury's career was Mid-Atlantic legend Ben's Cat, who he bred, owned and trained to 32 wins, 26 in stakes, and more than $2.6 million in purse earnings over eight seasons from 2010-17. Ben's Cat passed away in 2017 due to complications from colic surgery and his remains are buried adjacent to Laurel's historic paddock.
Other top horses Leatherbury trained include Grade 1 winners Catatonic and Taking Risks, and graded-stakes winners Ah Day, Thirty Eight Go Go, Learned Jake, Ameri Valay, Dynamic Trick, Thirty Eight Paces, I Am the Game, Do the Bump and Wait for the Lady. Three times Leatherbury claimed and raced Port Conway Lane, who won 52 of 242 starts between 1971 and 1983, running until the age of 14.
In 2015, Leatherbury was inducted into the National Museum of Racing's Hall of Fame in Saratoga Springs, N.Y. Also a member of the Anne Arundel County Hall of Fame, he received a lifetime achievement award from the Maryland Athletic Hall of Fame in 2002.
"A lot of good stuff has happened here," Leatherbury said. "I had a good barn here when I was leading trainer in the country and we kept that barn going. Everything's good. I've got no complaints about Laurel."
LATEST NEWS