Howgreatisnate looks to bounce back, and stay up, in Private Terms
What it doesn't say is what the riderless horse did next. Left well behind the bulky, 14-horse field, he came flying up outside to reach the leaders, who'd just zipped a 45-and-change half-mile, went by those, and gamely resisted the winner Raise Cain, finishing just behind him while seven lengths clear of the rest.
It was Howgreatisnate's first defeat after four consecutive victories to kick off his career. That run included wins in the First State Dash at Delaware Park and the Future Stars at Parx Racing.
The good news for the gelded son of Speightster is that he came out of the Gotham in good order, Simoff said. That was just one of those things that sometimes happens in racing.
"He just outbroke himself," the trainer explained. "He was a little anxious and wanted to get out of there so fast, he lost his action in front and went down."
Going down too was rider J. D. Acosta, who's been aboard for all of Howgreatisnate's starts. Fortunately, he, too, came out of the race well enough and will be back aboard Saturday.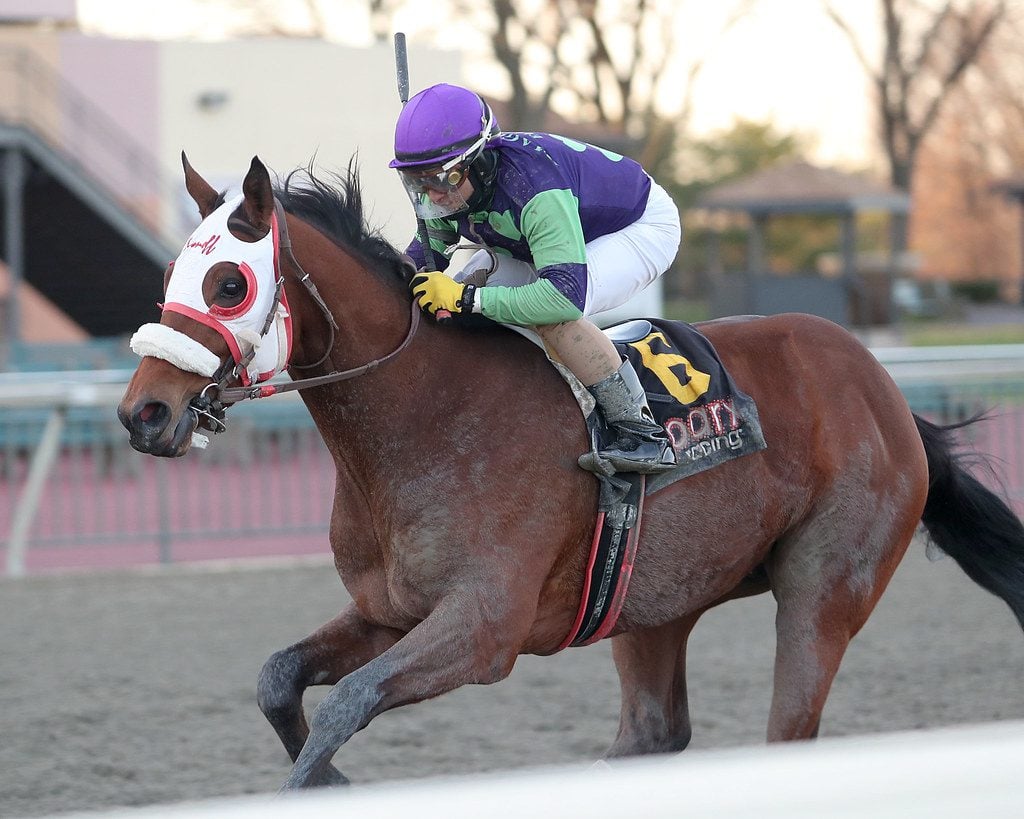 "He knows him, and he's a good rider," Simoff said of Acosta, a winner of more than 3,600 races. "He's not getting the opportunities he should right now, but when push comes to shove, he's as good as any of them."
Howgreatisnate certainly looks like he fits just fine with the field of the Private Terms. His speed figures are competitive, and no other runner has won more than the two stakes he's taken; only Coffeewithchris has equaled that total. Howgreatisnate is 4-1 on the morning line.
[Click here or on photo to see the Gotham]
"He hasn't really run against a whole lot, though he's been impressive," Simoff said. "This will be his toughest race so far, but I don't think it's super-tough. Kind of comparable to the Gotham, maybe a little step below, but there were no real killers [on paper] in there, either. There was no real Forte or Practical Move; it was definitely the second tier of three-year-olds, which are still really nice horses."
But that still leaves one question for Howgreatisnate: the distance. He's never run a race – with a jockey on his back at any rate – beyond six furlongs. Simoff said he's been sending his charge on longer gallops to prepare him for the test and "get a little stamina in him," but in the end, "I think it's more the horse than the training. It's whether they like it or they don't."
Look for Acosta to try to be patient and make what the trainer describes as "that one big run" Saturday. His natural speed should have him not too far off the pace, and if he can relax and unleash his closing kick, he could very well figure in the outcome.
"We always have these babies out in the field, and these guys on the farm say, 'Oh, he's beating all the other horses,'" Simoff laughed. "Then you get him in the barn, and he's just a horse. They always tell you he's beating every horse in the field."
So far, Howgreatisnate has been doing just that – with a rider, or without.
LATEST NEWS